Insights > Calm under pressure
Calm under pressure
01/13/2023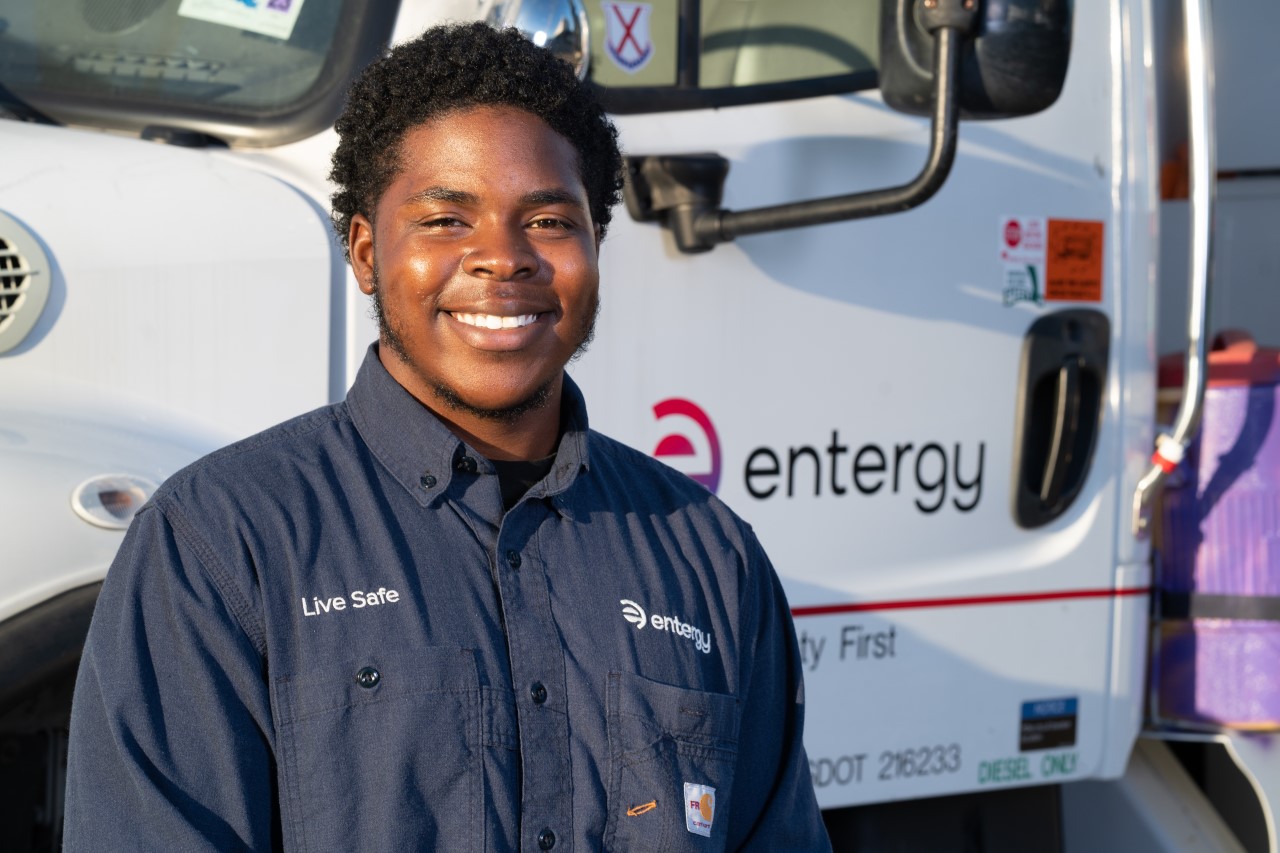 Remaining calm under pressure took on a new meaning for Entergy New Orleans lineworker Jereme Pierre when he stopped by a local sandwich shop in Marrero for a quick bite to eat. Jereme, a former lifeguard, had recently completed CPR training again at Entergy to refresh the life-saving skill, when he heard an older adult nearby start coughing. The two made eye contact, but the group of friends around the coughing man indicated that this might be a regular occurrence.
When the man stood up with his hands over his head, Jereme's instincts kicked in and he sprang into action. Jereme navigated around two tables, clasped his hands delicately around the older man and performed the Heimlich maneuver.
"Usually, you're supposed to tighten your fists and drive into a choking individual, but I was scared I might hurt him," recalled Jereme. "So, I gave him one pump with open hands, then another, and he started hitting me hard and I turned him around and saw that the food was dislodged, and he could breathe again."
The man sat back down with his group in shock, and Jereme went back to his table. Moments later, when Jereme stood up to leave and return to his job site, the man's friends and the restaurant workers stopped and thanked the lineworker for saving the older man's life. It turned out he was regular who was partly deaf and blind.  
"My job prepares me to be calm under pressure," said Jereme. "When I'm around voltage, I get in the zone. It's just me, the voltage, and my team. I go through my safety procedures to ensure my team and I are as safe as possible. When I saw that the man was choking, my heart wasn't racing. It was just me and him, and I followed my training to save him. I wasn't thinking about anything else."
Jereme credits Entergy's training and culture for preparing him to step up and remain calm to save the man's life.
"At any of our work sites, I turn my head and see 'safety' written in at least ten different places," added Jereme. "I have it on my shirt when I look in the mirror. We're constantly reminded to be aware of our surroundings and be our brother's keeper."
Jereme was born in New Orleans, now lives in Slidell and works throughout the Metro region.
"Jereme served as another example that we don't just power life for today and future generations, but our crew members regularly save lives when it matters most," said Metro Line Supervisor Norris Williams, Pierre's supervisor.
To learn more about our outstanding employees, who are focused on making the right decisions and building a brighter and more resilient New Orleans visit https://www.entergy-neworleans.com/we-are-eno/
---