Insights > Entergy Arkansas Employee Inspires Others to Serve
Entergy Arkansas Employee Inspires Others to Serve
04/09/2019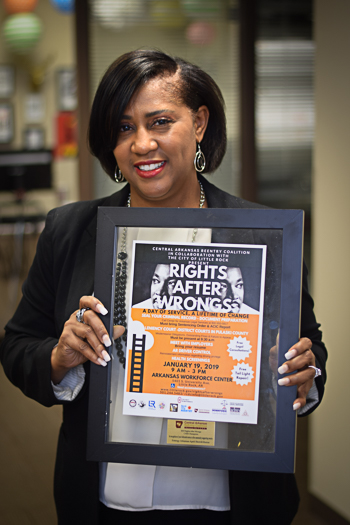 Entergy is full of people willing to volunteer their time and talents in their communities. A good example of an employee with a giving heart is April Sherrill-Buirse, customer service specialist in the service assurance group in Little Rock.
Sherrill-Buirse's project of choice is Rights After Wrongs, a program of the Central Arkansas ReEntry Coalition. On one day annually a network of attorneys, social service organizations, non-profits, educational institutions and volunteers come together to help individuals with criminal records navigate legal issues and pursue employment opportunities.
Services include document preparation for sealing criminal records and helping clients take advantage of "leniency court," which helps people with misdemeanors, outstanding fines and failures to appear to receive leniency without fear of being arrested. Prospective employers help with résumé writing, health screenings, legal advice and more. In 2019, the program helped 525 people. 
Sherrill-Buirse's contribution for the last three years is to manage check-in at the event and provide analysis after the event of what was accomplished. She does so with help from her Delta Sigma Theta sorority sisters. She also requested and received a $500 grant from the Entergy Charitable Foundation to benefit the program.
Recently, the Central Arkansas ReEntry Coalition surprised Sherrill-Buirse with an award for "dedicated service to the community."
Thanks, April, for inspiring others to serve!
---