Insights > Entergy Arkansas Grant Helps Feed the Hungry in Harrison
Entergy Arkansas Grant Helps Feed the Hungry in Harrison
04/19/2018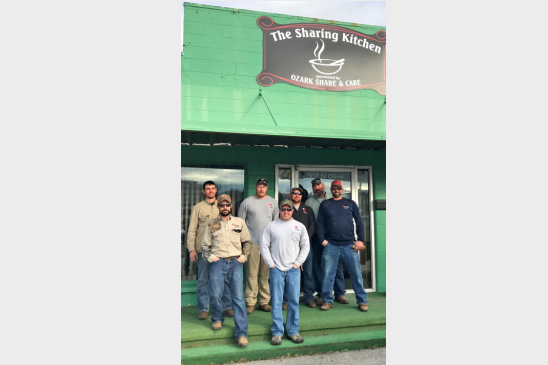 Entergy Arkansas is sharing and caring in the Ozarks. With support from an Entergy Charitable Foundation grant and volunteer labor from the company's Northwest Region, a new soup kitchen will soon be up and running as an extension of Ozark Share and Care in Harrison, Arkansas.
Normally help from Entergy Arkansas starts with a request from the beneficiary. But in this case Customer Service Representative Mark Martin approached Joy Prater, director of Ozark Share and Care, and asked what Entergy could do to get "The Sharing Kitchen" up and running.
She didn't have to think long to answer. The building adjacent to the nonprofit's office needed remodeling before it could function as a much-needed soup kitchen to feed hungry and destitute Boone County residents.
The organization applied for and received an Entergy micro grant, and Martin arranged for an enthusiastic team of employees to do some of the remodeling. In two days, the group of linemen replaced old light fixtures with energy-efficient LEDs, replaced bathroom fixtures, installed signage and completed other tasks.
"We try to support the communities where we live and work," said Martin. "Ozark Share and Care is just one of many great organizations that serve Harrison and Boone County. Our employees also helped with food drives for last year's hurricane victims and recently conducted a pet food drive to benefit the local Humane Society."
---