Insights > Entergy Breaks Ground on New Barfield Training Substation
Entergy Breaks Ground on New Barfield Training Substation
05/09/2016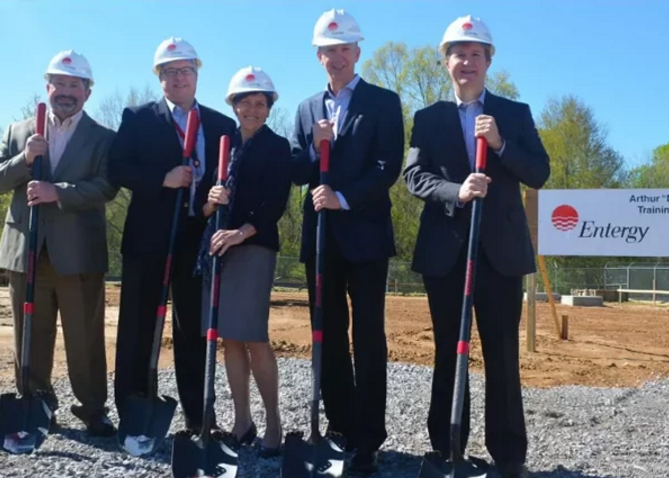 When Dub Barfield needed a roof on his camp house, he climbed up a ladder and nailed it on himself. He enlisted his family to help. As he reached the end of a long row of shingles, one of his nails went in crooked.

"Oh, don't worry about that," his wife, Kelle, told him. "You won't even see that nail. The next row of shingles will cover it up."

"But I'll know it's there," said Barfield, pulling the crooked nail out and replacing it with a new, straight one.

.

Attention to detail was a hallmark of Barfield, former Entergy director of transmission grids, who died in November 2015. Barfield, who spent nearly 35 years of his career at Entergy, believed in doing things the right way, even when it was difficult.

Employees and family members recently gathered in Clinton, Mississippi, to honor that legacy, breaking ground on the new Arthur "Dub" Barfield Training Substation.

The facility, which will be part of the EMI Knowledge and Skills Training Center, will be a complete, non-energized substation used for training new employees and offering employee refresher courses. In addition, safety personnel plan to conduct cyber infrastructure protection certification training there. The facility will also be used to train operations engineers and transmission and distribution operations center employees.

"No one was a greater driver of this facility than Dub," said Mike Vaughan, vice president of transmission asset management. "Nothing was more important to him than safety and training, and he'd be very proud of what we're going to accomplish here."

The training substation is the first of its kind in the Entergy system. The two-transformer facility is expected to be completed in early 2017.
---