Insights > Entergy Gas Distribution Team Recognized for Emergency Response
Entergy Gas Distribution Team Recognized for Emergency Response
09/27/2017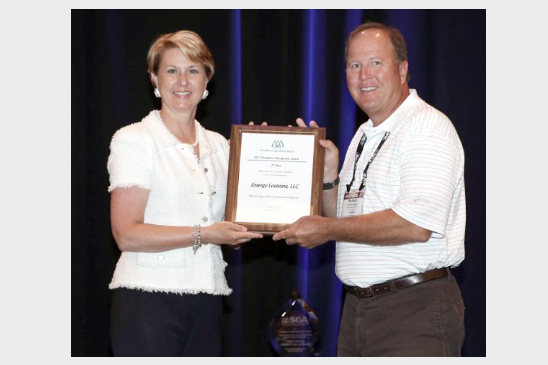 Entergy Louisiana's Gas Distribution Team persevered even as flood waters rose into homes – and for some, their own homes – and damaged their facilities and equipment in Baton Rouge during the Great Flood in August of last year.
In fact, the team earned the second-place Emergency Management Award during the Southern Gas Association Operating Conference in July for their response. To Michelle Bourg, director of Entergy's gas distribution business, the award was well-deserved.
"I'm incredibly proud of my team," Bourg said. "The torrential rain and flooding brought unprecedented challenges. It was a situation that required a safe, thorough, yet quick response. The historic flooding affected our gas team personally and professionally, and we're proud to be recognized for our efforts."
The gas distribution headquarters was one of many businesses in and around Baton Rouge inundated by floodwaters on August 14, 2016. Several feet of water filled the facility's yard and over a foot of water entered the gas office building as an arduous task laid ahead.
Torrential rain also saturated the ground, creating the potential for trees to be uprooted and underground gas lines to be disturbed. Leveraging experience from prior flood events, the team quickly recognized that floating debris could strike gas meters or flooded appliances, creating a situation for possible gas leaks. 
The team took to the air in order to assess the situation since flood waters made it difficult to travel by vehicle. An aerial patrol confirmed their fears: thousands upon thousands of gas customer locations were potentially flood-damaged.
The team then launched the Meter Safety Assessment Process and sprang into action. Crews walked door-to-door through flooded neighborhoods, inspecting facilities and customers' ability to receive gas service. The team completed individual meter safety assessments for all flooded customers and addressed over 300 leaks within 10 days of the initial flood event.  Navigating flooded streets and neighborhoods was a big challenge, and the team completed all assessments and repairs without a safety incident.
"In those kinds of conditions, you have a lot of moving parts. Even when many employees were struggling with flood damage to their own homes, everyone quickly pulled together to ensure the safety of Entergy's customers and the gas system," Bourg said.
The Great Flood dumped two feet of water on parts of Southeast Louisiana over a two-day period. Widespread flooding affected 25,000 gas customers in Baton Rouge and nearly a third of Entergy's Baton Rouge gas distribution workforce.
"Throughout the event, employees applied their safety and emergency-management training to a real crisis and worked together to take care of our customers and get the job done safely. It was a proud moment for me to represent the Entergy team during the SGA award presentation," said Richard Powajbo, manager of operations for Entergy's gas distribution business.
SGA's award program assesses a company's response to gas emergencies based on three criteria: effectiveness, comprehensiveness and continuous improvements.
---