Insights > Entergy Louisiana Provides Economic Development Grant to BRAC
Entergy Louisiana Provides Economic Development Grant to BRAC
01/29/2020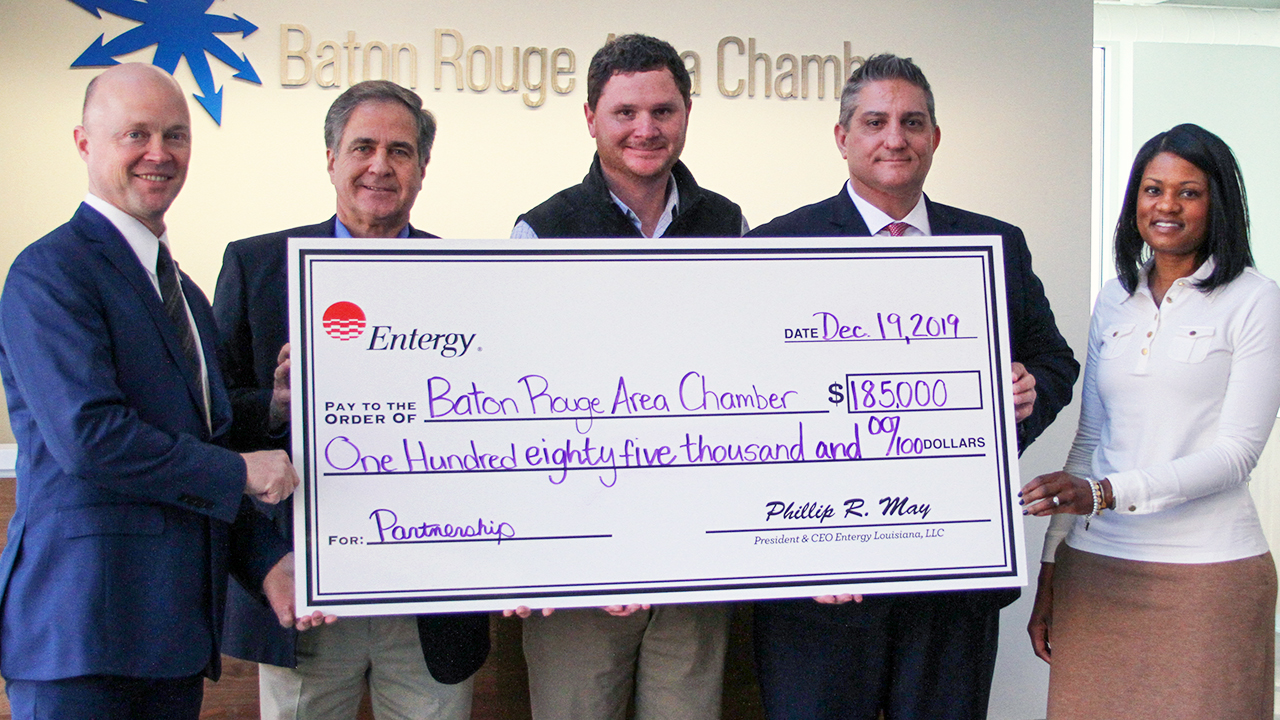 Entergy Louisiana provided a $185,000 grant to the Baton Rouge Area Chamber as part of the company's efforts to support regional economic development across the state.
Entergy's investment helps to fund BRAC's efforts to cultivate talent, transform quality of life and grow and diversify the economy of the nine-parish Baton Rouge area.
"Entergy's continued financial support is critical to carrying out the mission of BRAC to lead economic development in the capital region," said Adam Knapp, president and CEO of BRAC. "Beyond that, the team at Entergy is engaged and active in the work itself, providing guidance through participation on our board of directors and business development advisory committee."
Through its Business and Economic Development team, Entergy Louisiana works with state and local government agencies, economic development organizations and community partners to attract new businesses and jobs to Louisiana.
"Entergy values BRAC's partnership in economic development," said Dennis Smith, Entergy Louisiana's economic development project manager for the capital region. "And we are confident that our investment will result in a significant increase in new projects and new, quality jobs for the greater Baton Rouge region."
The grant contributions will support the vision laid out in BRAC's five-year strategic plan, "Think Bigger." By growing and diversifying the Baton Rouge area economy, cultivating the region's talent, transforming the Baton Rouge area's quality of life, and elevating the region's external image, BRAC seeks to move the region forward for the benefit of the entire population.
Since 2010, Entergy has actively participated in 146 announced economic development projects in Louisiana, totaling nearly $83 billion in capital investments and approximately 20,000 new direct jobs. For 12 years running, Site Selection magazine has named Entergy Corporation as one of the nation's top utilities in economic development.
Entergy Louisiana, LLC provides electric service to more than 1 million customers and natural gas service to more than 93,000 customers in the greater Baton Rouge area. It has operations in southern, central and northern Louisiana.
Entergy Corporation is an integrated energy company engaged primarily in electric power production and retail distribution operations. Entergy owns and operates power plants with approximately 30,000 megawatts of electric generating capacity, including nearly 9,000 megawatts of nuclear power. Entergy delivers electricity to 2.9 million utility customers in Arkansas, Louisiana, Mississippi and Texas. Entergy has annual revenues of approximately $11 billion and more than 13,000 employees.
---