Insights > Entergy Names Participants for U.S. Women in Nuclear Leadership Program
Entergy Names Participants for U.S. Women in Nuclear Leadership Program
07/22/2020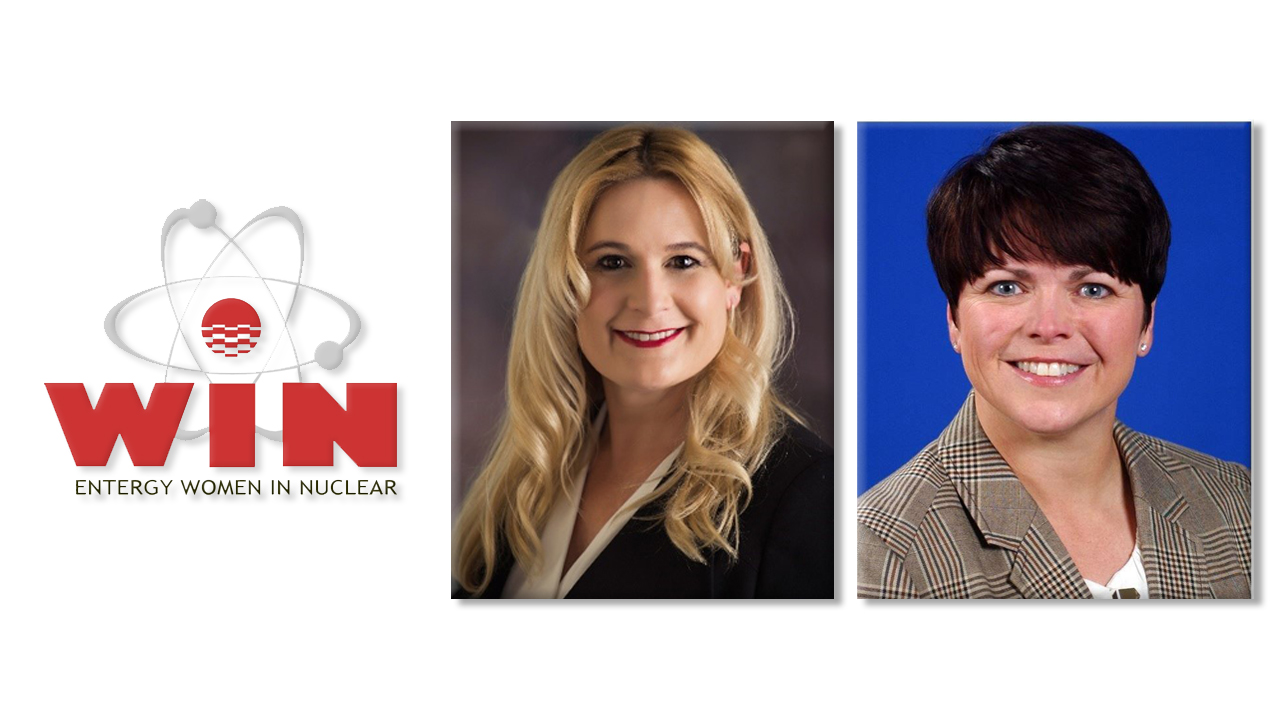 Entergy has named Waterford 3 Engineering Director Crystal Garbe (pictured left) and Senior Manager of Nuclear Fleet Operations Bonnie Bryant (pictured right) to the Women's Leadership Cohort developed by U.S. Women in Nuclear. 
Now in its second year, the program is aimed at developing female leaders in the industry. The 12 participants from across the nuclear power industry will experience a year of training and networking opportunities, including open dialogue with chief executives, stakeholders and other experts.
The program begins at U.S. WIN's National Conference, July 27-28, this year held virtually. Garbe is facilitating one of the panel discussions, and Bryant was a founder of U.S. WIN. The Waterford 3 Nuclear Generating Station is located in Killona, Louisiana, and Bryant works at Entergy's nuclear fleet headquarters in Jackson, Mississippi. 
According to WIN, program participants will learn about leveraging authenticity and emotional intelligence to address leadership challenges (including gender diversity) in handling business strategy issues while building relationships and a broader support network.
"Women in Nuclear is an important organization for the development of leaders across the nuclear industry. Bonnie and Crystal represent Entergy and the industry well, and they richly deserve this honor," said Entergy Chief Nuclear Officer Chris Bakken, who nominated the women.
Garbe and Bryant each cited a different Entergy Nuclear Excellence Model value when discussing their anticipation of the program. Entergy Nuclear employees use the model to achieve common goals. It's built on a set of values called "STAIR:" Safety, Teamwork, Always Learning, Integrity and Respect.
For Bryant, who has been with Entergy for one year, the leadership cohort aligns with the Respect value. "It's an honor to have been selected; it shows respect for women in nuclear and the need for diverse leaders," she said. Her participation, she said, will support Entergy's companywide workforce principles of diversity, inclusion and belonging.  
Garbe identified the Always Learning value as essential to her life and work, including the leadership program. "To have the opportunity to learn something is motivational. I like to challenge myself. I've had the most amazing opportunities at Entergy. Each new role has been an incredible learning opportunity," said Garbe, who has been at Entergy 23 years.
Both women said they are eager to start the program and connect with other female leaders across the nuclear power industry. 
---