Insights > Entergy Nuclear Grant Supports Tougaloo College Visual and Performing Arts Program
Entergy Nuclear Grant Supports Tougaloo College Visual and Performing Arts Program
08/10/2018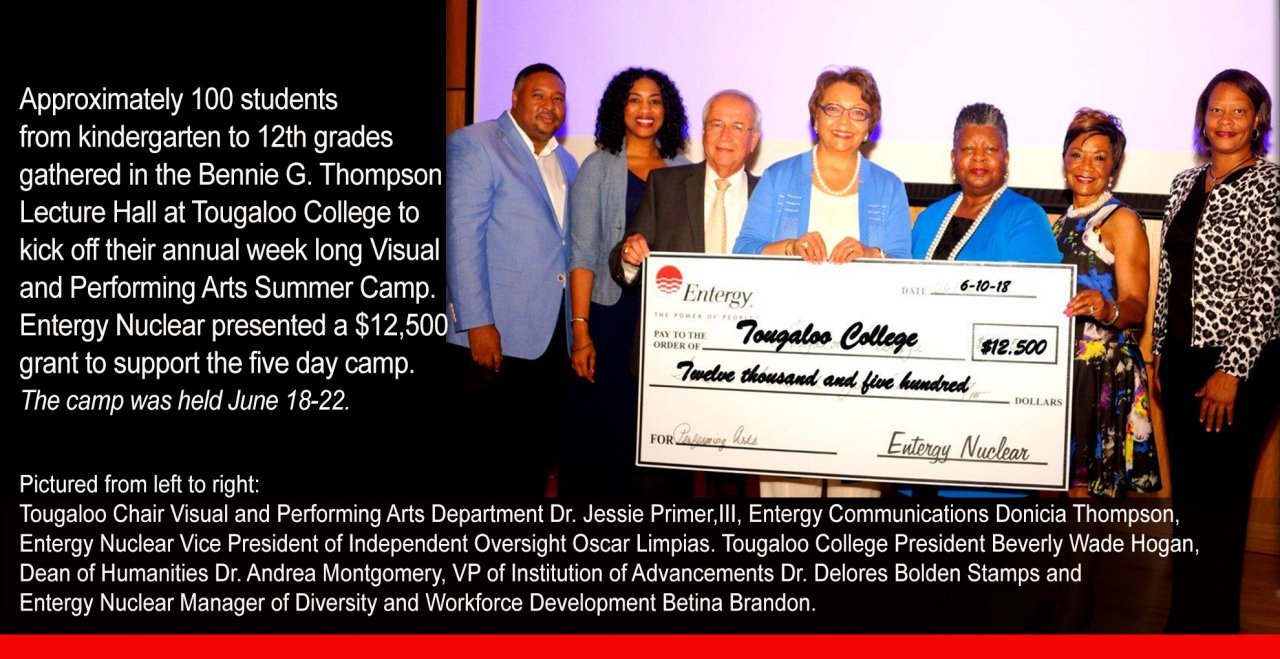 Five-day camp also promotes leadership skill building, college preparation and career awareness for high school students. 
In June, approximately 100 students from kindergarten to 12th grades gathered in the Bennie G. Thompson Lecture Hall at Tougaloo College to kick off their annual week-long Visual and Performing Arts Summer Camp. Entergy nuclear staff joined the assembly to present a $12,500 grant to support the five-day camp.
At Entergy, giving back to the community is a key means for creating sustainable value for communities. Communities are one of our company's four stakeholders with the other three being customers, employees and owners.
"We believe strong communities provide a better quality of life for all of our stakeholders, and education plays a vital role in building successful communities," said Entergy Nuclear Vice President of Independent Oversight Oscar Limpias. "Integrating arts in the classroom teaches creative hands-on, engaging work for students that makes learning more relevant and motivates them to take ownership of success."
Students attended two sessions each day. In the mornings, music sessions were conducted by music teachers and music technicians, and in the afternoons, art sessions were conducted by art teachers.
Tougaloo camp organizers said that one goal during the camp was to reflect that students are more confident and excited about returning to school and have a better appreciation for music and art.
"This culturally focused program also promotes leadership skill building, college preparation, and career awareness for the high school students," Jessie Primer, III, department chair of visual and performing arts at Tougaloo College, said. "The transferable knowledge from the skills gained can be transferred to other related activities at school and the community."
A continuation of the program will include at least two Saturday workshops and a continuation of the music and art camp next summer.
---