Insights > Entergy Presents $1.1 M to The Power to Care, Celebrates Volunteerism in Louisiana
Entergy Presents $1.1 M to The Power to Care, Celebrates Volunteerism in Louisiana
09/05/2019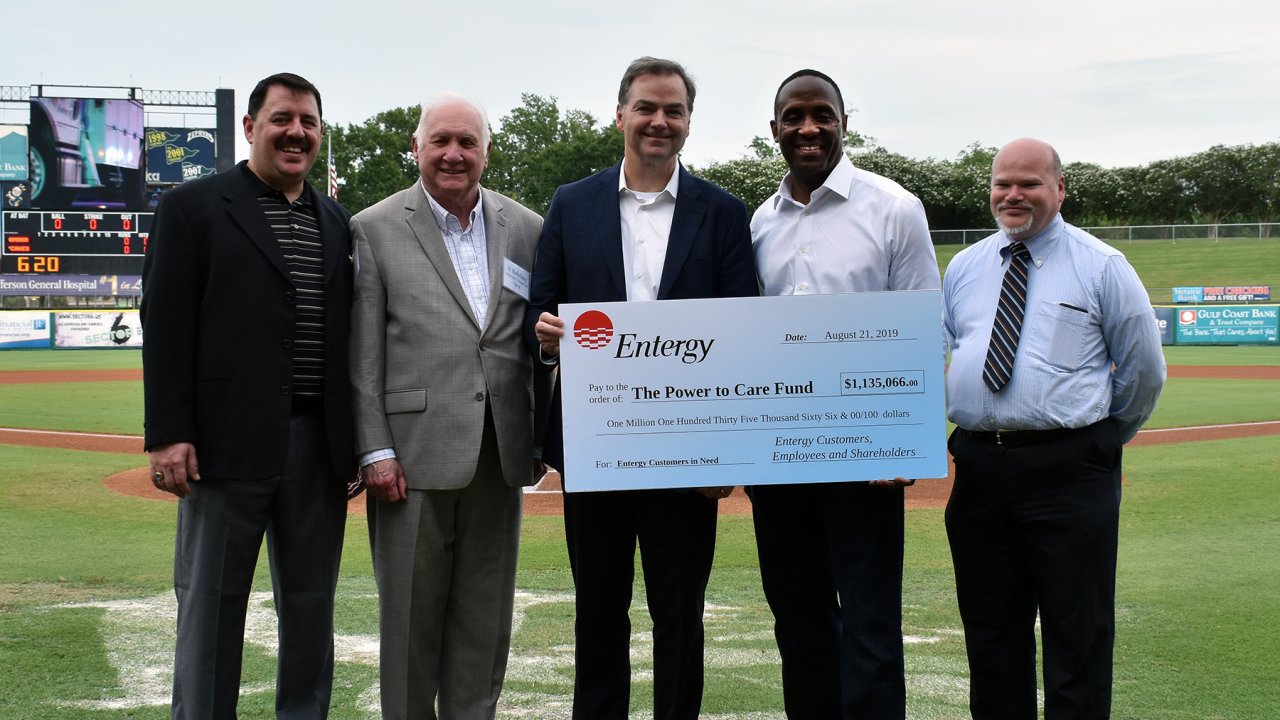 Entergy's dedicated and generous customers, employees and shareholders contributed $1.1 million in Louisiana to support The Power to Care, Entergy's primary low-income assistance program which provides emergency utility bill payment assistance to elderly and disabled customers in their time of need.
The New Orleans' Council on Aging received $257,905 to provide assistance to seniors and disabled customers in Orleans parish and the Louisiana Councils on Aging received $871,161 to help vulnerable customers across the state. 
"The Power to Care program supports our commitment to power life in our communities and keep the lights on for our most vulnerable customers," said Patty Riddlebarger, Entergy's vice president of corporate social responsibility. "On behalf of the company, we would like to thank our customers, employees and shareholders for their generous support throughout the year."
In 2018, $2.9 million was disbursed through The Power to Care to help more than 13,000 elderly and disabled customers keep their power flowing across Arkansas, Louisiana, Mississippi and Texas.
Customer contributions to the program are matched by Entergy shareholders up to $500,000 annually, and employee contributions are matched dollar-for-dollar with no cap. One hundred percent of donations go directly to support the program.
For more information on how to get assistance or to contribute to The Power to Care visit entergy.com/care. You can also check the donation box on your monthly bill by logging into your myAccount on entergy.com.
Powering life in our communities takes human power
Going beyond charitable contributions, employees play a vital role in leveraging Entergy's corporate gifts into sustainable, tangible value for the communities we serve. As part of the event, top employee volunteers were honored for their commitment which helped to garner recognition for Entergy Corporation as one of the top 50 most community-minded companies in the U.S.
Top volunteers from Louisiana included:
Mary Fay Legnon, customer service representative, who goes above and beyond to help customers receive the refunds they have earned and deserve through the Earned Income Tax Credit during Super Tax Day. 
Ira Fields, project manager, who consistently volunteers in almost every volunteer event the company holds in New Orleans and dedicates his personal time to coach little league and mentor young people. 
David Sardenga, accountant, who is always one of the first employees to sign-up for volunteer events. He is most known for dedicating his time to Entergy's low-income and environmental initiatives. 
Linda McGee, service operator, is a dedicated volunteer who enjoys working with the Learning Style Strategies Center to help low-income and special needs children in Harvey, LA. 
Jessica Williams, executive assistant, who goes the long-mile in assuring volunteer events are memorable not only by participating, but by always lending a creative and helping hand in the planning and coordination. 
Michelle Sens, tax manager, who is not just an invaluable Super Tax Day preparer helping our customers take advantage of the Earned Income Tax Credit, she also dedicates her time to tutoring local high school students through Entergy's ACT Math tutoring program. 
Nikesh Kandel, GridMod engineer, who became certified to prepare tax returns and spends his personal hours in the Baton Rouge region helping customers take advantage of the Earned Income Tax Credit to get the most out of their refunds. 
Derek Mills, manager in demand site management, who serves as a volunteer coach for AAU track and field and for the youth of his community all year round. He often takes personal vacation days to help students progress to the highest point in their education and pursue their dreams to be successful athletes.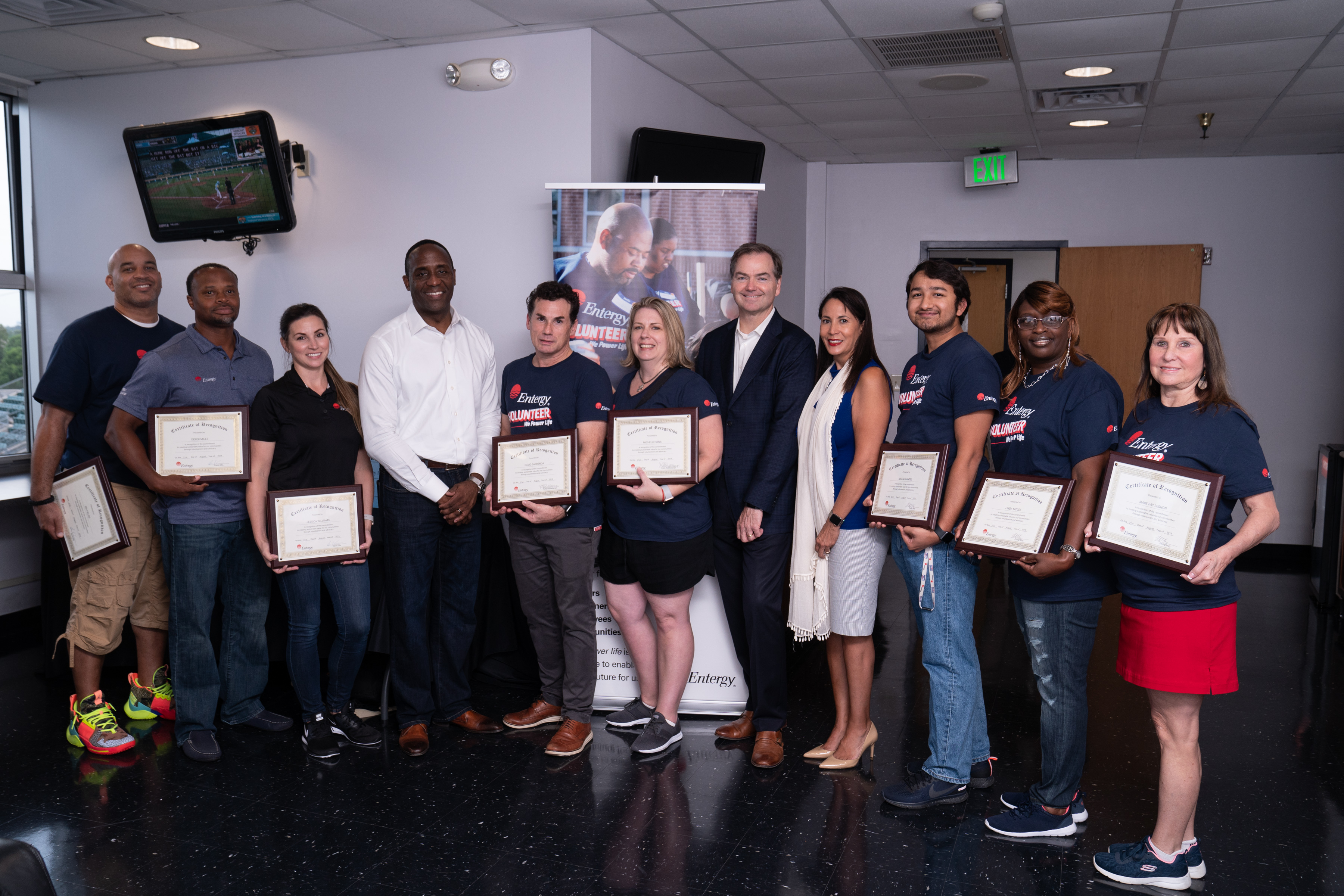 L to R: Ira Fields, Derek Mills, Jessica Williams, David Ellis, David Sardenga, Michelle Sens, Phillip May, Patty Riddlebarger, Nikesh Kandel, Linda McGee, Mary Fay Legnon.
For more than 100 years, Entergy has powered life in our communities through strategic philanthropy, volunteerism and advocacy. Entergy's corporate social responsibility initiatives help create and sustain thriving communities, position the company for sustainable growth and are aligned with the United Nations Sustainable Development Goals. Our top CSR priorities are education/workforce development, poverty solutions/social services and environmental programs. Each year, Entergy contributes $16-18 million in grants from shareholder dollars to more than 2,000 nonprofit organizations in the communities where we operate. In addition, our employees volunteer approximately 112,000 hours in those communities. Learn more about our corporate social responsibility initiatives by visiting entergy.com/community.
---