Insights > Entergy Promotes Workforce Development with Mississippi State University
Entergy Promotes Workforce Development with Mississippi State University
06/14/2018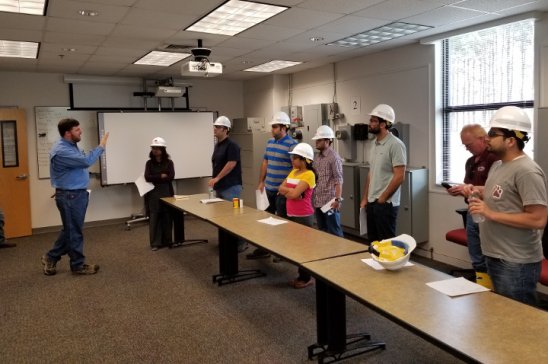 Just as our operating companies are investing in technology to modernize and upgrade the transmission system, Entergy's transmission team continues to build relationships and programs with institutions to develop the workforce of the future.
In April, undergraduate and graduate students from Mississippi State University's electrical and computer engineering department toured Entergy's transmission facilities in Jackson. The tour included stops at the Knowledge and Skills Training Center, the Ray Braswell 500kV substation, the south transmission control center and transmission headquarters.
"This is a great opportunity to meet high-potential students in our back yard," said Matt McNeece, senior manager of transmission strategic initiatives. "The relationship we're building with Mississippi State University not only allows us to create a solid pipeline of qualified candidates for Entergy but also helps MSU build world-class capability to educate the engineers of the future."
Mississippi State engineering students toured several Entergy transmission facilities in Jackson, including the training center, a substation and a system control center.
At the Knowledge and Skills Training Center, students were able to interact with a complete, non-energized substation and learn about training processes for transmission and distribution engineering and operations employees. Drew Gann, a co-op student from MSU, commented that the training substation was "the highlight of the day."
"The training personnel showed us the old equipment compared to the new, upgraded equipment, which was awesome," Gann said.
At the Ray Braswell substation, students learned how an energized substation works and what substation supervisors and grid managers do on a daily basis. The substation was the most valuable aspect of the tour to Tim Sansing, a co-op student from MSU, because "I'd never been shown exactly how everything happened inside of a live substation," he said.
At the south transmission control center, students viewed the nerve centers of the system where employees monitor system status, coordinate line outages for maintenance or repair and remotely operate switches and breakers at substations.
Sansing said, "I thought the tour was very beneficial to me, as well as my peers at Mississippi State, because every question that arose was answered in detail by those in a leadership role. I hope that these types of opportunities can continue to be offered to students, because seeing how everything works outside of a textbook is crucial to understanding how the world around us works."
Students heard from multiple leaders across the transmission organization, including Mike Vaughan, vice president of asset management, who provided insights into how the transmission organization operates and how transmission projects are developed, executed and maintained.
Vaughan also provided career advice for the young engineers. "Companies like Entergy need expertise on all levels," said Vaughan. "We need leaders who are experts in their field and focus on a single subject matter, and we need leaders who are open to learning about the business and how we operate."
---