Insights > Entergy Shines New Light on Christmas Vacation
Entergy Shines New Light on Christmas Vacation
12/06/2017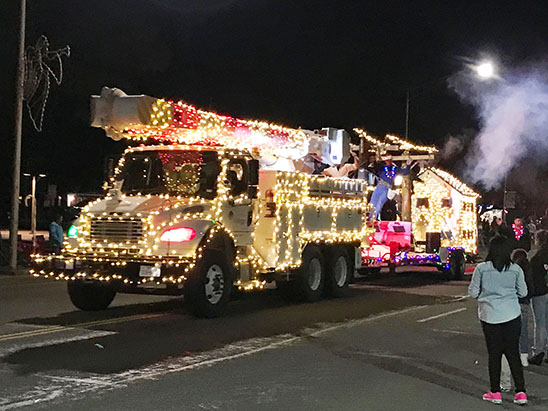 Entergy employees brightened up the City of Orange this past weekend with their "National Lampoon's Christmas Vacation"-themed parade float.
An Entergy truck was decked out "Griswold style," complete with Clark Griswold (aka Aaron 'AP' Castino) and cousin Eddie (aka Rory Risinger) hanging behind the house with serviceman Collin White onboard as well. 
The event was the 69th Annual Christmas Parade presented by the Kiwanis Club of Orange. The parade theme was "A Very Merry Hollywood Christmas," and Entergy folks went all out.
Their efforts won them first place in the parade's commercial division – the third time Entergy has taken the top prize in that division.
Those that took part in building the parade float were: Castino, Risinger, White, Blake Perry (driver), Mike Swope, Dustin Wilson, Jared Robson, Johnny Johnson, Nick Pervan, Daniel Ruiz and Jim Malain.
---