Insights > 'Every individual has the power to create change'
'Every individual has the power to create change'
04/11/2019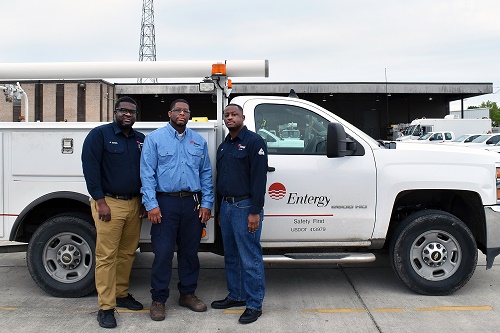 There comes a time when you may be faced with a situation where you know you must go above and beyond to help those in need. For three Entergy Louisiana gas workers, that's exactly what happened while on a job to restore gas to a low-income housing apartment complex in Baton Rouge. The work involved entering individual apartments to relight appliances.  
The outside of the apartment complex was exactly what you are likely picturing – brick walls, cookie-cutter front doors and porches, and big parking areas for cars. What gas servicemen Kevin August, Derek Calvin and Jamison Jones didn't expect were the living conditions families were exposed to when they entered each apartment. "We encountered infested homes that had no furniture and kids were just sitting on the floor," said August. "We knew their parents were doing their best, but to see those faces, we just knew those kids were hungry – starving in some cases."  After chatting with some kids, the men also found that most lacked basic school supplies. 
When their Entergy work was done, neighborhood kids approached August, Calvin and Jones to ask if they had any food they could share. "Without question, we jumped in our cars and drove to the nearest fast food restaurant," August said.  
But they knew they had to do more. Working with local apartment management, the men volunteered their time that weekend to host a cook out. Not knowing what to expect, the initiative turned in to a neighborhood party. Family volunteered to help set up and cook food. The trio even brought in an inflatable waterslide and spacewalk to help make sure everyone enjoyed themselves.  
It didn't end there. Using their own funds, they purchased much-needed school supplies for the neighborhood kids. "It really didn't matter what we cooked or did that day. Seeing the smile on those kids' faces made it all worth it," August added.
While August, Calvin and Jones had hoped to make the cookout a more frequent event, luckily, soon after, families worked with local organizations and were relocated to more suitable housing. The apartment complex now stands empty and will eventually be torn down.   
"Doing good comes in many different forms. These men help define how we power life for the communities in which we live and serve," said Phillip May, Entergy Louisiana president and CEO. "This is just one example how every individual has the power to create change – acting to tackle society's greatest challenges, and build stronger, more resilient communities."
---