Insights > Following in Dad's Footsteps - Celebrating a father-daughter pair at Arkansas Nuclear One
Following in Dad's Footsteps - Celebrating a father-daughter pair at Arkansas Nuclear One
06/15/2017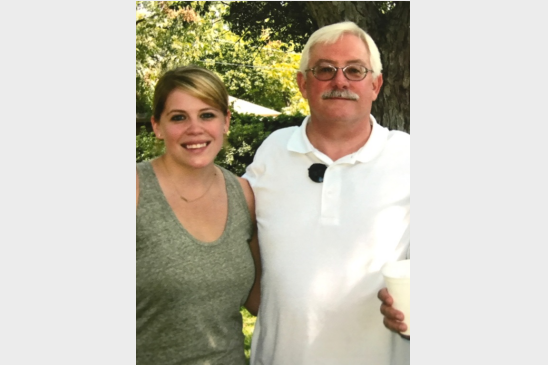 For some daughters, their father's influence is so strong it inspired a career path that mirrors their dad's. Entergy boasts a number of such father-daughter pairs. Some even work even in the same field. In advance of Father's Day, we sat down with one such duo, Engineering Training Instructor Annie Bradley and former Design Engineer Mark Wright at Arkansas Nuclear One.
Wright began his career with Entergy in 2000 and retired in 2015. Now he's back as a contractor, providing assistance in the cyber security program and working at the same site as his daughter, who joined the ANO team in 2009.
"One of my favorite dad moments is when I was a kid was when he would say, 'Decrease all non-essential power consumption,' which meant turn off the lights. That's not a joke!" said Bradley.
Bad dad jokes notwithstanding, she says growing up with her dad gave her the confidence to pursue a career in a technical field, which has been primarily a male-dominated industry. "Since I've been at ANO, I've had the opportunity to work with other young women who are in STEM (Science, Technical, Engineering, and Math) careers," she said. "I realize that not all girls get encouragement to pursue technical fields."
Bradley continued, "It was never a question in my mind that I was smart enough and capable of doing anything I wanted to do. A lot of that came from my dad, putting it in my head early on that I was smart, and I should be proud of that."
Wright is pleased about the woman his daughter has grown to be. "Annie is a very independent, capable woman. She has always been a hard worker with an eye for details. I'm proud that she's an engineer, but I'm most proud that, due to her internal drive, I know she will be successful at whatever she chooses to do" said Wright.
Working with a parent may not be for everyone, but this duo enjoys having each other to lean on when needed. "I like that it's something we share and can talk about it," Bradley said. "I could always turn to him if I was stuck or had a question."
---