Insights > Grand Gulf Launches Community Day Volunteer Event
Grand Gulf Launches Community Day Volunteer Event
12/12/2018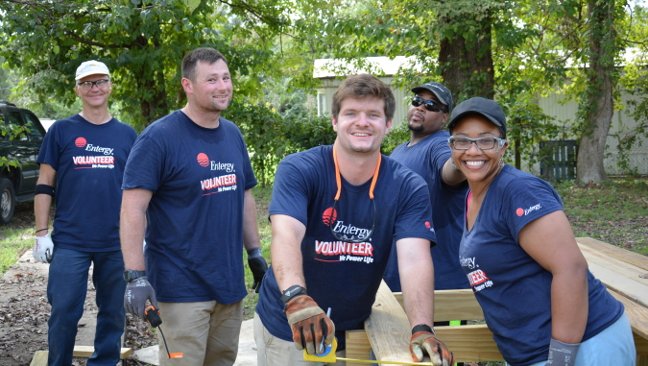 During October, Grand Gulf completed its inaugural Community Day volunteer service event in partnership with Port Gibson authorities and Christian Community Services, a local volunteer organization.
The Community Day service event was created by employees in the Blueprint Advisory Panel, a grassroots forum where employees engage with and influence site leadership through open discussion.
Grand Gulf Community Day consisted of more than 60 employees volunteering across seven service days to help winterize and maintain homes in the Port Gibson community. Ed Garrison, recovery manager for Grand Gulf, coordinated repairs and volunteer efforts that included:
Building two handicap ramps
Caulking 280 windows
Replacing 60 windows
Installing 21 door sweeps
Insulating 20 water lines
Replacing siding on two homes
Painting three homes
Insulating a laundry room and installing panel
Raking and cleaning two yards and removing debris from several others
Repairing four roofs and sealing coating two roofs
Port Gibson is a city in Claiborne County, Mississippi, with a population of approximately 1,500 residents and a median annual household income of $22,022, according to a 2016 American Community Survey.
Entergy provides employees up to 16 hours of paid time off to give back to their communities through volunteer service. For the Community Day event, Entergy paid for more than 600 hours of volunteer service as well as supplies for repairs and meals for volunteers, which were purchased from local Port Gibson vendors and shops in an effort to invest all resources in the community.
Scott Davis, Ward 5 Alderman for Port Gibson, said, "I want to take the time to thank everyone who came out to help the people of Port Gibson. This was great for Grand Gulf and for people in need here in Port Gibson."
Sherman Stuart, an engineer at Grand Gulf and a Community Day volunteer, said, "I really enjoyed it. It was a great experience to volunteer in the community and help others in need. I also got to meet people from other departments that I wouldn't have met otherwise. It was good teambuilding."​
---