Insights > Ida damage greater than Katrina, Ike, Delta, Zeta combined
Ida damage greater than Katrina, Ike, Delta, Zeta combined
09/05/2021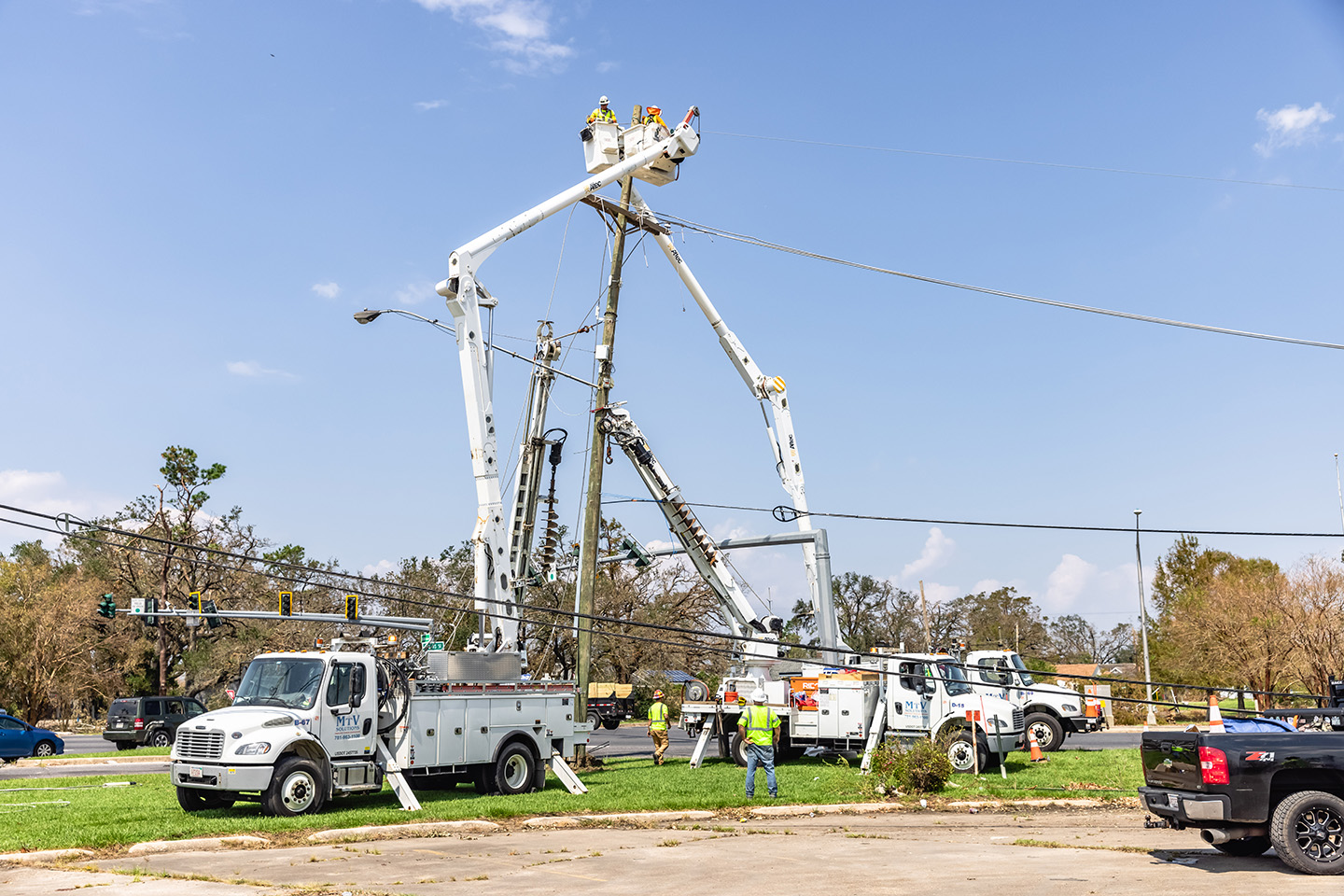 One week after landfall, Entergy has restored power to 395,000 Entergy Louisiana and Entergy New Orleans customers, down from a peak of just over 900,000.
As of Sunday morning, an estimated 39% of outages have been restored and Entergy will continue working around the clock until all outages are restored.
Damage Assessments Complete
Final assessments are complete in the Entergy service area that was ravaged by Hurricane Ida, and distribution system damage included 30,679 poles, 36,469 spans of wire and 5,959 transformers. In total, the number of damaged or destroyed poles from Ida is more than hurricanes Katrina, Ike, Delta and Zeta combined.
Resources List Available
We are maintaining a webpage with links to a number of resources, such as government services, or that have information on where to find available food, gas and other supplies. Please visit entergy.com/hurricaneida/disaster-resources.
Restoration Times Updated Regularly
Preliminary estimated restoration times have been communicated for all affected customers We are regularly communicating with customers to provide up-to-date and accurate information, to help them plan appropriately. Follow our official updates through EntergyStormCenter.com, @Entergy on social media, Entergy's smartphone app, and direct text messages.
Restoration times extend to no later than Sept. 29, even for the hardest hit communities. Customers should visit our dedicated Hurricane Ida restoration website at entergy.com/hurricaneida/etr to get the most up-do-date estimated times of restoration for those customers affected by Ida.
Note: Estimates are subject to change, and we are exploring every option to expedite power restoration. Rest assured, we will not stop until the last light is back on in our communities.
'View Outages' Map Information
View Outages is a visual representation of the state of the grid. The green and red lines are intended to provide users with indications that line segments are generally either energized or de-energized.
However, as our crews restore power from events like Hurricane Ida it is important to understand that there is a high volume of switching activity that may result in data latencies affecting updates to View Outage Maps.
View Outages maps should not be relied upon for detailed planning purposes. For planning purposes, users should rely upon the location-specific information provided by logging into their myEntergy account.
It's important to note that while the main line may be energized, the map doesn't show power flow all the way to the home. There could be damage or other issues between the energized line and the home such as transformers, downed wires from the pole to the home or damage with the meter or within the location itself. The map relies on software to predict the location of outages; actual outages may vary from those predicted.
In some cases, customers will need to get their external electrical equipment repaired before we can safely re-connect service. See THIS SITE to understand what is the customer's responsibility and what is ours.
Restoration Process
Restoration is a methodical process. While crews are working in all areas, those with the least amount of damage will be restored sooner. Some customers without power may notice that the electric system in their immediate area has been repaired or appears to be in good condition.
Transmission lines that received major damage may need to be fully reconstructed in parts. Once the transmission lines are flowing electricity into the city's substations, then power can flow through the distribution lines to homes and businesses that are able to accept power.
We also will reconfigure our electricity delivery system where feasible to return power to some customers more quickly. Once repairs are completed, we will return the system to normal configuration.
Although the power grid in southeast Louisiana will lack the redundancies that are in place when the transmission system is in full operation, Entergy Louisiana's engineering and operations teams will follow a plan that will maintain the stability of the system.
General Safety Guidelines
Stay away from downed power lines and flooded areas. Do not walk in standing water and do not venture into areas of debris, since energized and dangerous power lines may not be visible. Be cautions when clearing limbs or downed vegetation as it could hide electrical hazards.
There is no way to know if a downed line is energized or not, so if you see one, keep your distance and call 1-800-9OUTAGE (800-968-8243).
---