Insights > Indian Point Employees Give Back to Community by Repairing Senior's Home
Indian Point Employees Give Back to Community by Repairing Senior's Home
12/12/2018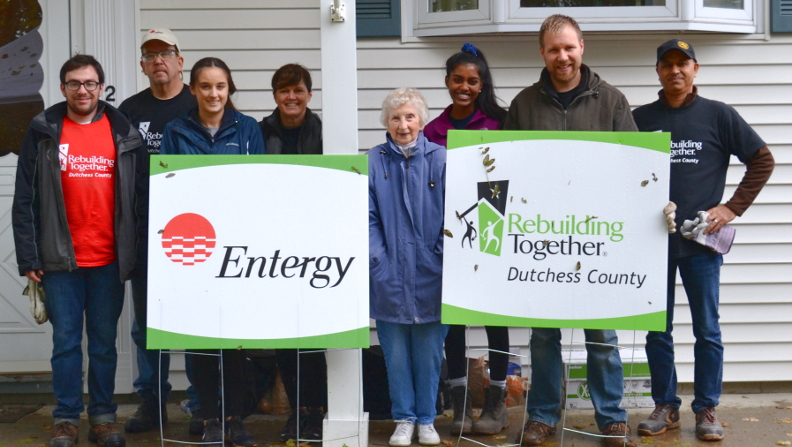 Wind and rain did not deter Entergy's Indian Point Station volunteers who spent a Saturday in November making minor repairs and installing safety measures for a senior citizen's home in Dutchess County, New York, where many employees live.
For the last five years, members of Indian Point's North American Young Generation in Nuclear group have supported Rebuilding Together Dutchess County's efforts to repair and modify multiple houses for low-income homeowners.
"We're working on a good cause," said Keegan Trott, reactor engineer, who has organized Indian Point's volunteer effort for four years. Trott and several others on the team, including Iqbal Bashir, are repeat volunteers.
"It's personally very satisfying," said Bashir, instrument and control outage coordinator.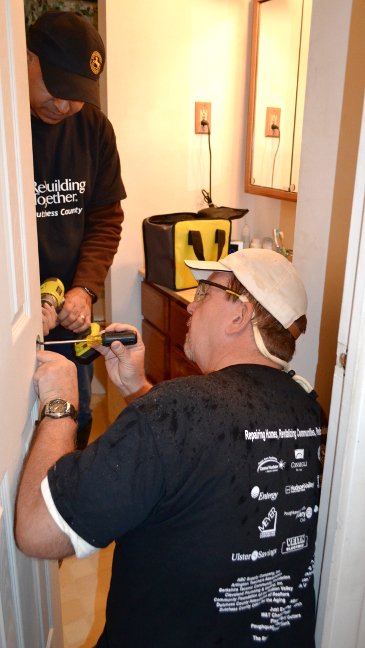 Indian Point Station employee Dan Cook prepares to replace a door as part of Rebuilding Together Dutchess County's volunteer project.
During the most recent project, employees replaced a bathroom door and installed hand rails in the shower for the 82-year-old homeowner. Because the resident's recreation room had been flooded, Entergy volunteers removed and transported mildewed items to a dumpster and replaced tiles and drywall to make the room more resistant to moisture.
The owner smiled as work progressed on her home all day. "They have done a beautiful job," she said. "All the cleaning up they're doing is a lot of hard work."
Also on the repair list as part of fire prevention safety efforts was the installation of carbon monoxide and fire detectors.
"It's the right thing to do," said Dan Cooke, quality assurance assessor.
Entergy was one of several Hudson Valley companies that assisted the non-profit in what has become a twice-a-year effort that has resulted in home repairs, accessibility modifications and energy efficiency upgrades to about 470 homes in Dutchess County.
"All of the volunteers were here first thing this morning in pouring rain," said Rebuilding Dutchess Board President Christopher Pels. "Entergy is really a key partner for us because they are not only the volunteers with the 'hands' doing the work but also financially partnering with us and saying, 'We see the value in the work you do in the community. We want to help you keep homeowners safe, warm and dry.'"
The Dutchess County affiliate is part of Rebuilding Together, a 30-year-old national organization with about 100,000 volunteers, including Entergy volunteers in other states, who complete about 10,000 projects each year nationally.
"Every homeowner we can help is a success for our organization, our partners and our community," said Christina Boryk, executive director of Rebuilding Together Dutchess County. "The volunteers' work contributes to our goals of a safe and healthy home for every person while preserving affordable housing in Dutchess County."
Support of the non-profit in New York is part of Entergy's company-wide efforts in local communities to award about 3,000 grants totaling more than $15 million each year.
"Giving back to the communities we serve is an integral part of Entergy's corporate mission," said Patty Riddlebarger, vice president of corporate social responsibility at Entergy. "We view giving back to the community as an investment, not only because it makes good business sense but simply because it's the right thing to do."
Meanwhile, Rebuilding Dutchess is looking forward to working with Entergy volunteers again.
"We're an organization driven by volunteers," Pels said. "If we don't have volunteers doing the work, nothing gets done."
---