Insights > Lights, Normalcy Steadily Coming Back to Tangipahoa Parish Following Hurricane Ida
Lights, Normalcy Steadily Coming Back to Tangipahoa Parish Following Hurricane Ida
09/12/2021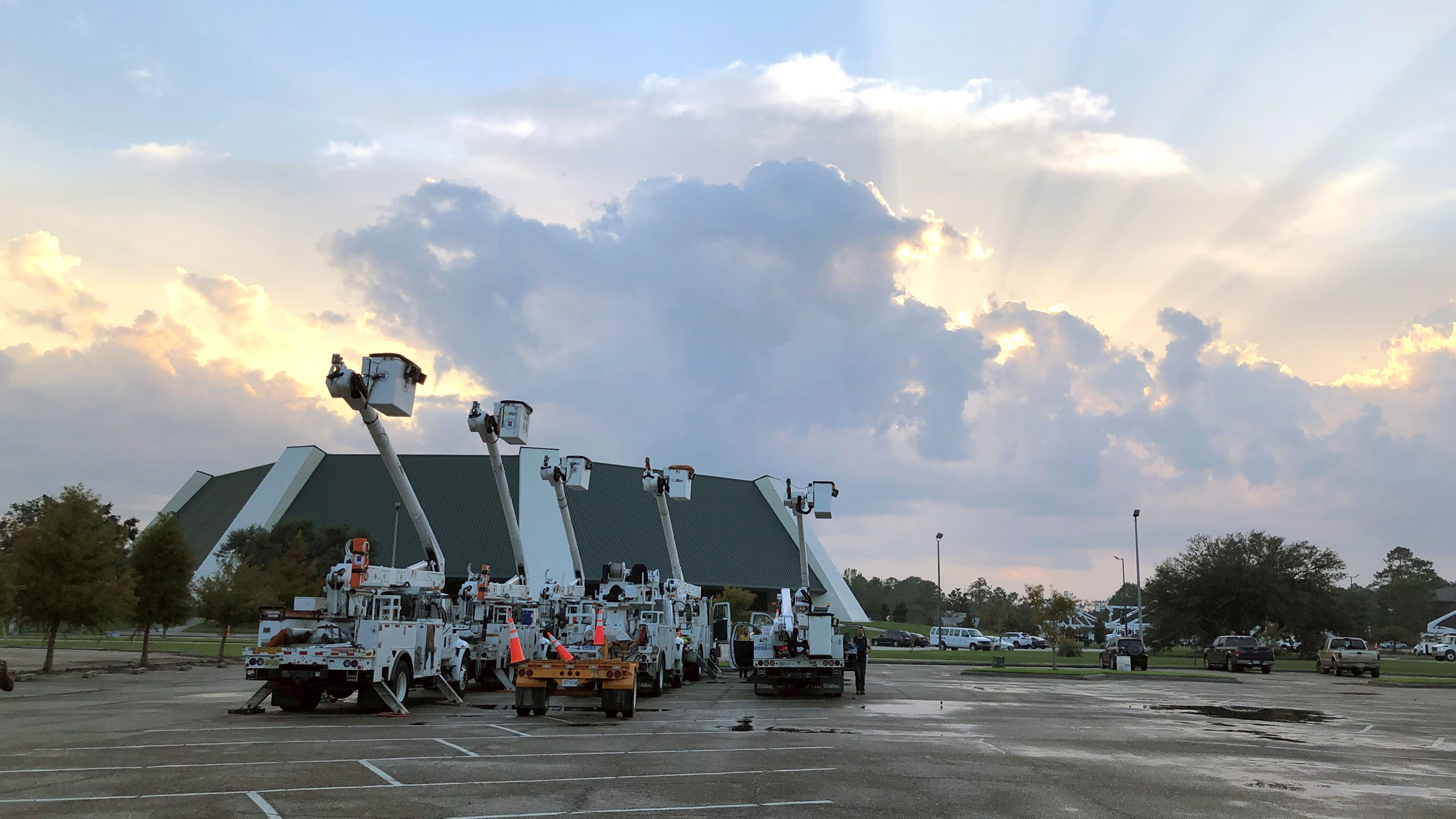 Customer in Robert who rode out storm says she is grateful to have power again
Jetta Myers considers herself fortunate, fortunate to have survived one of the strongest storms to ever hit Louisiana and fortunate to have power again. But it was her experience with an Entergy Louisiana lineman that brought her hope and comfort in what otherwise are difficult times.
Myers and her 11-year-old daughter, Amara, rode out Hurricane Ida at their home in the Tangipahoa Parish community of Robert. When asked about the experience, Myers described it in one word, "Horrible."
Once it was all said and done, neighbors helped pull Myers' mailbox from the middle of the street and she counted her blessings and reminded her daughter to do the same.
"I've been talking to God a lot lately," Myers said. "My daughter will tell you, every night, I say, 'Say your prayers for the people who lost everything and the people who came here to help us.'"
Among the people who have been helping get the lights back on is Keith McKnight, an Entergy Louisiana lineworker out of Hammond.
On Wednesday, after water in the area had receded, McKnight was traveling along LA-445 when he saw a sign that read, "Linemen We Need Power." A "helper by nature," McKnight turned onto North Bennett Lane and observed that two laterals (or sets of powerlines) served the neighborhood. One had damages in the way of a downed powerline and was not a quick fix. The other simply needed to be "refused".
After throwing in the switch, the lights came back on for several customers in the area, including Myers.
"He was very patient and kind," Myers said, adding that she will be forever grateful to McKnight for taking the time to speak with her and do what he could in their time of need.
When asked why he does line work, McKnight humbly says, "To help people. I like to see the smiles on peoples faces when we restore their power, and I like to know our customers are safe and taken care of."
Myers and McKnight's story is just one example of what is taking place across Tangipahoa Parish following Ida. On Saturday, signs of normalcy, as well as power restoration activities, were in full swing.
Beyond the broken fences and piles of pine and oak logs along North Coburn Road in Hammond, someone could be seen driving a golf cart along the green of a local country club. Just up the road along U.S. Highway 190, a local grocery store appeared to be having one of its best days with the parking lot nearly at capacity and the entrance serving as a revolving door.
On the other side of town, members of Entergy's storm team were reviewing plans to repair the electric system from Kentwood to Ponchatoula. Teams, Line Supervisor Darrell Woullard said, have been broken up by substation.
"We're starting at the source of power and working our way outward," Woullard said. "Crews have been assigned to one of six substations and are responsible for repairing and energizing main lines that branch out from the substations and provide power to homes and businesses."
He added, "It's taking time to complete repairs, especially in our hard-to-access wooded areas, but we're making great progress."
And progress it is… As of Saturday morning, crews had restored electric service to approximately 75% of Tangipahoa and St. Helena Parish customers who lost service following Ida and could safely receive it.
Ida did a number on the company's electric system in Tangipahoa Parish. Approximately 3,300 distribution utility poles, 8,000 transformers and 840 spans of wire (from pole to pole) were left in need of repair or replacement.
According to McKnight, restoring this amount of damage is no easy feat, especially in a parish like Tangipahoa. A lineworker, he said, experiences all that Louisiana has to offer in terms of geography when working there.
McKnight described it like this: "There's the downtown area that has underground facilities. Then there's the more rural areas in the woods where miles of powerlines may only serve a handful of customers. And then there are facilities along waterways in Manchac and near Lee's Landing that can only be accessed by boat. All of that is here."
But despite the challenges, Entergy personnel say they are up to the task and are thankful for mutual aid.
"We couldn't do this without the parish and our utility partners," Woullard said. "Although the lights are coming back to Tangipahoa Parish, we're not going to be satisfied until all customers who can safely accept power have it." 
---