Insights > Power Drive: Entergy's Electric Vehicle Fleet Hits the Road
Power Drive: Entergy's Electric Vehicle Fleet Hits the Road
09/14/2017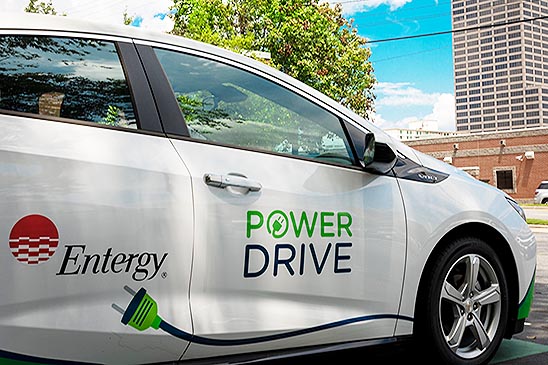 With growing popularity around plug-in electric vehicles, or PEVs, and advanced charging capabilities, Entergy recently launched its Power Drive initiative.

The new Entergy PEV fleet consists of seven PEVs – two Nissan Leafs and five Chevy Volts. Each of Entergy's operating companies will determine the best use of their vehicles and will be able to showcase them at public events to help build awareness. 
Entergy has also installed seven dual-port level two charging stations at select Entergy sites, which will be reserved for the fleet vehicles, and will eventually be made available to employees to charge their personal PEVs while at work.

Throughout the program, the company will collect data from the vehicles and chargers, and feedback from employees using them, in order to gain knowledge and better understand operating profiles and users' experiences.
"Entergy is studying technological advancements, monitoring market trends and collaborating with industry experts to ensure we're prepared to safely and reliably meet our customers' needs, as electric vehicles continue to account for a growing percentage of the nation's transportation portfolio."
- Matt Dearmon, project manager for Entergy's Power Drive initiative
Electric vehicles are not new to the company, which donated $160,000 in 2011 to fund charging stations across its four-state utility service area. The following year, the first of these charging stations were installed. Entergy's efforts in this space align with the U.S. Department of Energy's EV Everywhere initiative, launched in 2012, that aims to increase the adoption and use of EVs nationwide.

The Power Drive website includes information on choosing the right EV, tax credits and incentives, a savings calculator, location map for charging stations and more.

Sept. 9 is the beginning of this year's National Drive Electric Week, with over 260 events taking place around the globe through Sept. 17. Find out if your area is hosting a celebration.
---