Insights > Rock and Rolling Volunteers
Rock and Rolling Volunteers
04/26/2018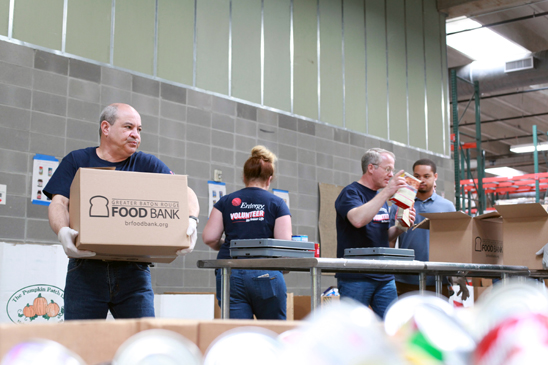 Entergy employees in Louisiana team up to help communities during National Volunteer Week

Aaron Lodge could hear the melodies of a guitar as he and other Entergy employee volunteers worked in rhythm to sort boxes and pack food at the Greater Baton Rouge Food Bank during National Volunteer Week, April 15-21.
"We have a good time every year," said Lodge, Entergy Louisiana electric senior engineering assistant. "They usually play some good music that really gets everybody motivated and moving."
The music definitely motivated Johnny Lawdermilt, who was having a good time helping other employees place boxes on a conveyor belt.
"With the help of my coworkers, we rocked and rolled all day and enjoyed every minute of it," said Lawdermilt, an Entergy Louisiana lineman.
"I definitely think we're making an impact. From separating the food to making boxes or crushing them – at the end of the day, it feels good knowing I helped fight community hunger," he added.
Lodge said volunteering was a great way to give back to the community and help families get some much-needed meals. Gerald Doyle, Entergy Louisiana senior engineer, agreed.
"Unfortunately, this is a constant need. Our community does not get enough to eat every day," Doyle said. "My part has helped someone else today that needed me being there. And I needed them just as much as they needed me."
One-hundred and fifty-five Entergy employees in Louisiana logged approximately 750 hours as part of National Volunteer Week. In Baton Rouge alone, employees sorted and packed approximately 60,000 pounds of food over four days.
Employees also teamed up to volunteer their time at the Gretna Community Center, Second Harvest Food Bank in Elmwood, Monroe's Food Bank of Northeast Louisiana, and Abraham's Tent in Lake Charles.
At Abraham's Tent, employees provided hot meals to hundreds of community members and distributed and bagged groceries for the elderly and other community members in need in north Louisiana.  
Earlier this year, Entergy Louisiana presented a $20,000 grant to the Food Bank of Northeast Louisiana to benefit its BackPack for Kids program. The program provides hundreds of backpacks for students in Ouachita and Lincoln parishes every week. The program also provides at-risk children with nutritious food to take home when other resources might not be available, such as weekends and when school is not in session.  
To find more information about the food banks in your area, visit: http://www.lafba.org/AboutUs/OurMembers.aspx.
---