Insights > Serviceman Kicks in Door to Save Pets from House Fire
Serviceman Kicks in Door to Save Pets from House Fire
02/27/2018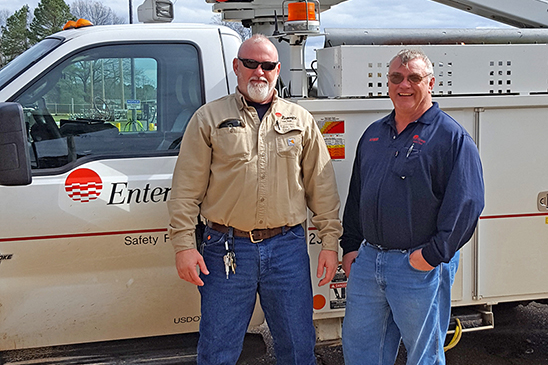 There are two lucky dogs living near Emerson, Arkansas. They're lucky Magnolia Serviceman Phillip Knapp was on the job mid-morning Feb. 22 investigating power outages on Highway 79 just after a thunderstorm passed through.
Working in tandem with fellow serviceman Terry Harrison, the men saw two open switches on poles and a power line on the ground, all evidence of a lightning strike. Harrison set about repairing the lightning damage while Knapp went for a closer look at suspicious smoke coming from a wood-frame house nearby. There was a pickup in the home's carport and a tricycle and a bicycle in the yard, so Knapp banged on the front door to see if anyone was in the house. No answer. He moved to a side door. No answer.
He paused to converse with a volunteer firefighter who stopped in his personal vehicle. By now it was apparent the house was on fire. The firefighter went to get a proper fire truck. Knapp went to the back door and banged again. Again, no answer – no people, anyway. But he heard dogs barking.
Still not knowing who, if anyone, was on the other side of the locked door, Knapp kicked it in.
Once inside, he determined the HVAC equipment was on fire and the house not far behind it. He searched room to room as the space began filling with smoke and determined there were no people inside. But there were two dogs, a terrier in a cage and a large puppy loose in the house. The puppy running free "was not wanting to have anything to do with me," Knapp recalled, but he quickly made friends with the one in the cage and the other came close enough that Knapp could grab it and get it into the cage, as well. He then took the two dogs to a barn behind the house where they would be safe.
Looking back later on the moment he busted in the back door, Knapp joked, "I was glad I didn't find the family sitting there warming their hands by the fireplace."
The house was heavily damaged by the time the fire was extinguished. Because of fortunate timing, no people were injured. Because of the bravery of an Entergy Arkansas serviceman, two dogs lived to wag their tails another day.
Shrugging off the hero status, Knapp said, "It's just one of those things that happen." But, he added, "In 30 years as an Entergy Arkansas lineman, I've never had THAT happen."
---