News Release > $1.5 Million in Grants Awarded To Improve Lives and Organizations in Seven States
For Immediate Release
$1.5 Million in Grants Awarded To Improve Lives and Organizations in Seven States
07/28/2016
Entergy Charitable Foundation is accepting new grant requests through August 1.
New Orleans – More than 18,000 students in the Baton Rouge area are among the beneficiaries of the Entergy Charitable Foundation's grants for the first half of 2016. New Schools for Baton Rouge is an example of the more than 80 nonprofit organizations in seven states recently awarded grants totaling $1.5 million from the company's foundation.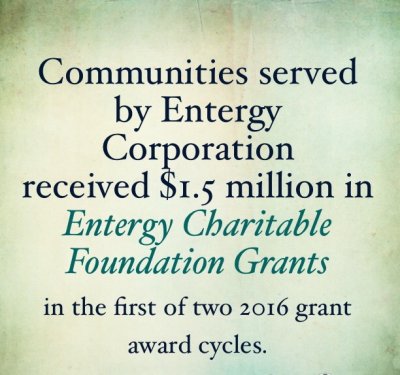 "We see it as a privilege to give back to communities around the country to help people and organizations prosper," said Patty Riddlebarger, director of Entergy's corporate social responsibility program.
The Entergy Charitable Foundation provides monies focused on education, poverty solutions and environmental programs that improve the quality of life in communities served by Entergy. Applications for the foundation's next grant award cycle can be submitted at "Our Community" at entergy.com through August 1, 2016.
"Making a difference in our communities through the Entergy Charitable Foundation is one of the many ways We Power Life for our stakeholders," Riddlebarger added. "Entergy shareholders – our owners -- provide the funding for charitable organizations that create vibrant, healthy communities. Our employees and retirees take an active role in their local communities to maximize benefits."
Among the programs supported are:
New Schools For Baton Rouge to expand quality choice school options for some of Louisiana's highest-need students.
Lonoke County Task Force on Child Abuse and Neglect Inc. to provide emergency and residential care for abused and neglected Arkansas children.
Operation Outreach-USA Inc. to have K-4 students in three Plymouth, Mass., schools to participate in literacy and character education programs.
Propeller: A Force for Social Innovation to encourage entrepreneurial solutions to the New Orleans' water challenges.
University of Mississippi School of Pharmacy for a tele health network providing health services to K-12 students in rural school districts across Mississippi.
United Way of Westchester, New York, to improve literacy for K-3 through on-site teacher advocates for classroom and community support.
Woodlands Center for the Performing Arts for Musical Scores, building self-esteem by recognizing jobs well done by "at-risk" students in South Montgomery County and Houston, Texas.
Partnerships with the United Negro College Fund and the American Indian College Fund benefit stakeholders in all Entergy utility service areas. A complete list of grants awarded can be found at: http://www.entergy.com/our_community/ECF_grant_guidelines.aspx
In 2015, Entergy shareholders awarded more than $15 million to local nonprofits through various grant programs. Over the past 10 years, the company has donated more than $150 million. Entergy employees engaged in more than 100,400 hours of volunteer service last year valued at more than $3 million. Learn more in our 2015 integrated report.
Entergy Corporation is an integrated energy company engaged primarily in electric power production and retail distribution operations. Entergy owns and operates power plants with approximately 30,000 megawatts of electric generating capacity, including nearly 10,000 megawatts of nuclear power. Entergy delivers electricity to 2.8 million utility customers in Arkansas, Louisiana, Mississippi and Texas. Entergy has annual revenues of approximately $11.5 billion and more than 13,000 employees.
-30-
http://entergy.com
Twitter: @Entergy
Facebook: www.facebook.com/entergy
---