News Center > Arkansas State University-Beebe campuses Receive over $100,000 from Entergy Arkansas
For Immediate Release
Arkansas State University-Beebe campuses Receive over $100,000 from Entergy Arkansas
08/14/2018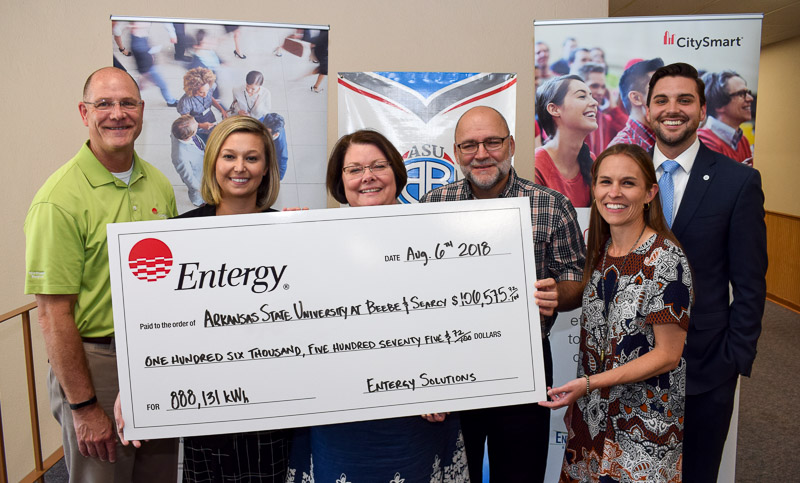 BEEBE, Ark. – Energy efficiency incentives from Entergy Arkansas are helping Arkansas State University-Beebe's campuses save money by reducing the amount of electricity required for operation.
"The benefits gained from the partnerships between Entergy Arkansas, Johnson Controls and the ASU system in the modernization of our energy management project at ASU-Beebe's campuses in Beebe, Searcy and Heber Springs have been tremendous," said Roger Moore, vice chancellor for finance and administration at ASU-Beebe. "This energy management upgrade will not only produce energy efficiencies resulting in financial savings for years to come, but also will help us be a much 'greener' college by allowing us to reduce our overall carbon footprint.  Partnerships and projects like this pay significant and lasting dividends not only for the university, but also for our students and other constituents, who will enjoy a cleaner, safer and more comfortable learning environment."
ASU-Beebe has four campuses located in Beebe, Searcy, Heber Springs and at Little Rock Air Force Base that provide higher education to 3,739 students, and employs 499 people across five counties in central Arkansas. 
Participation in Entergy Arkansas' CitySmart Program resulted in a $106,575.72 incentive check, which helped the school purchase and install energy-efficient LED lights throughout the Beebe, Searcy and Heber Springs campuses. They are also implementing efficiencies in their HVAC equipment and controls that will earn them additional incentives through the CitySmart program.
"Entergy Arkansas appreciates the opportunity to help ASU-Beebe reduce their electricity usage," Flave Carpenter, customer service representative, said. "By replacing inefficient lighting and equipment, the college should realize lower electric bills as well as a reduction in maintenance costs. We are pleased that Entergy Arkansas is able to offset some of the initial cost of replacement."
The CitySmart program serves schools, cities, counties and other public entities, and is just one of many energy-efficiency programs offered by Entergy Arkansas for business and residential customers. For more information about the company's energy-efficiency programs, visit www.entergyarkansas.com/energy_efficiency/.
Entergy Arkansas provides electricity to approximately 700,000 customers in 63 counties. Entergy Arkansas is a subsidiary of Entergy Corporation, an integrated energy company engaged primarily in electric power production and retail distribution operations. Entergy owns and operates power plants with approximately 30,000 megawatts of electric generating capacity, including nearly 10,000 megawatts of nuclear power, making it one of the nation's leading nuclear generators. Entergy delivers electricity to 2.8 million utility customers in Arkansas, Louisiana, Mississippi and Texas. Entergy has annual revenues of more than $12 billion and approximately 13,000 employees.
­
---