News Release > Entergy, Pontchartrain Conservancy "sweep" Pontchartrain Basin ahead of hurricane season
For Immediate Release
Entergy, Pontchartrain Conservancy "sweep" Pontchartrain Basin ahead of hurricane season
05/18/2022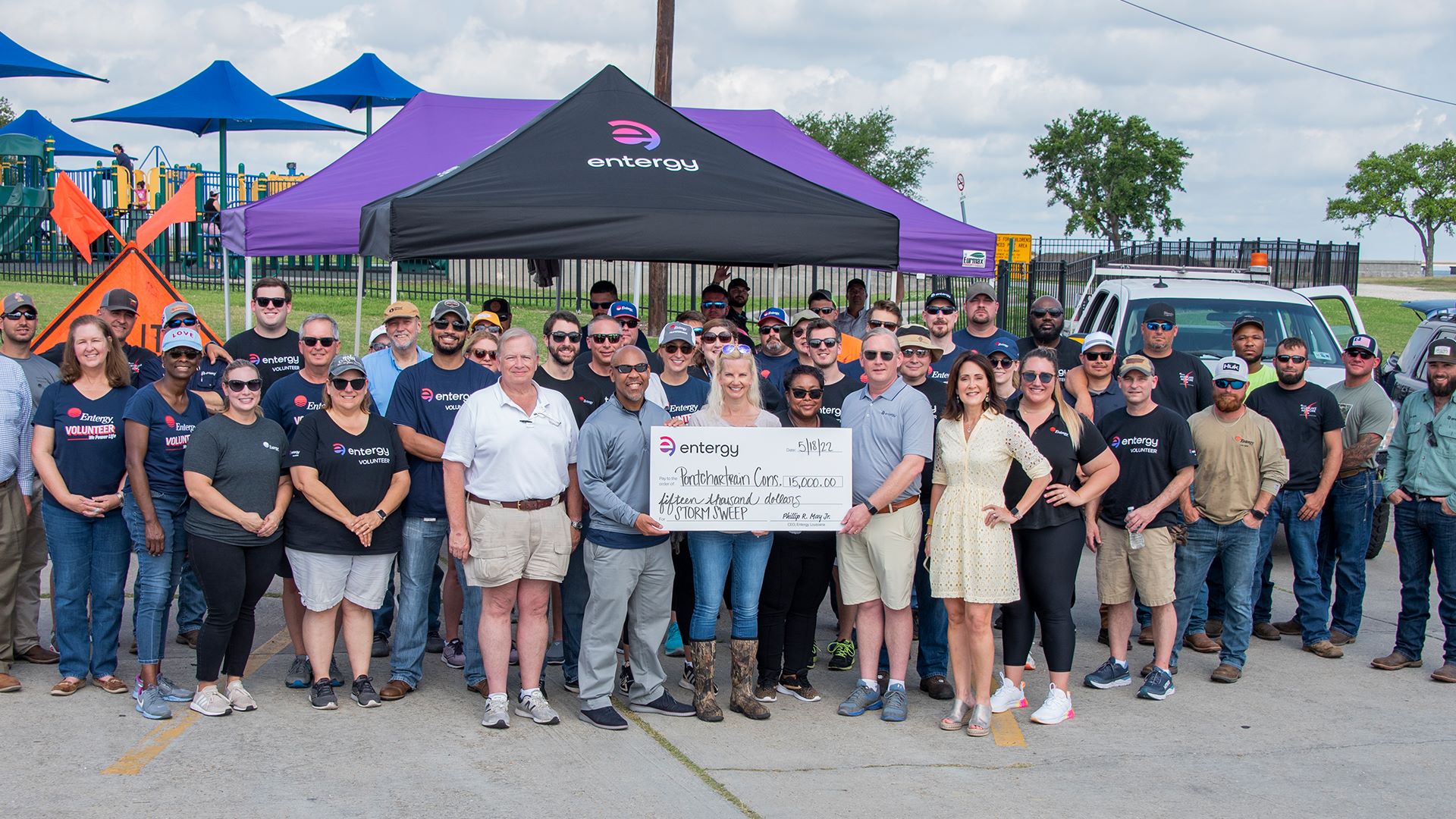 $15,000 donated to conservancy for continued community efforts
Entergy has long been a leader in environmental stewardship and the company continued that tradition on Wednesday by providing a $15,000 grant to the Pontchartrain Conservancy.
The grant contributions will go toward supporting the nonprofit's mission to drive environmental sustainability and stewardship through scientific research, education and advocacy — all of which benefit the Pontchartrain Basin and surrounding communities.
"The Pontchartrain Conservancy team is incredibly thankful for Entergy's continued partnership of Storm Sweep," said Kristi Trail, executive director of Pontchartrain Conservancy. "Together, we have built up our communities to come together to clean and prepare ahead of hurricane season."
In conjunction, Entergy employees and volunteers met Wednesday at the Bonnabel Boat Launch in Metairie to pick up debris and plant mulch and pine straw, among other activities, as part of Storm Sweep, a monthlong cleanup and hurricane preparedness event hosted by the Pontchartrain Conservancy and sponsored by Entergy Louisiana. Storm Sweep provides residents in southeast Louisiana an opportunity to clean up debris, which improves drainage and water flow and mitigates flooding.­­­
"We're always willing to lend a hand to our community partners," said Phillip May, Entergy Louisiana president and CEO. "It's made even more rewarding when those community partners' goals align with ours to serve as stewards of the environment. Not only do we work here, but we live here as well. And when this state thrives, particularly when it comes to the environment, we all thrive."
In 2021, Entergy contributed more than $1 million­­ to partnering organizations through our Environmental Initiatives Fund. These grants marked the 21st consecutive year that our shareholders earmarked funds at this scale to protect the environment while enhancing our communities' quality of life.
About Entergy Louisiana: Entergy Louisiana, LLC provides electric service to more than 1 million customers in 58 parishes and natural gas service to more than 94,000 customers in Baton Rouge, Louisiana. Entergy Louisiana is a subsidiary of Entergy Corporation, an integrated energy company engaged in electric power production, transmission and retail distribution operations. Entergy delivers electricity to 3 million utility customers in Arkansas, Louisiana, Mississippi and Texas. Entergy owns and operates one of the cleanest large-scale U.S. power generating fleets with approximately 30,000 megawatts of electric generating capacity, including 7,000 megawatts of nuclear power. Headquartered in New Orleans, Louisiana, Entergy has annual revenues of $10 billion and approximately 12,500 employees.
About Pontchartrain Conservancy: Pontchartrain Conservancy, formerly the Lake Pontchartrain Basin Foundation, is a New Orleans-based 501(c)(3) nonprofit organization committed to an environmentally sustainable, prosperous and resilient region. Our mission is to drive environmental sustainability and stewardship through scientific research, education and advocacy. Pontchartrain Conservancy consists of a board of directors representing Lake Pontchartrain Basin parishes and regulatory agencies. For more information or to get involved, visit scienceforourcoast.org.
---