News Center > Entergy's Louisiana Customers Can Win Big on Super Tax Days
For Immediate Release
Entergy's Louisiana Customers Can Win Big on Super Tax Days
02/04/2020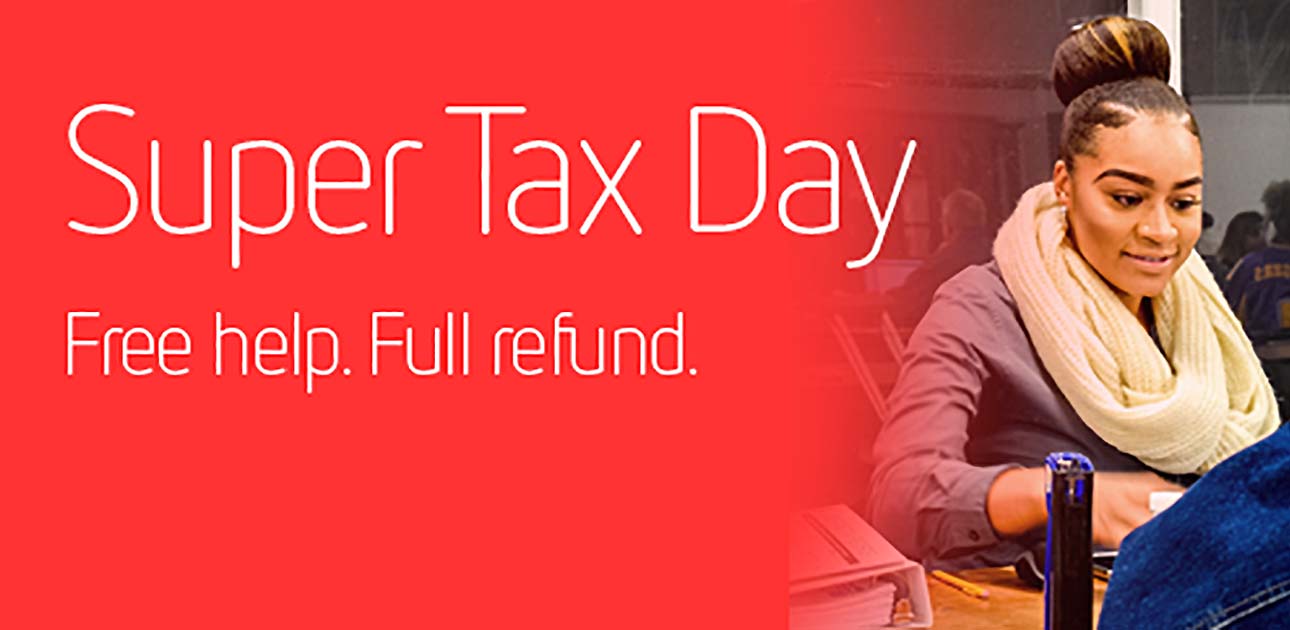 Volunteers provide free tax preparation for qualifying customers
Entergy's Louisiana customers can receive free tax preparation and have a chance to win money at Entergy's Super Tax Day events held Saturdays in February.
Super Tax Day is Entergy's kickoff event to the tax preparation season. Qualified customers who agree to save part of their total refund at Super Tax Day events will have an opportunity to win up to $50 in cash through a scratch-off card promotion and will be entered in other drawings including a $10,000 grand prize from the national Save Your Refund program. Upcoming Super Tax Day events include:
Saturday, Feb. 8, Xavier University, 7910 Stroelitz St., New Orleans, 9 a.m. – 3 p.m.
Saturday, Feb. 15, Goodwood Main Library, 7711 Goodwood Blvd., Baton Rouge, 8 a.m. – 5 p.m.
Saturday, April 4, Delgado Community College, 615 City Park Ave., New Orleans, 9 a.m. – 3 p.m.
Additional Super Tax Day events are scheduled throughout the state. A list of additional Entergy-sponsored events can be found by visiting entergy.com/freetaxhelp. Federal tax returns must be filed by April 15.
At local VITA sites, IRS-certified volunteers from Entergy's Louisiana utilities and community partners also will help determine if the taxpayers are eligible to claim federal Earned Income Tax Credits.
EITC is one of the nation's most effective means of lifting needy Americans out of poverty. Since 2009, Entergy's Super Tax Day program has helped return $258 million to 150,000 residents throughout the company's utility service area in Arkansas, Louisiana, Mississippi and Texas. In Louisiana, more than 73,000 working families received $126 million in Earned Income Tax Credits.
Free tax preparation services are provided at VITA sites throughout the 2020 tax season. In some VITA locations, local community partners are offering appointments for tax preparation services, drop-off tax prep services, financial coaching, budget workshops, free legal services and more.
For more information on Entergy's Super Tax Day and VITA, visit entergy.com/freetaxhelp. 
Entergy Louisiana, LLC provides electric service to more than 1 million customers and natural gas service to more than 93,000 customers in the greater Baton Rouge area. It has operations in southern, central and northern Louisiana.
Entergy New Orleans, LLC is an electric and gas utility that serves Louisiana's Orleans Parish. The company provides electricity to more than 200,000 customers and natural gas to more than 106,000 customers. Both companies are subsidiaries of Entergy Corporation.
entergylouisiana.com
facebook.com/EntergyLA 
Twitter: @EntergyLA
entergyneworleans.com
facebook.com/EntergyNOLA
Twitter: @EntergyNOLA
---