News Center > Entergy's Storm Team Makes Significant Progress Following Ida
For Immediate Release
Entergy's Storm Team Makes Significant Progress Following Ida
09/09/2021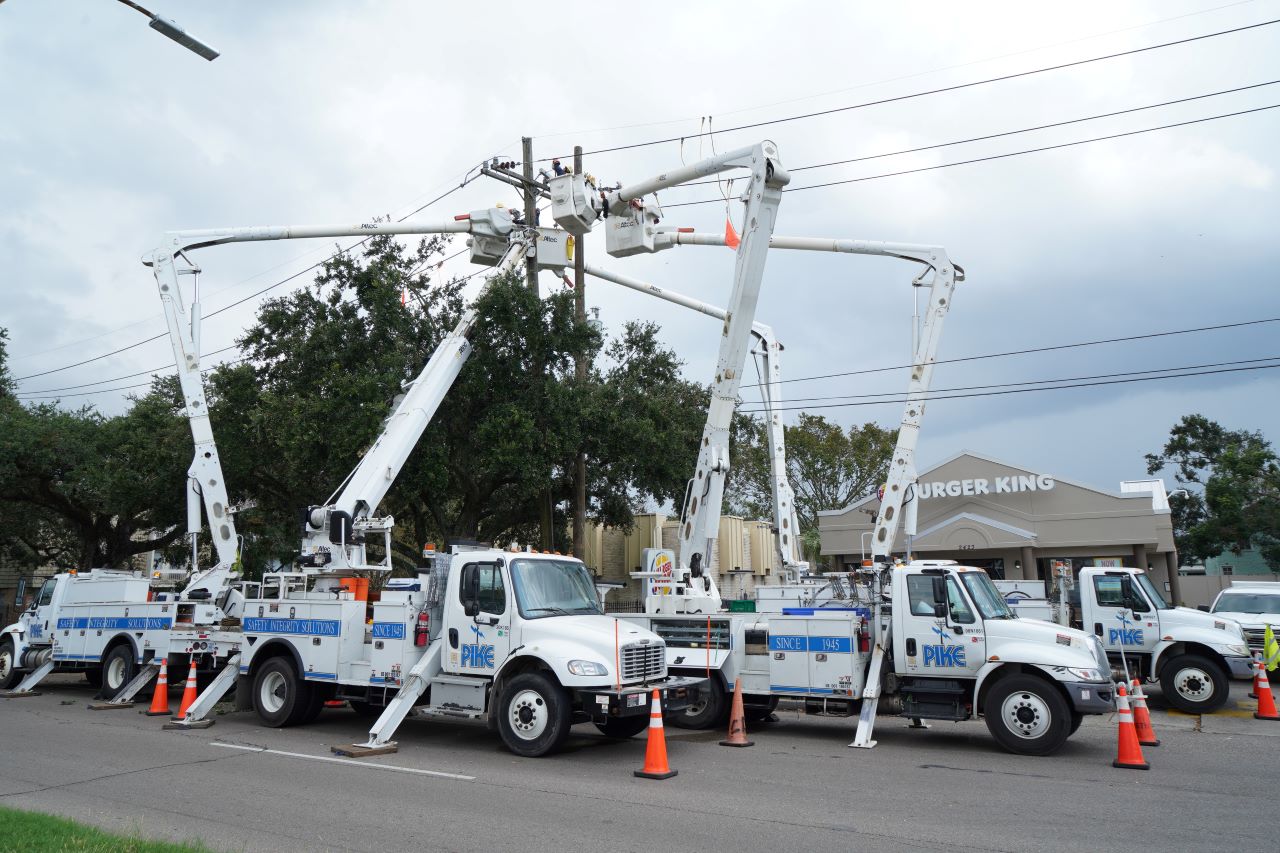 90% of customers in the greater New Orleans and Baton Rouge areas can take power
NEW ORLEANS – After 10 days of restoration work following Hurricane Ida's path of destruction, Entergy New Orleans and Entergy Louisiana employees have restored power to 90% of customers in the greater New Orleans and Greater Baton Rouge areas. These areas include Ascension, Iberville, East and West Bank of Jefferson and Orleans parishes.
As of today, Orleans Parish is 98% restored, with approximately 4000 customers without power. The Baton Rouge area was substantially restored on Sept. 6. Currently, 682,000 of the 902,000 customers who lost power due to Hurricane Ida are back on.
In some of the hardest-hit areas in the path of Hurricane Ida our teams are encountering extensive damage that will require rebuilding the system, as opposed to just a restoration. In the Venetian Isle, Irish Bayou and Lake Catherine areas, restoration work continues and customers who can accept power will receive it by Sept. 12, a vast improvement on our initial restoration date.
As crews complete restoration in some areas, workers will join existing crews in the hardest-hit areas within Ida's destructive path to bring power back quickly and safely to customers who are able to accept it.
The damage from Ida's historic intensity caused severe damage across southeast Louisiana. This includes 30,679 poles, 36,469 spans of wire and 5,959 transformers. In total, the number of damaged or destroyed poles from Ida is more than hurricanes Katrina, Ike, Delta and Zeta combined.
"We've made great strides in restoring power, but we still have work to do. We won't stop until every customer has their power back on," said John Hawkins, Entergy's vice president of distribution operations in Louisiana. "I thank our customers for their patience and understanding as we work to restore power to our communities."
Entergy Louisiana has released updated restoration maps for the northshore and river parishes at entergy.com/hurricaneida.
As Entergy continues to restore power, customers should ensure they can accept power when it becomes available. Check for damage to the electrical equipment attached to your home or business and contact an electrician to make needed repairs. For information on your home's electrical equipment, visit our Storm Center site. If damage has been repaired by a qualified electrician, call 1-800-ENTERGY to generate a service-reconnection work order. If your neighbor has power and you don't, it means that you are served by two different parts of the electric grid.
While work is being completed to restore power across southeast Louisiana, customers are reminded to keep safety in mind. Always avoid downed power lines and electric equipment and use caution when clearing debris from around your home or business for your safety. For safety tips, including proper generator use, visit entergynewsroom.com/storm-center/safety.
Outage Status Issues Following Hurricane Ida
Due to the magnitude of the damages caused by this storm affecting connectivity and other associated issues, we are experiencing outage reporting technical difficulties. These may lead to delays in power status available through our outage reporting tools, including the View Outages map, mobile app and texting "STAT" to receive your outage status.
Estimated restoration times are available on our dedicated Hurricane Ida restoration website.
As we work to restore our systems, we ask that if you are aware of an inconsistency between the reported status and power availability at a location, please notify us through one of the following options:
Texting "OUT" to 36778.
Dialing 1-800-9OUTAGE to report your outage to the automated system or speak to a representative.
We are working to resolve these issues as quickly as possible.
Follow us on Social Media
Social media plays an important role in keeping customers informed, and the companies place a high priority on updating their social media channels throughout an event. Customers can follow Entergy Louisiana on Facebook and Twitter, and Entergy New Orleans on Facebook and Twitter.
Entergy New Orleans, LLC is an electric and gas utility that serves Louisiana's Orleans Parish. The company provides electricity to more than 200,000 customers and natural gas to more than 108,000 customers.
Entergy Louisiana, LLC provides electric service to more than 1 million customers and natural gas service to more than 93,000 customers in the greater Baton Rouge area. It has operations in southern, central and northern Louisiana. Both companies are subsidiaries of Entergy Corporation.
Entergy Corporation is an integrated energy company engaged in electric power production, transmission and retail distribution operations. Entergy delivers electricity to 3 million utility customers in Arkansas, Louisiana, Mississippi and Texas. Entergy owns and operates one of the cleanest large-scale U.S. power generating fleets with approximately 30,000 megawatts of electric generating capacity, including 7,000 megawatts of nuclear power. Headquartered in New Orleans, Louisiana, Entergy has annual revenues of $10 billion and approximately 12,500 employees. Learn more at entergy.com and follow @Entergy on social media.
---