News Release > Entergy Texas recognizes City of Beaumont for energy efficiency upgrades at civic center
For Immediate Release
Entergy Texas recognizes City of Beaumont for energy efficiency upgrades at civic center
08/25/2022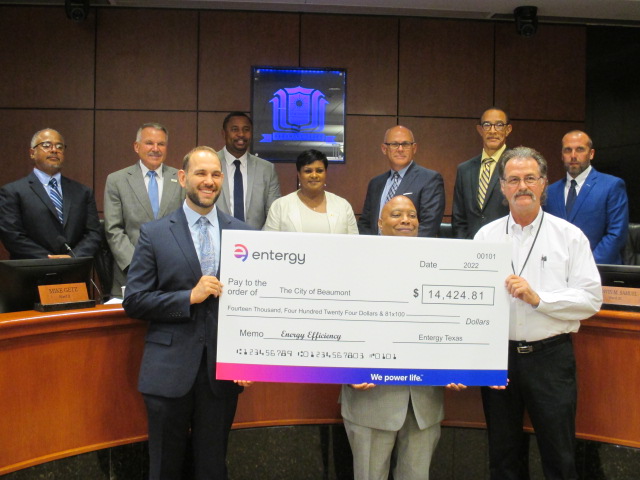 City of Beaumont receives a total incentive of about $14,400 from Entergy Texas Commercial Solutions program for energy efficient Beaumont Civic Center
BEAUMONT, Texas – Entergy Texas recently recognized the City of Beaumont for its energy efficiency upgrades replacing 104 fluorescent lights with 55 modern LED lights at the Beaumont Civic Center. The energy efficiency upgrades resulted in a total incentive of about $14,400 from the Commercial Solutions program through Entergy Solutions, which provides technical and financial support to help customers identify and implement projects that reduce energy usage.
"Helping the City of Beaumont save energy and reduce the Beaumont Civic Center's energy expenses allows us to help the entire community," said Mark Delavan, program manager at Entergy Texas. "It's our objective to help the community achieve sustainability goals. We look forward to working with the City of Beaumont in their pursuit of additional energy savings."
City of Beaumont completed energy efficiency upgrades to the lighting system by reducing the number of fixtures on the main floor in the civic center. This initiative will reduce energy usage as well as the maintenance required annually. Entergy Solutions energy engineers determined the project will lower usage by nearly 274,000 kWh annually, reducing carbon dioxide emissions equivalent to about 37 homes' electricity use for one year according to the Environmental Protection Agency.
"We brought this project to Entergy Texas because we saw an opportunity to lower costs on energy usage and maintenance. The project went very smoothly and relatively quickly. The city was very pleased with the outcome of the project with Entergy Texas," said Keith Folsom, director of facilities maintenance at the Beaumont Convention & Visitors Bureau.
Entergy Texas has a portfolio of energy efficiency programs for both residential and business customers. To learn more about these programs, visit www.entergy-texas.com/energy_efficiency.
About Entergy Texas
Entergy Texas, Inc. provides electricity to more than 486,000 customers in 27 counties. Entergy Texas is a subsidiary of Entergy Corporation, a Fortune 500 company headquartered in New Orleans. Entergy powers life for 3 million customers through its operating companies across Arkansas, Louisiana, Mississippi and Texas. Entergy is creating a cleaner, more resilient energy future for everyone with our diverse power generation portfolio, including increasingly carbon-free energy sources. With roots in the Gulf South region for more than a century, Entergy is a recognized leader in corporate citizenship, delivering more than $100 million in economic benefits to local communities through philanthropy and advocacy efforts annually over the last several years. Our approximately 12,500 employees are dedicated to powering life today and for future generations.
---