News Center > Indian Point Unit 2 Returns to Service After Final Refueling and Maintenance Outage
For Immediate Release
Indian Point Unit 2 Returns to Service After Final Refueling and Maintenance Outage
04/21/2018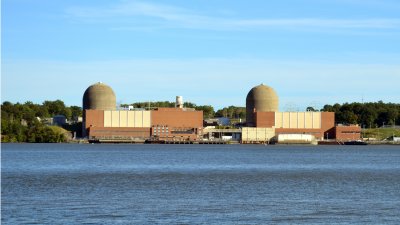 Entergy's more than $75 million investment reinforces commitment to continuous safe and reliable plant operations through Unit 2's retirement in 2020
Buchanan, N.Y. – Entergy's Indian Point Unit 2 nuclear power plant returned to service on Saturday following its twenty-third successful and final refueling and maintenance outage. Control room operators returned Unit 2 to operation, sending electricity to the grid after a scheduled shutdown that began March 19.
"Nearly 2,000 professionals, including our skilled employees and 1,000 supplemental support specialists, have worked diligently during the past four weeks to complete hundreds of tasks and inspections to prepare Indian Point for safe and reliable operations through 2021," said Tony Vitale, site vice president and Entergy's top official at Indian Point. "Entergy continues to make the investments needed at Indian Point, as demonstrated by the more than $75 million invested in the last month on Unit 2 alone."
During the recent outage, workers completed hundreds of inspections and tests to ensure equipment is working as designed, confirmed safety margins, and refurbished and upgraded multiple components. Additionally, Entergy repaired one of the 97 tubes that penetrate the head, or lid, of the reactor. The repair was made in accordance with Nuclear Regulatory Commission regulations, and inspections of the reactor head performed each refueling outage identified no other issues.
This was the final refueling outage at Unit 2 before its permanent shutdown by April 30, 2020. Unit 3, which remains in service at full power, will undergo its final refueling outage next spring before its permanent shut down by April 30, 2021.
Since purchasing Indian Point more than 16 years ago, Entergy has safely delivered hundreds of millions of megawatt hours of virtually emissions-free power to the Hudson Valley and New York City, while investing more than $1.3 billion in safety and reliability improvements. Under Entergy's ownership, Indian Point has established an excellent safety record and ranks among the most reliable power plants in the state.
In January 2017, Entergy announced its plan for the early and orderly shutdown of Indian Point as part of a settlement with New York State. Entergy continues to work closely with community groups and government officials to ensure the safe and orderly shutdown of Indian Point.
About Indian Point and Entergy
Indian Point Energy Center, in Buchanan, N.Y., is home to two operating nuclear power plants, Unit 2 and Unit 3, which generate approximately 2,000 megawatts of electricity for homes, business and public facilities in New York City and Westchester County.
Entergy Corporation is an integrated energy company engaged primarily in electric power production and retail distribution operations. Entergy owns and operates power plants with approximately 30,000 megawatts of electric generating capacity, including nearly 9,000 megawatts of nuclear power. Entergy delivers electricity to 2.9 million utility customers in Arkansas, Louisiana, Mississippi and Texas. Entergy has annual revenues of approximately $10.8 billion and nearly 13,000 employees.
-30-
entergy.com & safesecurevital.com
Twitter: @Indian_Point
---