News Center > Indian Point's Unit 2 Begins Final Refueling and Maintenance Outage Before Retirement
For Immediate Release
Indian Point's Unit 2 Begins Final Refueling and Maintenance Outage Before Retirement
03/18/2018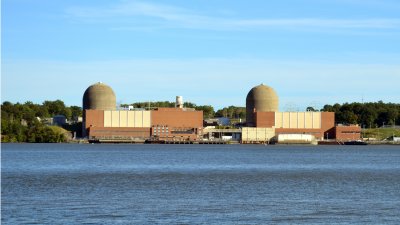 Entergy's more than $75 million investment reinforces commitment to safe, secure and reliable plant operations

Buchanan, N.Y. – Control room operators shut down Indian Point Energy Center's Unit 2 nuclear power plant this morning to begin the 23rd and final scheduled refueling and maintenance outage for the generating unit, which has safely and reliably helped power New York City and the lower Hudson Valley since 1974.
Entergy is investing more than $75 million in the plant during the outage, reinforcing the company's commitment to safe, secure and reliable operations through the unit's permanent shutdown by April 30, 2020. Unit 2 was online generating electricity more than 96 percent of the time since its prior refueling outage concluded in June 2016. Unit 3, which remains in service at full power, will conduct its final refueling outage next spring before shutting down permanently by April 30, 2021.
"We remain dedicated to operational excellence at Indian Point and are investing millions of dollars to ensure the facility's continued safe, secure and reliable operation until permanently closing," said Tony Vitale, site vice president and Entergy's top official at Indian Point. "During the next several weeks, approximately 2,000 workers will perform equipment maintenance, comprehensive safety inspections and refuel the reactor so we can continue to meet our rigorous operational safety standards and provide clean, reliable power to millions of New Yorkers."
About 1,000 additional skilled contract workers are supplementing the nearly 1,000 full-time Entergy facility employees during the outage to complete the refueling and other important maintenance projects, including:
comprehensive inspections of baffle bolts on a removable liner inside the reactor
reactor coolant pump seal replacement
fuel oil storage tank repair for one of the unit's three emergency diesel generators
steam generator inspection
low-pressure turbine blade inspection
These inspections and improvements represent Entergy's ongoing commitment to invest in Indian Point Energy Center and its employees to maintain a strong record of safety and reliability through the remaining years of operation. Since purchasing the facility more than 15 years ago, Entergy has invested more than $1.3 billion in safety and reliability improvements to ensure delivery of hundreds of millions of megawatt hours of emissions-free power to the region.
Entergy also continues to invest in the local communities through philanthropic support, volunteerism and environmental stewardship. During the past few years, the company has donated millions of dollars in resources to create and sustain healthy, vibrant communities in the region.
In January 2017, Entergy announced its plan for the early and orderly shutdown of Indian Point Energy Center as part of a settlement with New York State. In exchange, New York State agreed to drop its legal challenges and support renewal of the operating licenses for the facility. Entergy continues to work closely with community groups and government officials to ensure the safe and orderly shutdown of Indian Point Energy Center.
About Indian Point and Entergy
Indian Point Energy Center, in Buchanan, N.Y., is home to two operating nuclear power plants, Unit 2 and Unit 3, which generate approximately 2,000 megawatts of electricity for homes, business and public facilities in New York City and Westchester County. This represents approximately 25 percent of the electric power used in the region.
Entergy Corporation is an integrated energy company engaged primarily in electric power production and retail distribution operations. Entergy owns and operates power plants with approximately 30,000 megawatts of electric generating capacity, including nearly 9,000 megawatts of nuclear power. Entergy delivers electricity to 2.9 million utility customers in Arkansas, Louisiana, Mississippi and Texas. Entergy has annual revenues of approximately $11 billion and more than 13,000 employees.
---