News Center > James A. Fitzpatrick Nuclear Power Plant Refueled and Ready for Continued Operation
For Immediate Release
James A. Fitzpatrick Nuclear Power Plant Refueled and Ready for Continued Operation
02/28/2017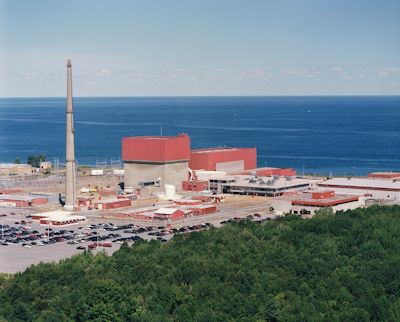 Entergy and Exelon Generation prepare plant, employees for integration into Exelon nuclear fleet
SCRIBA, NY (March 1, 2017) — Operators returned Entergy Corp.'s (NYSE: ETR) James A. FitzPatrick Nuclear Power Plant to full power operation today at 9:07 a.m. following a refueling and maintenance outage that began on January 14. During the outage, more than 1,600 workers replaced about one-third of the reactor's fuel and upgraded equipment, readying the plant for continued safe and reliable operation.  FitzPatrick was originally scheduled to shut down in January 2017, until Exelon Generation (NYSE: EXC) agreed to purchase the plant.
"We are looking forward to operating the FitzPatrick plant. The employees and the community have been extraordinarily welcoming over the past few months," said Exelon Generation Senior Vice President of Operations Chris Mudrick. "It was encouraging to see Exelon's technicians working side-by-side with FitzPatrick's plant employees. This outage was important because it meant preserving hundreds of full-time jobs, not only at the plant but in the community."
More than 1,000 contract workers supported the outage. Exelon also provided more than 100 employees from across its nuclear fleet. The company purchased new fuel for the reactor, which was a condition of the transaction. Entergy and Exelon worked together to plan and execute the refueling and maintenance.
"I'm proud of this team and the synergistic approach between Entergy and Exelon," said FitzPatrick Site Vice President Brian Sullivan. "Exelon not only provided expertise and consultation, but staff, resources and materials. Everyone at the site and in the community is fully committed to the plant's long-term success."
The influx of more than 1,000 outside workers and their associated spending at local hotels, restaurants, gas stations and stores provided a major economic boost to the community.
"We are very fortunate that FitzPatrick has decided to stay in our community. We are a very small ecosystem and every business, no matter how big or small, contributes to it," said Theresa Himes, owner of Bosco & Geers Food Market, Ltd. in nearby Oswego. "During these shutdowns, we not only get a huge influx of temporary labor, but we have a large number of our locals that work in support positions. That extra income is then spent supporting local business."
"We have Governor Cuomo to thank for the continued economic stimulus in upstate New York," said NYS IBEW Utility Labor Council Chair Ted Skerpon. "Exelon's purchase of FitzPatrick, coupled with the state's Clean Energy Standard, will save more than 1,400 direct and indirect jobs in our community. The IBEW was asked to provide hundreds of workers for this outage alone."
In the near-term, Entergy and Exelon Generation are working closely together to assure a seamless transition between the companies, as FitzPatrick prepares to integrate into the Exelon nuclear fleet.
Late last year, the New York State Public Service Commission and Federal Energy Regulatory Commission approved the transfer of ownership of FitzPatrick to Exelon, preserving nearly 600 full-time jobs at the plant. A Nuclear Regulatory Commission ruling on the transfer of FitzPatrick's operating license and decommissioning trust fund to Exelon, the last of the regulatory approvals needed for transaction completion, is expected this spring.
The 838-megawatt James A. FitzPatrick Nuclear Power Plant generates carbon-free electricity for more than 800,000 homes and businesses.
Exelon operates two other nuclear energy facilities in upstate New York: R.E. Ginna and Nine Mile Point, the latter of which is adjacent to FitzPatrick. Together, these two plants provide carbon-free electricity to more than 2.5 million homes and businesses while employing more than 1,500 full-time workers.
Exelon Corporation (NYSE: EXC) is a Fortune 100 energy company with the largest number of utility customers in the U.S. Exelon does business in 48 states, the District of Columbia and Canada and had 2016 revenue of $31.4 billion. Exelon's six utilities deliver electricity and natural gas to approximately 10 million customers in Delaware, the District of Columbia, Illinois, Maryland, New Jersey and Pennsylvania through its Atlantic City Electric, BGE, ComEd, Delmarva Power, PECO and Pepco subsidiaries. Exelon is one of the largest competitive U.S. power generators, with more than 32,700 megawatts of nuclear, gas, wind, solar and hydroelectric generating capacity comprising one of the nation's cleanest and lowest-cost power generation fleets. The company's Constellation business unit provides energy products and services to approximately 2 million residential, public sector and business customers, including more than two-thirds of the Fortune 100. Follow Exelon on Twitter @Exelon.
Entergy Corporation (NYSE: ETR) is an integrated energy company engaged primarily in electric power production and retail distribution operations. Entergy owns and operates power plants with approximately 30,000 megawatts of electric generating capacity, including nearly 10,000 megawatts of nuclear power. Entergy delivers electricity to 2.8 million utility customers in Arkansas, Louisiana, Mississippi and Texas. Entergy has annual revenues of approximately $11.5 billion and more than 13,000 employees.
---