News Center > Ninemile 6 Key Step in Entergy's Plan to Modernize Generation Fleet
For Immediate Release
Ninemile 6 Key Step in Entergy's Plan to Modernize Generation Fleet
01/26/2015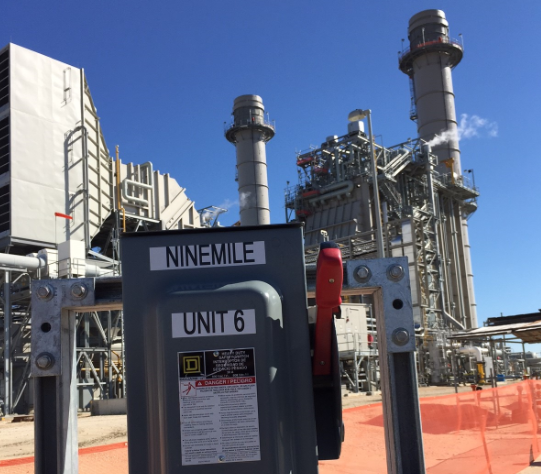 Unit to Cut Fuel Costs, Produce Reliable, Affordable Power for Louisiana Customers
WESTWEGO, La. – Several hundred thousand Louisianians can expect Ninemile 6, Entergy Louisiana's newest and most efficient generating unit, to power their lives for decades to come, company officials said today at the plant's ceremonial opening.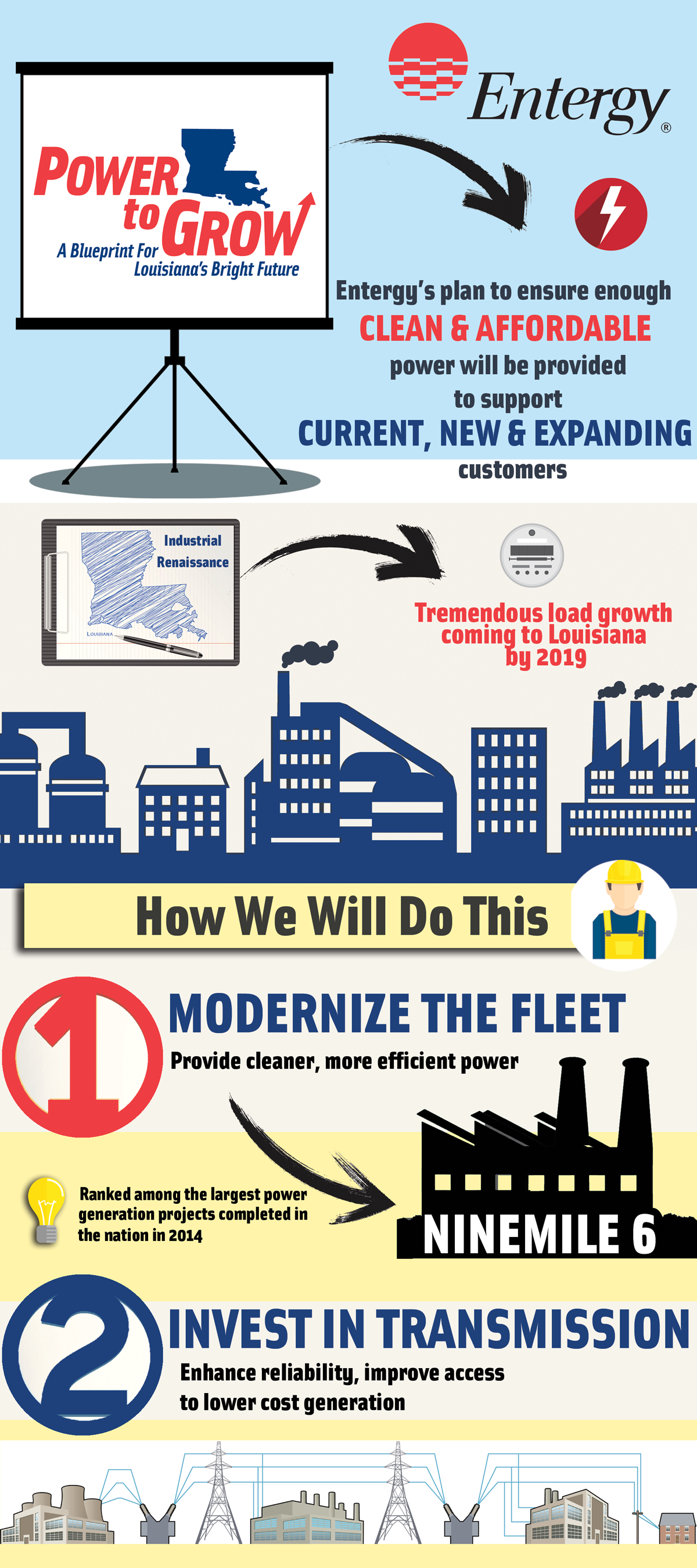 "Ninemile 6 represents a cornerstone of Entergy's long-term plan to modernize our generation fleet and help meet our customers' growing need for safe, affordable and reliable power," Phillip May, president and CEO of Entergy Louisiana, LLC and Entergy Gulf States Louisiana, L.L.C., said.
Entergy Louisiana owns the new 560-megawatt unit. Entergy Gulf States Louisiana and Entergy New Orleans, Inc. will purchase 25 percent and 20 percent, respectively, of the new unit's output, bringing benefits to their customers as well.
The unit's combined-cycle gas turbine technology uses 30 percent less fuel than existing natural gas combustion units, and it employs state-of-the-art pollution controls. These combined factors reduce emissions and produce highly efficient, cleaner electricity.
The unit is projected to reduce fuel costs by approximately $50 million in 2015 and $69 million in 2016 for Entergy Louisiana, Entergy Gulf States Louisiana and Entergy New Orleans customers.
"Ninemile 6 not only helps meet our existing customers' needs, it provides the low-cost power required to help drive Louisiana's industrial renaissance and the creation of thousands of jobs," May said. "Entergy's Louisiana companies need more generating capacity to satisfy the demand of the state's rapidly expanding economy as well as continue modernizing our fleet. We believe Entergy's plan will help meet those needs while controlling customer costs and allow Louisianians to capitalize on this tremendous economic opportunity.
"As the state's economy grows, the cost of adding generation will be spread across a rising volume of electricity sales, reducing the impact to customers and keeping rates low," May added.
The unit, which officially started commercial operation on Dec. 24, 2014, was completed ahead of schedule and under budget. The plant cost approximately $655 million to build, substantially below its original budget of $721 million. Nearly 830 workers were employed at the peak of construction. Entergy has added 21 permanent positions to staff the unit.
Entergy Louisiana, LLC and Entergy Gulf States Louisiana, L.L.C. provide electric service to more than one million Louisiana customers. Additionally, Entergy Gulf States Louisiana provides natural gas service to approximately 93,000 customers in the greater Baton Rouge area. With operations in southern, central and northeastern Louisiana, the companies are subsidiaries of Entergy Corporation.
Entergy Corporation is an integrated energy company engaged primarily in electric power production and retail distribution operations. Entergy owns and operates power plants with approximately 30,000 megawatts of electric generating capacity, including nearly 10,000 megawatts of nuclear power, making it one of the nation's leading nuclear generators. Entergy delivers electricity to 2.8 million utility customers in Arkansas, Louisiana, Mississippi and Texas. Entergy has annual revenues of more than $11 billion and approximately 14,000 employees.
-30-
entergylouisiana.com
facebook.com/EntergyLA
Twitter: @EntergyLA

VIDEO: B-roll of Ninemile 6 can be downloaded via this link. Please credit Entergy Corporation.
---