News Center > Powlett, McKinnis Take New Roles on Entergy Mississippi Customer Service Team
For Immediate Release
Powlett, McKinnis Take New Roles on Entergy Mississippi Customer Service Team
02/24/2021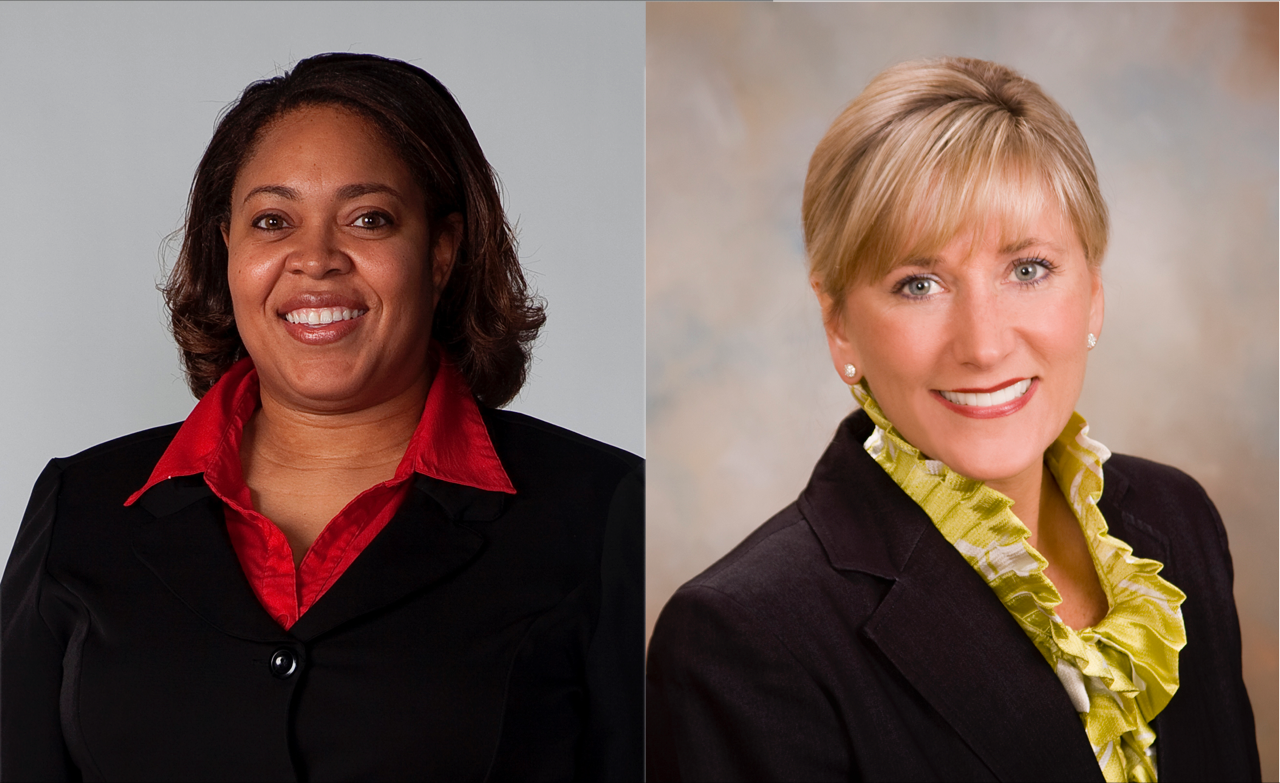 JACKSON, Mississippi – Two seasoned employees have filled key roles on Entergy Mississippi's customer service team. Sandy Powlett and Shelia McKinnis, both customer service managers, recently assumed responsibility for new service areas. Powlett is now customer service manager for the Madison network. McKinnis moves to the same position in the Rankin network, formerly held by Powlett. Both women bring valuable customer service skills to their new assignments.
Powlett began her Entergy career in 1997 as a customer service representative in West Monroe, Louisiana. She held several customer service and analytical support positions at the company. In 2010, Powlett moved to economic development. As community development manager, she was responsible for helping communities improve their competitiveness. Powlett rejoined the customer service team in 2014 as customer service manager for the Rankin network. She studied marketing at Louisiana Tech University, is a Leadership Jackson graduate and serves on the Keep Mississippi Beautiful board of directors.
"Sandy's combined customer service and economic development experience suits the area's needs," said Wayne Spell, region customer service manager. "As the Madison area continues to expand, customers' needs grow. Her expertise will help us provide continued excellent customer service and meet those needs."
McKinnis joined Entergy in 2003 as a customer service representative at the Jackson Call Center. She worked overnight, weekend and daytime shifts to serve customers. As she advanced in her career, McKinnis moved to the verification department. She also served as an account sales associate at the Entergy Business Center in Little Rock, Arkansas. In that role she worked extensively with industrial and commercial customers on outage concerns, billing and other service issues. McKinnis returned to Mississippi in 2015 as customer service manager for the Vicksburg network. She has served on several community organizations' boards, including the Vicksburg Warren Chamber of Commerce and the United Way of West Mississippi. McKinnis earned her associate degree in computer programming from Phillips Junior College in 1991 and her bachelor's degree in business administration from Belhaven University in 2004.   
"Shelia has a talent for building strong community relationships," said Robbie Kemp, region customer service manager. "She is invested in helping our customers and the communities we serve. And her deep knowledge of working with large industrial and commercial customers will strengthen her ability to deliver exceptional customer service in the Rankin network."
Powlett's responsibilities include customer service in Madison and Yazoo counties. McKinnis manages customer service in Covington, Lawrence, Rankin, Scott, Simpson and Smith counties. Both Powlett and McKinnis are also responsible for a portfolio of managed accounts and relationships with municipalities in their coverage areas.
Entergy Mississippi, LLC provides electricity to approximately 450,000 customers in 45 counties. Entergy Corporation is an integrated energy company engaged primarily in electric power production and retail distribution operations. Entergy owns and operates power plants with approximately 30,000 megawatts of electric generating capacity, including nearly 9,000 megawatts of nuclear power. Entergy delivers electricity to 2.9 million utility customers in Arkansas, Louisiana, Mississippi and Texas. Entergy has annual revenues of $11 billion and approximately 13,600 employees.
-30-
---