News Release > Winter storm causes 36,000 Entergy Arkansas customer outages
For Immediate Release
Winter storm causes 36,000 Entergy Arkansas customer outages
01/25/2023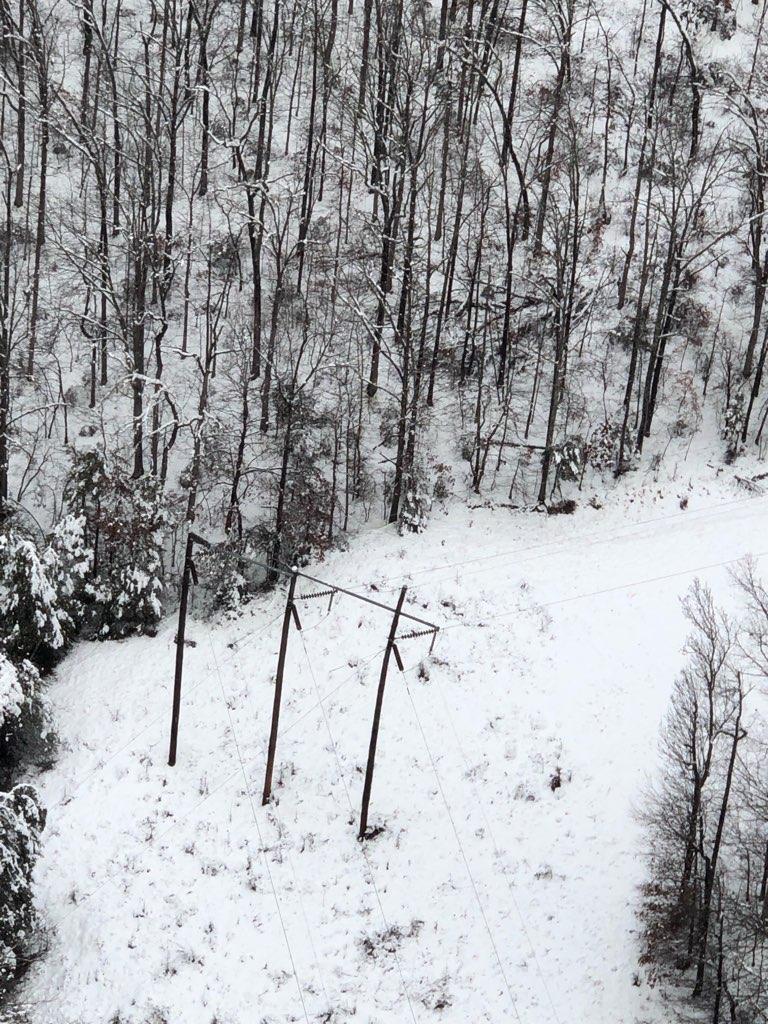 Road conditions, accessibility affecting restoration process
LITTLE ROCK, Ark. – Large amounts of snow along with strong wind gusts greatly impacted the north and northwest areas of the state, causing an estimated 36,000 Entergy Arkansas customer outages at its peak Wednesday morning. The weight of the winter precipitation felled trees, broke limbs, power lines and other equipment, and damage assessments are ongoing.
Crews began preparing over the weekend for the winter storm, with restoration workers and necessary and specialty equipment assembled in the areas most likely to be impacted. While crews readied equipment and are currently working to restore power as quickly and safely as possible, road conditions and terrain, especially in rural areas, are affecting their ability to reach damaged equipment and remove downed limbs. Entergy Arkansas encourages people to stay off the roads so that emergency responders can safely assist those in need, including those who are without power.
The number of customer interruptions was down to 21,486 by early evening, and the company anticipates nearly 90% of customers will be restored by 10 p.m. Thursday. Some customers in the hardest-hit areas may not have power until 10 p.m. Friday.
A workforce of more than 1,200 is activated for assessment and restoration, including some out-of-state resources. As scouts are able to assess specific damages, estimated restoration times will be communicated. Due to the large amount of snow, there could be extended outages. Customers are encouraged to enroll for outage alerts via the Entergy app or text message. Those who have signed up for outage alert messages may receive initial estimated restoration times longer than usual because of the road conditions, but those times will be revised throughout the process as damage assessments are completed.
Entergy uses a methodical and calculated process to restore power after an outage, regardless of whether the initial cause of the outage was specifically weather-related. Cold weather restoration is handled differently. More information on the process can be found in the Entergy Storm Center.
You can also find more instructions on how to prepare your family's emergency preparedness kit on the Entergy Storm Center, and keep in mind:
Customers who choose to use a generator should follow all manufacturer's instructions. This includes hooking appliances directly to the generator, not their home. Connecting a generator to the home could damage a home's equipment or Entergy equipment if not done by a professional.
Stay away from downed lines, debris and snow drifts, as they can obscure a power line that could still be energized and dangerous. Downed lines can be reported using the Entergy app, the Entergy Arkansas website, or by calling 1-800-9OUTAGE.
Visit the Entergy Storm Center for more pre- and post-storm safety tips.
Staying informed before, during and after extreme weather strikes is just as important as making personal power outage plans. Here's how you can stay up to date on our preparations and restoration efforts:
Following the storm, check Entergy's View Outage map for the latest information about restoration progress.
Entergy Arkansas provides electricity to approximately 728,000 customers in 63 counties. Entergy Arkansas is a subsidiary of Entergy Corporation (NYSE: ETR), an integrated energy company engaged in electric power production, transmission and retail distribution operations. Entergy delivers electricity to 3 million utility customers through its operating companies in Arkansas, Louisiana, Mississippi and Texas. Entergy owns and operates one of the cleanest large-scale U.S. power generating fleets with approximately 24,000 megawatts of electric generating capacity, including 5,000 megawatts of nuclear power. Entergy has annual revenues of $10 billion and approximately 12,000 employees.
---