Insights > CoolSaver Summit
CoolSaver Summit
02/11/2016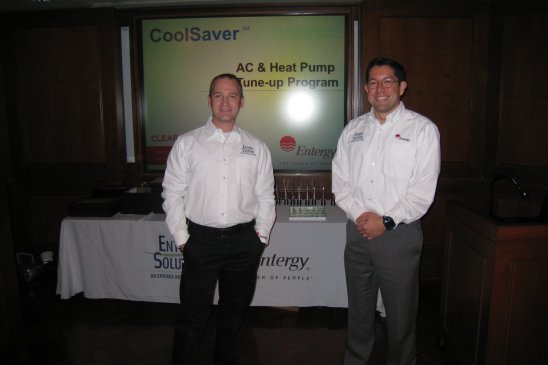 In the parking lot of a Little Rock office complex was a sea of HVAC trucks from small trade allies like Air FX and larger ones like Middleton Heating and Air. No, there wasn't a major heating emergency in the surrounding high-rise buildings. Around 100 Entergy trade allies were gathered to learn more about how the CoolSaverSM A/C Tune-up Program can help their residential and commercial customers save energy and money.
Each year Entergy convenes trade allies who deliver heating and air conditioning services to Entergy Arkansas customers to congratulate them on saving energy for our customers through the CoolSaver program. The program helps improve the efficiency of customers' air conditioners and heat pumps through a high-efficiency tune-up, and Entergy provides an incentive to offset the cost of the service. Efficient equipment doesn't only save energy and money, it also lasts longer and is more reliable.
To expand the reach and effectiveness of this program, we invite trade allies operating in our service area to attend the annual CoolSaver Summit. During this half-day event, we provide updates on CoolSaver operations, explain how participation helps build their businesses and recognize them for their help in saving energy for our customers.
We were honored to pass out awards like "Trade Ally of the Year," "One-Man Shop" and "Most kWh Saved" to our trade ally partners. The summit was held at a time when most HVAC shops are not as busy as usual; so many trade allies were able to enjoy the opportunity to visit with their peers and learn some valuable information.
The CoolSaver Summit is one more way Entergy Solutions energy efficiency programs are helping Arkansans save energy and money.
---