Insights > Entergy Arkansas drone team takes a different approach to R&R
Entergy Arkansas drone team takes a different approach to R&R
07/27/2022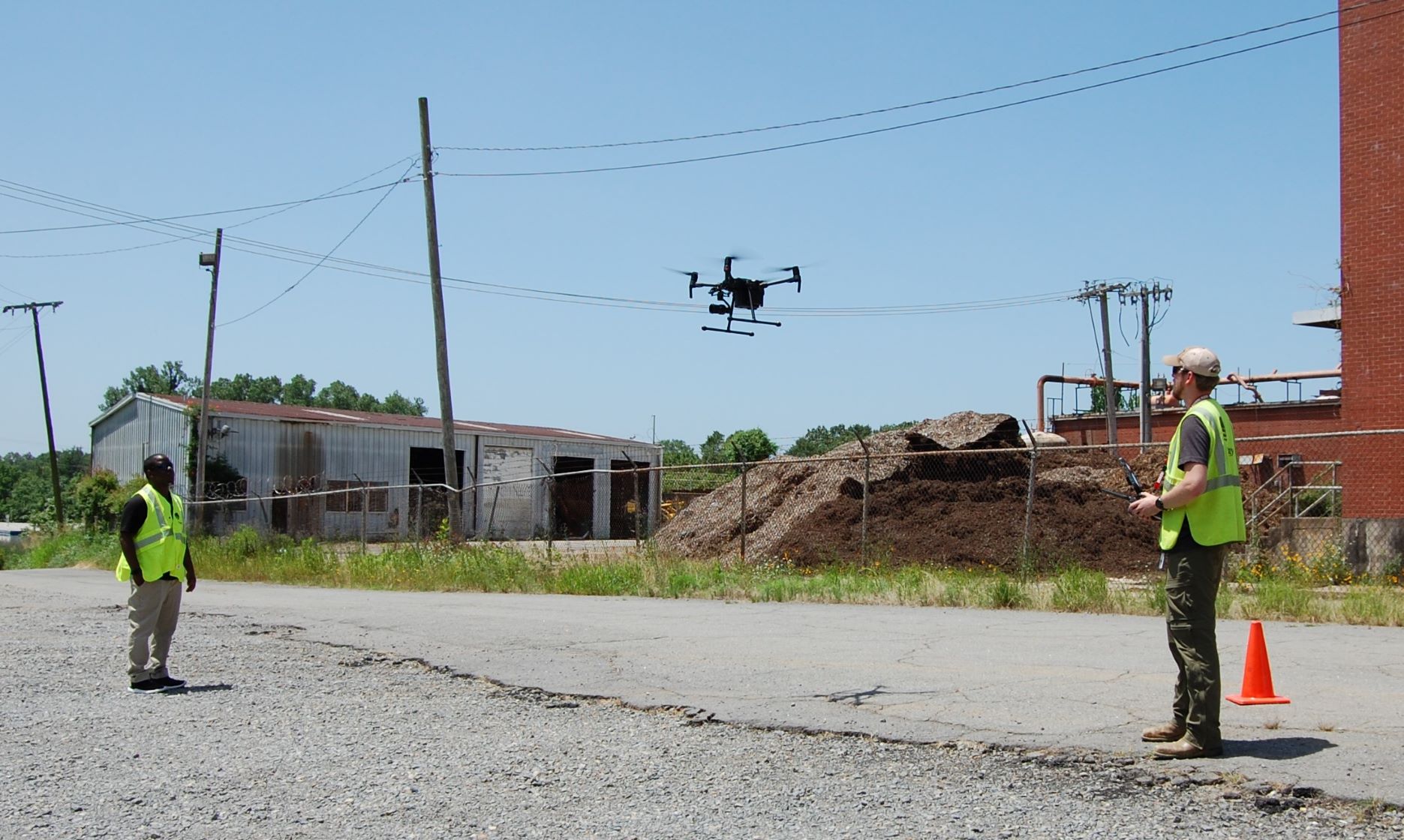 For some folks, R&R means rest and relaxation. But for Entergy Arkansas, R&R stands for reliability and resiliency, and there's a proactive drone program devoted to it.
Despite its name, the Entergy Arkansas R&R Drone Team has certainly not been taking it easy. The team of three employees and two high-tech drones has been flying hundreds of miles of power lines, inspecting equipment and finding ways to strengthen the electric grid. They especially fly difficult lines and circuits to detect potential problems that could cause power outages.
"We can scout these lines much quicker with drones than our workers can on foot – especially in hard-to-reach areas. We are almost like a force multiplier," said Aaron Scruggs, senior engineer for Entergy Arkansas. "You only have a finite number of resources, so you have to use them wisely."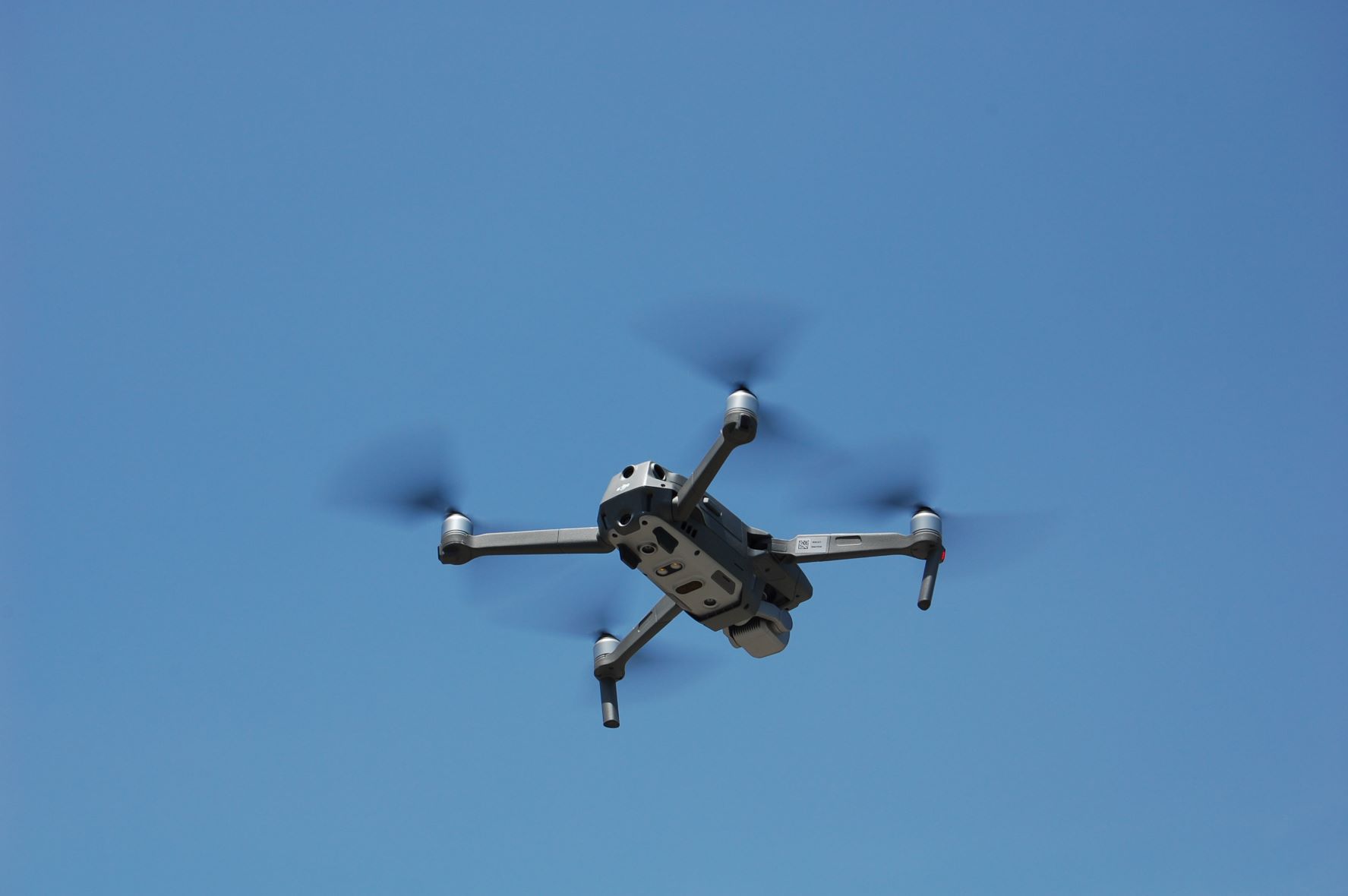 Drones have been around Entergy for a few years now, but Entergy Arkansas' proactive program began about a year ago when Joseph Boyd, vegetation operations coordinator for the Baseline Network in Little Rock, became a certified Entergy drone operator and began doing drone inspections. His focus is primarily on trees, tree growth and potential vegetation issues on or near power lines that could cause an outage.
A few months after Boyd began his drone flights, he was joined by Scruggs, another Entergy certified drone pilot who mainly focuses on poles, wire, insulators, transformers and other components of the electric system. Recently Anthony Johnson, also an Entergy Arkansas engineer, joined the team and currently serves as a visual safety observer. A licensed drone operator, Johnson is working to become an Entergy certified drone pilot as well.
Drone inspections help spot problem areas at a very low cost and can scout power lines within just a few minutes, whereas it can take hours or days for workers to visually inspect some power lines, Boyd said.
"We can reduce truck rolls, and that also saves money," Scruggs said. "Instead of sending out workers to scout the lines, we can look at the drone photos and see if there needs to be anything addressed. If something doesn't look right on a piece of equipment, we can share that."
Drone footage has been shared with numerous departments, including distribution, engineering, vegetation and even corporate communications.
"Just like an ATV has its uses, a bucket truck has its uses, climbing gear has its uses and so on. Drones have their uses. There are instances where it's not useful but for inaccessible lines and for getting sophisticated data, it is worth its weight in gold."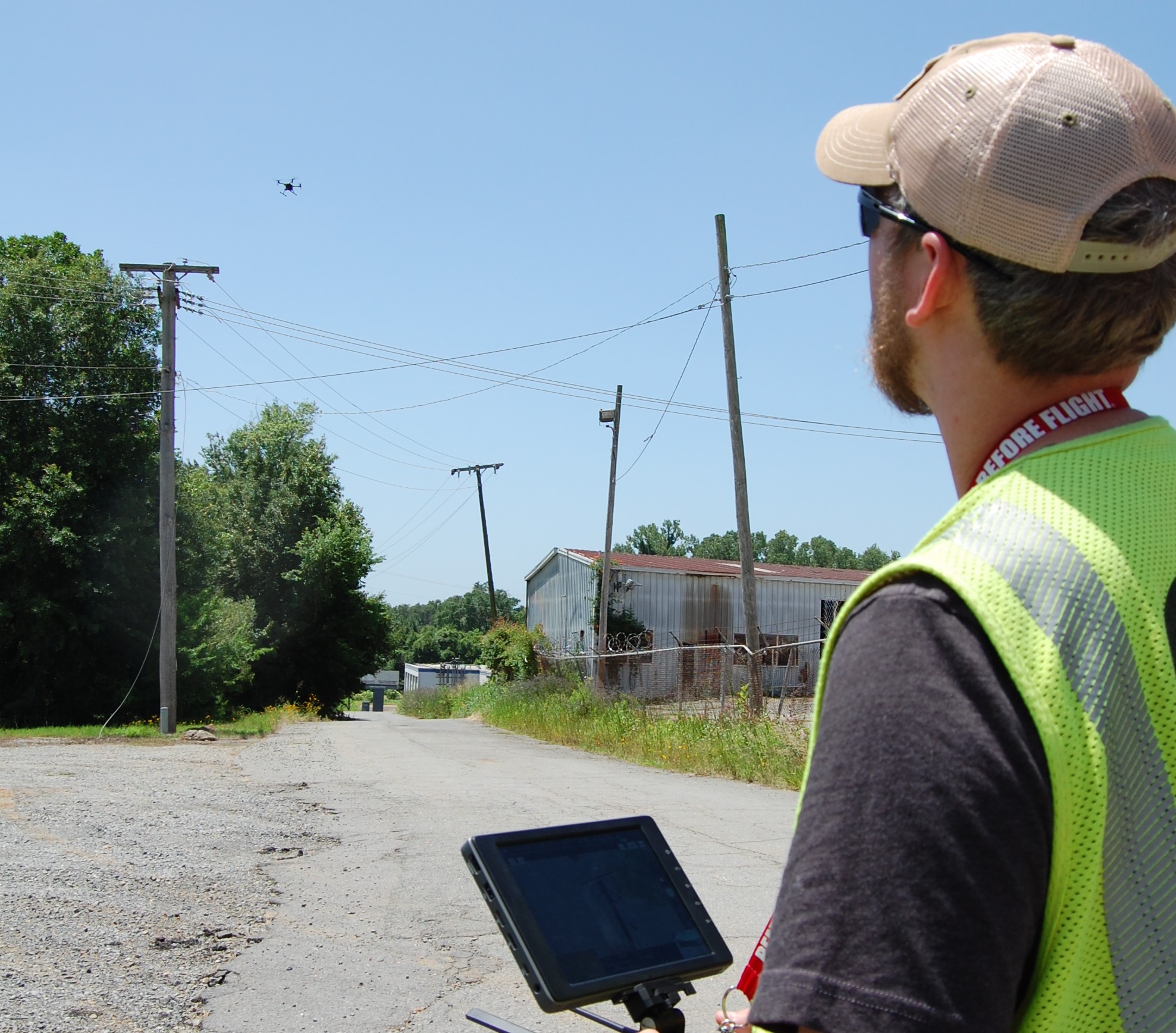 SUCCESS STORIES
Hurricane Ida is a great example of Entergy Arkansas' R&R Drone Team at work. Before the hurricane even hit the Gulf Coast last year, Boyd was called to South Louisiana to help look for access points for air boats to quickly get into affected areas once the hurricane passed.

"Those airboats can go just about anywhere, but there was always an issue getting the airboats to where they needed to be," Boyd said. "By using the drone, we were able to show the best entry points for the airboats."
Once Hurricane Ida hit the area, Boyd was called to Baton Rouge to help assess damage. "I was able to go in with my drone and see exactly what was broken in a good-sized neighborhood that had a lot of rear lot lines.
When I arrived, I asked the assessment teams on foot how long they had been there. They said they had been there about an hour and 10 minutes and had gotten two streets assessed. I was able to go in there, fly the lines and see every detail of every single street and get out of there in about 15 minutes."
Earlier this year, the drones were valuable in helping with Arkansas storm response. In the Forrest City area, swampy and flooded conditions made it difficult for crews to identify damage that was easily detectable and accessible by a drone. A few months later, the drone team helped in southeastern part of the state. A 25-mile line that stretches from Gurdon to Okalona to Antoine through a river bottom was flown in three hours, whereas as it would have taken workers in an ATV three days to patrol it.
All these efforts helped get the lights on quicker for customers and saved money in the process.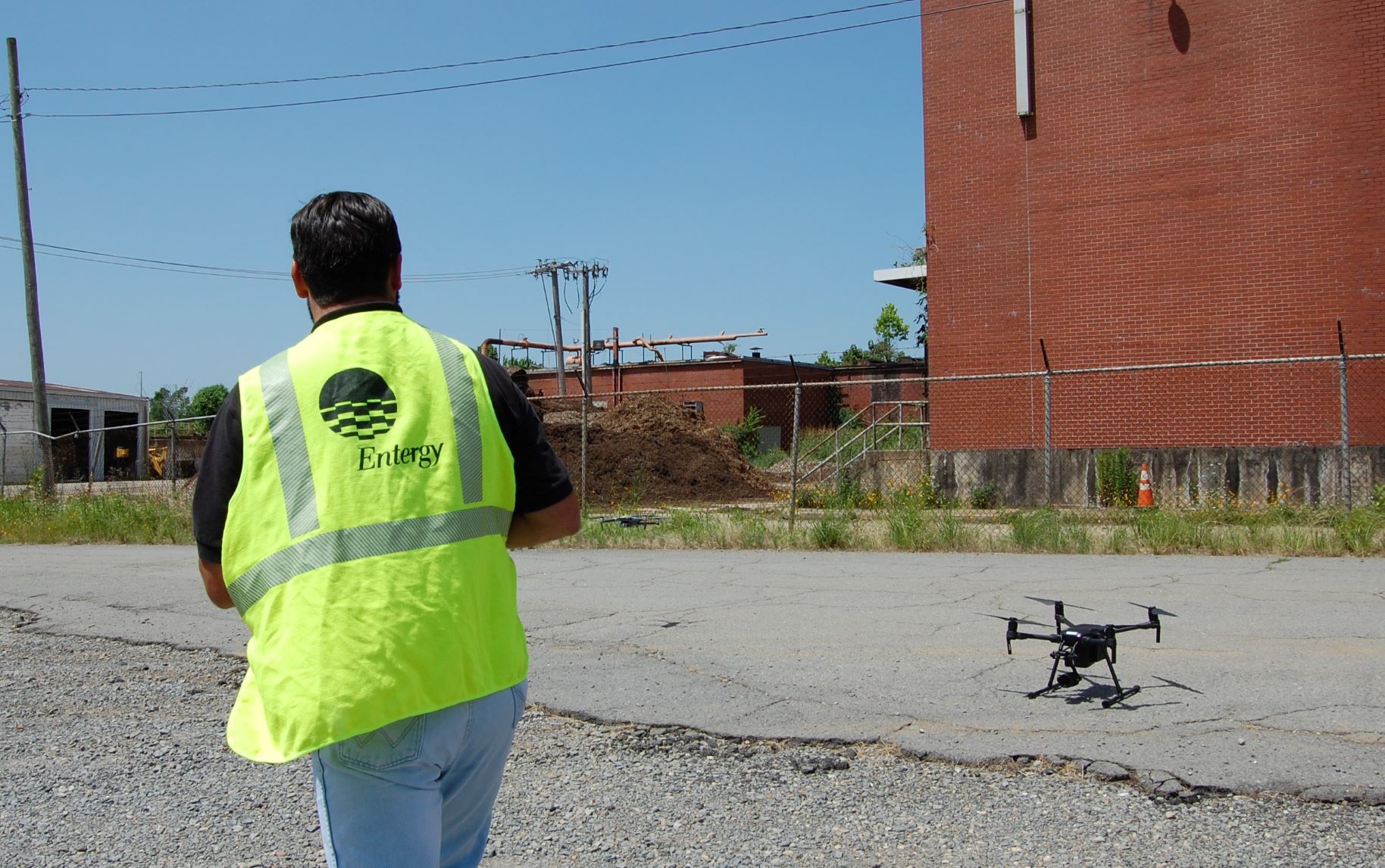 MORE TO COME
Currently, the R&R Drone Team is working to add new cameras that will provide advanced spectral, thermal and mapping technologies that will enhance resiliency even further.
Spectral cameras will allow the crew to detect tree defects, decaying or dying plant species to identify and target them for removal. It can also detect core rot in poles that can't be seen during visual inspection.
"It's a pretty awesome, new capability that we're going to be testing at Entergy for the next two months," Boyd said. "It will save us a lot of money on our hazard tree program."
The thermal capability will allow the drones to detect changes in temperatures on power lines. "What you cannot see with the naked eye, you can use the drone to go in and see that a transformer or something else is hotter than everything else," Boyd said. "Diagnosing becomes a lot easier. The thermal capacity is very effective in substations and for transmission lines as well."
Scruggs added that the thermal imaging can detect if a line spice, insulator or switch is about to fail, so they can make repairs before there's a problem.
Another feature in the new equipment is LIDAR, which stands for Light Detection and Ranging. It will allow the team to measure power lines for GPS and 3D mapping, as well as confirm that current mapping is correct.
LIDAR will also help predict growth rates of plants and trees to help determine how often vegetation trimming is needed for the reliability of power lines.
"We have the ability to get all the data you would want -- from GIS data to engineering data to vegetation data to construction data," Scruggs said. "And we have the capability to broadcast anywhere, anytime. If I find something that's eminent, I can land my drone and send that photo from my phone to anyone who needs to see it."
---