Insights > Entergy Employees Help to 'Fix-up' Mississippi Children's Museum
Entergy Employees Help to 'Fix-up' Mississippi Children's Museum
09/11/2015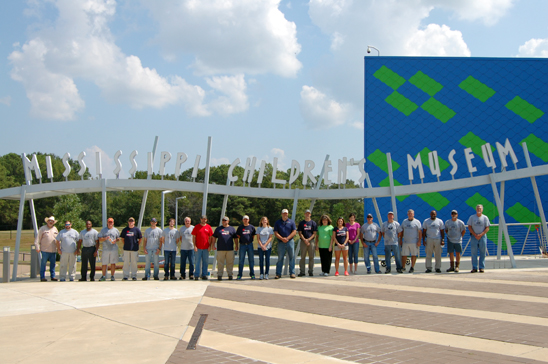 The Mississippi Children's Museum closed for the week of Sept. 7 for its annual Fall Fix-up. During this time, museum staff and community members from across the metro volunteer their time to repair, paint and clean the museum.
Almost 25 Entergy employees volunteered on Sept. 8 to help beautify the museum. With their specialized skills and equipment, the volunteers were able to accomplish a few tasks that would not have been completed otherwise.

"We changed out approximately 250 lightbulbs in the building and parking lot, pressured washed all the sidewalks and buildings, and removed dead trees and shrubs," said Lee Alexander, production supervisor for Baxter Wilson.
They also painted furniture and walls, hung ceiling fans, cleaned all of the windows, repaired the gate and fence, winterized exposed pipes, performed minor repairs to building signage and cleaned the inside of the museum.
A special thank you to our Entergy volunteers who made a difference at the museum.
Jeff Ames, Rex Brown
Scott Clanton, Baxter Wilson
Demarcus Hamilton, Baxter Wilson
Todd Brown, Baxter Wilson
James Purvis, Rex Brown
John Addison, Baxter Wilson
Logan Shannon, Baxter Wilson - Vicksburg Area Engineering Office
Charles Emfinger, Baxter Wilson
Jimmy Callender, Baxter Wilson
Glen Guynes, Rex Brown
Josh Senior, Rex Brown
Charlotte Freeman, Baxter Wilson
Mathew Sanders, Rex Brown
Charles Conerly, Rex Brown
Amy Blaylock, Echelon
Crysti Twiner, Echelon
Sandra Ikerd, Echelon
Lee Alexander, Baxter Wilson
Bob Hughey, Baxter Wilson - Vicksburg Area Engineering Office
Russell Standish, Baxter Wilson
Greg Ross, Baxter Wilson - Vicksburg Area Engineering Office
Pat Parker, Baxter Wilson
Not pictured is Van Bunch, Rex Brown
---