Insights > Entergy joins U. S. Steel in celebrating construction of their newest mill
Entergy joins U. S. Steel in celebrating construction of their newest mill
02/10/2022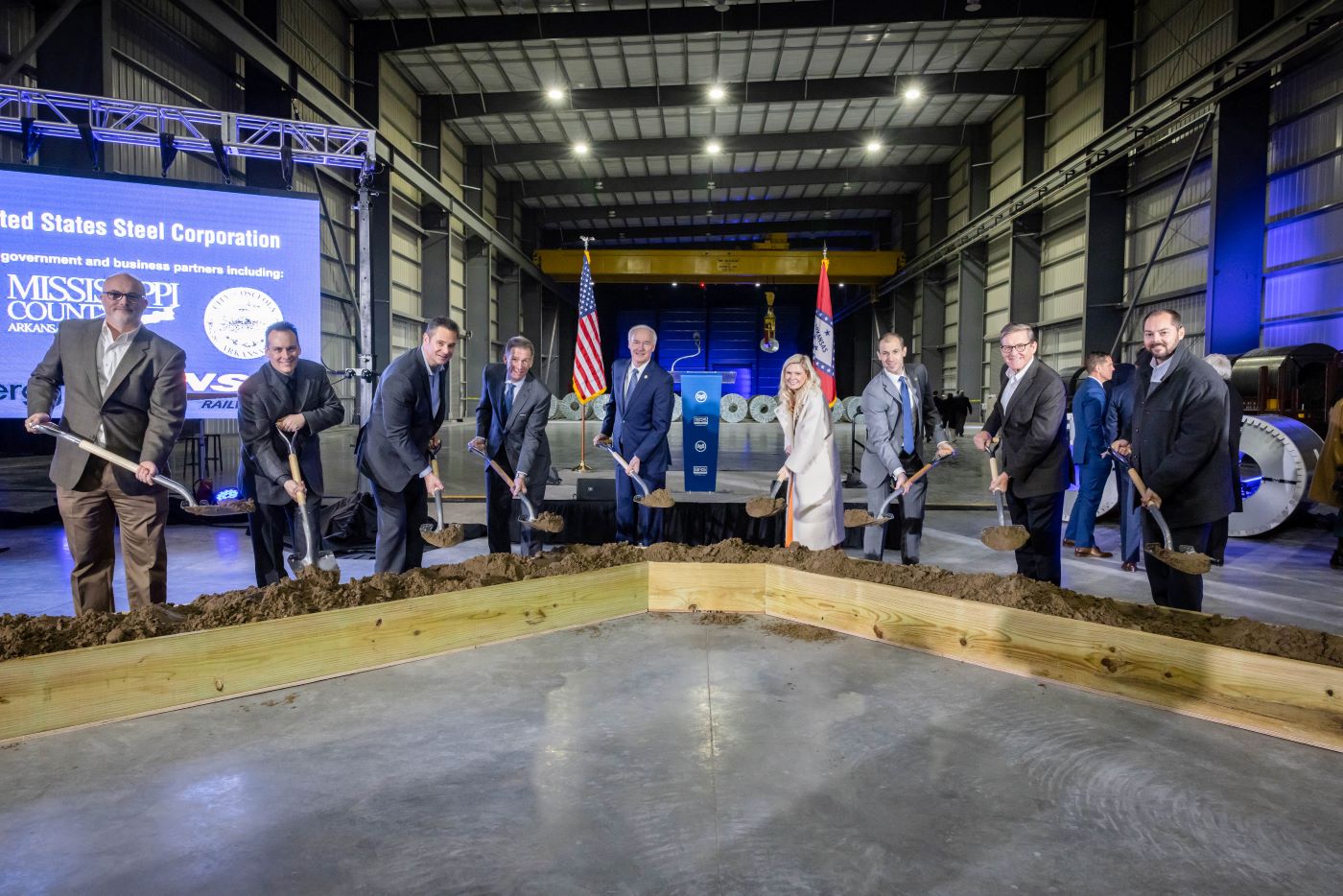 State and local officials joined Arkansas business leaders Tuesday to break ground on the state's largest-ever economic investment project. U. S. Steel is building a next-generation, highly sustainable and technologically advanced steel mill in the Northeast Arkansas city of Osceola.
U. S. Steel held the event on the grounds of its next-door brother, Big River Steel, one of Entergy Arkansas' largest industrial customers. U. S. Steel President and CEO David Burritt thanked Entergy for helping Arkansas be chosen for the project. 
"We wouldn't be here without the incredible help that we get from this community," U. S. Steel President and CEO David Burritt said. "Leo Denault and Laura Landreaux came here from Entergy. They know how to make energy affordable and sustainable. And they're finding new ways to do that. Thank you so much for coming and thank you so much for getting us to be able to do this groundbreaking."
Entergy Arkansas has a long-standing relationship with the steel company, partnering with them in 2015 to provide a special rate contract on electricity and construction of $73 million in substation and transmission lines to help facilitate development of Big River Steel. In addition to providing power to Big River Steel, Entergy Arkansas plans to provide an incremental 550 megawatts to help power the new facility.
It was a big day for the state, whose elected officials and business partners worked tirelessly to win the $3 billion project. 
"I do have to say how important Entergy has been with both Laura and Leo and their leadership and what it means when we pull together as energy providers, as a state, as a prospect (location), and we arrive at solutions that are needed to win this project," Governor Asa Hutchison said during his remarks.
According to U. S. Steel's news release, the new mill site was selected on several factors, including final agreements with key partners.
"The location affords abundant, increasingly renewable and clean power from Entergy Arkansas, superior Class 1 rail service from BNSF with connections to other railroads, Mississippi River docks and interstate trucking," the release stated.
Permitting for the project is underway and the company expects to complete the construction and begin full operation in 2024. It's expected to create 900 jobs — 700 full-time and 200 contract workers.
Landreaux said the project is one of many examples of how Entergy is working to meet the needs of all customers.
"We are proud to offer low cost, reliable, and clean energy that helps attract significant growth customers like U. S. Steel to our state," said Landreaux, president and CEO of Entergy Arkansas. "In addition, we know companies like U. S. Steel and other major industrial firms have interim and long-term emissions reduction goals. Whether those companies are already here or looking to do business in our state, we are well-positioned to provide abundant amounts of clean, reliable, resilient and affordable power to achieve those goals."
Pictured are (from left) Russell Harris and Matt Faries with Entergy Arkansas, U. S. Steel Senior Vice President of Advanced Technology Steelmaking and Big River Steel Works CEO Dan Brown, Entergy Chairman of the board and CEO Leo Denault, Arkansas Gov. Asa Hutchison, Entergy Arkansas President & CEO Laura Landreaux, Arkansas Director of Commerce Mike Preston, and Kurt Castleberry and David Palmer with Entergy Arkansas. 
---