Insights > Entergy Nuclear Presents $50,000 to Alcorn State University
Entergy Nuclear Presents $50,000 to Alcorn State University
10/19/2015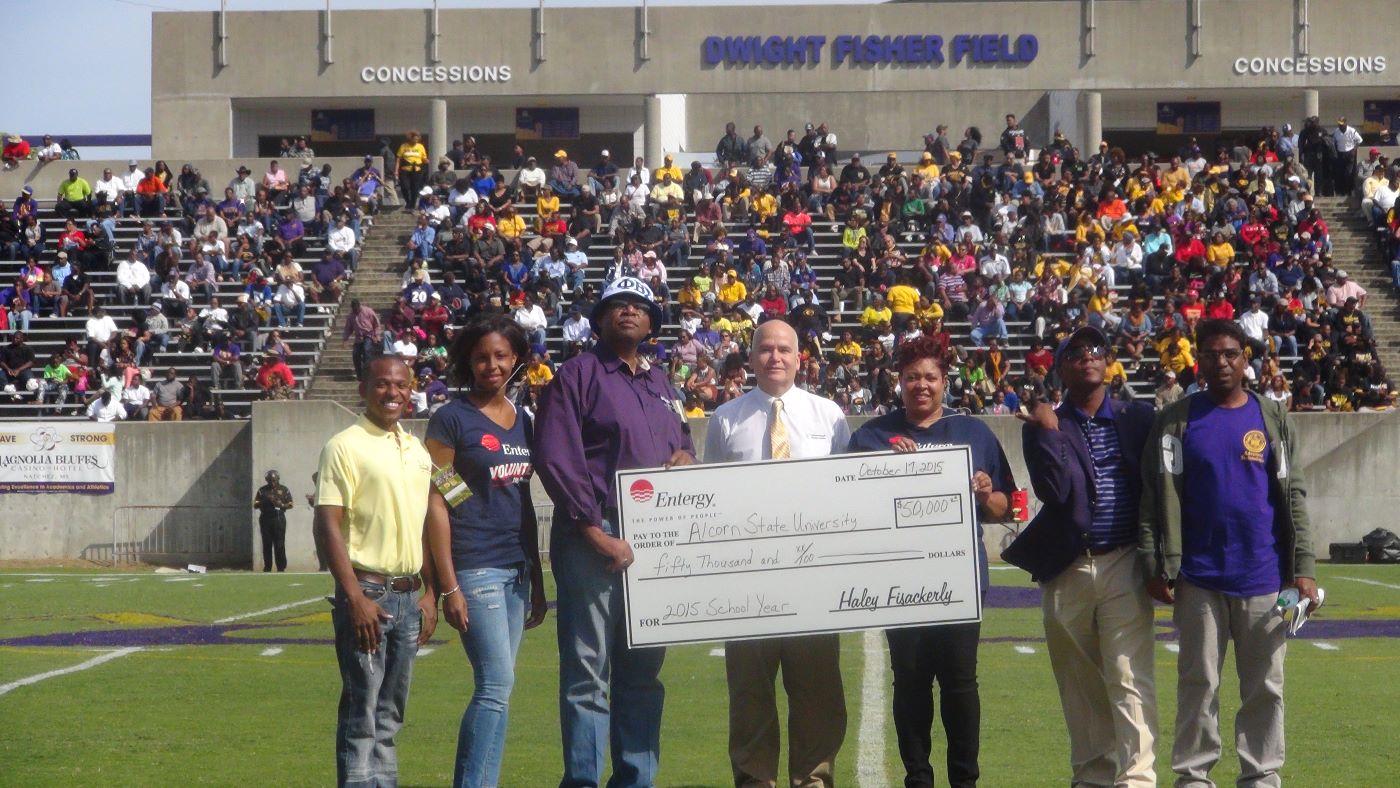 Alcorn State University's health physics program is happy to announce that five individuals will each receive a $10,000 scholarship, sponsored by Entergy Nuclear. Grand Gulf Radiation Protection Manager Roy Miller presented the $50,000 donation during half-time at ASU's homecoming game Oct. 17.
Miller was joined by Corey Cooper, a radiation protection technician at Waterford 3 Nuclear Station, and Amber Harris, a health physicist at Grand Gulf Nuclear Station. Cooper and Harris are both graduates of the health physics program. 
"This partnership has attracted local students to enroll in nuclear programs and has provided jobs to Mississippi residents," said Jeremiah Billa, ASU advanced technologies and radiation technology instructor. "The Nuclear Regulatory Commission and the Health Physics Society recognize the ASU-Entergy alliance as one of the best models in the country, because once our students graduate, they sustain a career in the nuclear workforce."
Over the past six years, about 17 ASU HP graduates began working in the nuclear industry, with the majority employed at Entergy Nuclear plants. More than 20 students secured internships at Grand Gulf. 
In 2007, Entergy Nuclear collaborated with the NRC and ASU to develop the only radiation-related program in the state of Mississippi. Over the years and under the leadership of Professor Billa, the program expanded extensively in the areas of student enrollment and research capacities. Currently, more than 35 students are majoring in the program, and at least 80 students are enrolled in various HP classes. Two Entergy scholarship recipients received a prestigious one-year fellowship with the Los Alamos National Laboratory.
"Grand Gulf is proud to be a good neighbor in our community and state," Kevin Mulligan, Grand Gulf site vice president, said. "At Entergy, we know our employees are our greatest asset -- we live, work and raise our families here. We are committed to high standards in everything we do, in our work and the communities we serve."
---