Insights > Entergy Nuclear Veteran Spotlight: Michael Wright
Entergy Nuclear Veteran Spotlight: Michael Wright
11/11/2015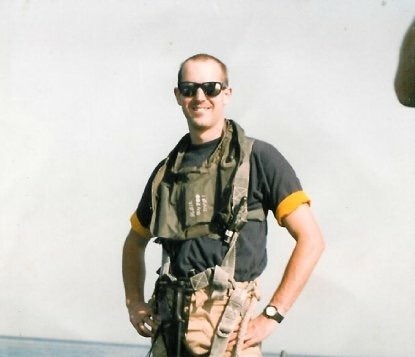 To honor the many Entergy employees who served our country, we are spotlighting some of them throughout the next week as we celebrate Veterans Day.
Each day over the next week, an Entergy employee will share their photo and memories of serving in the military.
These proud men and women not only help us power life today, but they also powered our country when duty called.
You can help us celebrate their accomplishments and their service by sharing these stories on your social channels to show your support of the brave men and women that proudly serve our country.
Our seventh employee profile spotlights Michael Wright, an electrical maintenance superintendent at Indian Point Energy Center in Buchanan, New York. 
Wright served in the U.S. Navy for 6 years and the New York Army National Guard for 17 years, retiring as a Sergeant First Class. He began working at Indian Point Energy Center in 1992.
Left: Wright in Afghanistan in 2008. Right: Wright's daughter in Afghanistan in 2012. 
Why he joined the service
I joined the Navy out of a desire to serve. I did not come from a military family, but I had the good fortune to be born American. Serving in the military was a way to show my appreciation.
The most challenging thing about being in the Navy
The most challenging thing I faced during my time in the Navy was separation from my family, particularly after my daughter was born. That is the main reason that I left when I did. I am very thankful for those that continue to serve even with families that they have to leave at the pier.
His proudest moment while serving
I have experienced several proud moments while serving, including: marching in a ticker tape parade in Dallas after the first Gulf War, receiving my Dolphins (the Submarine Warfare Insignia) when I became submarine-qualified, graduating from U.S. Navy Scuba School and having the privilege of leading two incredible teams, one in Iraq and one in Afghanistan.
Two of his children are proud to serve in the military
My son wanted to be in the military and a U.S. Army Ranger from a very young age. He used to jump out of our minivan and yell, "Airborne!" when he was five.  I believe he always felt duty bound as I did. He is a Corporal currently on active duty with the 1/75th Ranger Regiment stationed at Hunter Army Airfield in Georgia.
 My daughter was a bit of a surprise. She spent a year in college and told me she wanted to enlist. She was a little disenchanted with what she saw at college – she felt so many college students were completely disconnected from the war. She refused to be one of them. She currently is a Sergeant with the Alabama National guard. She went to Afghanistan in 2012, and is continuing her education using the G.I. bill to get her master's degree in sociology from Mississippi State.  
A proud Wright with his son who just received his Ranger Scroll and Tan Beret. 
Final thoughts
I am very proud of all three of my children and what they have accomplished in life. A quote from Walter Schirra Sr. (the father of Mercury astronaut Wally Schirra) really sums up how I feel, "You don't raise heroes you raise sons (and daughters).  And if you treat them like sons (and daughters), they'll turn out to be heroes, even if it is just in your own eyes."
---