Insights > Entergy provides update on its progress to net-zero carbon emissions
Entergy provides update on its progress to net-zero carbon emissions
12/19/2022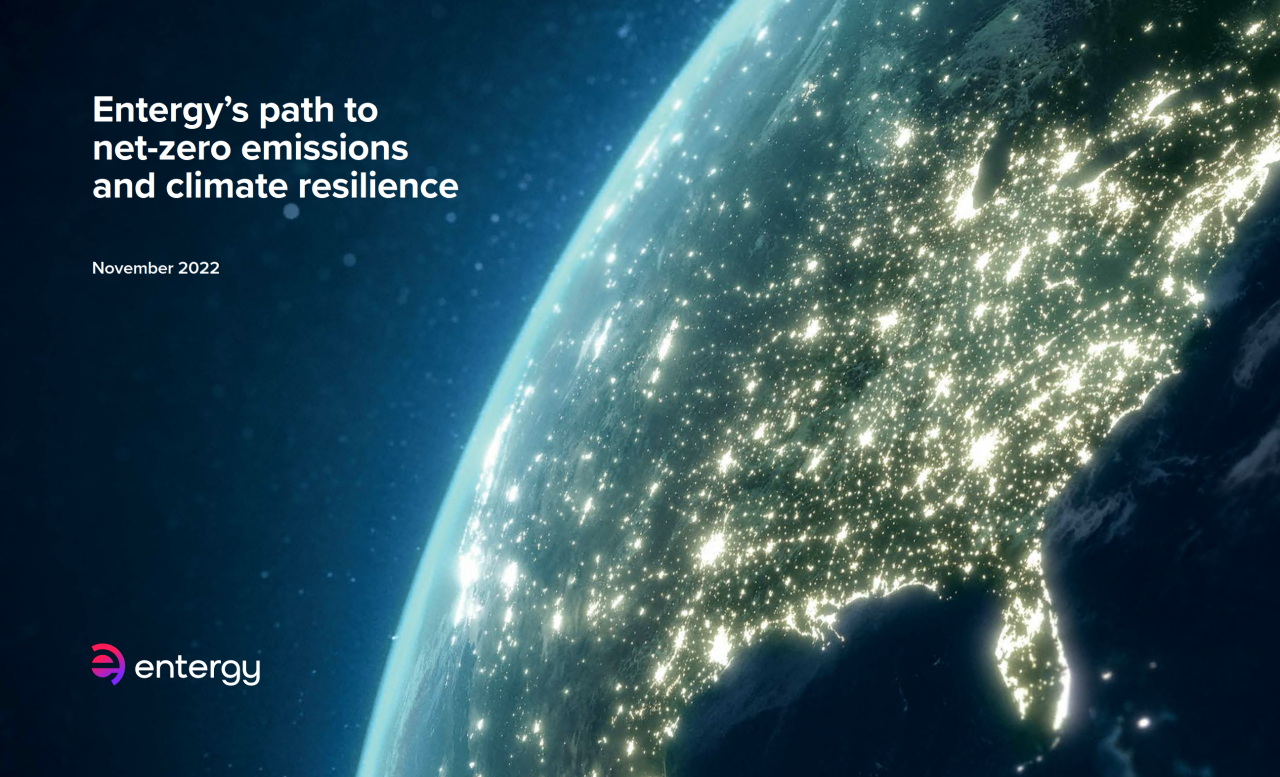 Entergy is taking additional actions on climate change while maintaining our commitment to safely providing reliable, affordable and cleaner energy for customers and communities.
We recently published our latest climate report as an update to stakeholders and to provide transparency on our progress to achieving net-zero carbon emissions by 2050.
"As a power provider for 3 million customers in four southern states, Entergy plays a critical role in delivering the clean energy solutions essential to lowering greenhouse gas emissions across the economy, without compromising affordability or service reliability," said Drew Marsh, chief executive officer for Entergy. "This report outlines our thoughtfully planned climate actions moving forward and our approach to addressing uncertainties along the way."
Entergy is one of the first utilities to address the totality of carbon emissions across its value chain – that is, Scope 1, 2 and 3 emissions of all applicable greenhouse gases from all Entergy businesses.
In the report, we reaffirmed our commitment to net-zero carbon emissions by 2050 and discussed two interim carbon emission reduction targets. First, we expect 50% of our power generation capacity will come from clean, carbon-free energy sources by 2030, which is a new goal established as of the latest climate report. Second, we will reduce our carbon dioxide emissions rate by 50%, including owned and purchased power generation, from 2000 base-year emissions by 2030. Entergy also reaffirmed plans to retire all coal-powered generating plants by the end of 2030.
The report also discusses efforts to accelerate investments in power delivery system resilience. Entergy strives to build and maintain a reliable and resilient system. In response to the increased frequency in extreme weather events, we have broadened and updated our climate science-based analysis process. Based on this analysis, we are proactively accelerating our investments in resilience, especially in vulnerable areas.
This latest climate report builds on Entergy's 20-year history of climate action and advances a cleaner, sustainable and more resilient future for all stakeholders. Read our foundational 2019 climate report here and our 2020 addendum, which established our net-zero emissions by 2050 commitment here.
In this announcement and the climate report, Entergy Corporation makes certain "forward-looking statements" within the meaning of the Private Securities Litigation Reform Act of 1995.  Such forward-looking statements include, among other things, statements regarding Entergy's climate plans, goals, beliefs, assumptions and expectations, including the illustrative pathway presented in its climate report, statements regarding its carbon-free energy capacity, GHG reduction goals and strategies; and other statements of Entergy's plans, beliefs, or expectations included in this presentation. Readers are cautioned not to place undue reliance on these forward-looking statements, which apply only as of the date of this presentation.  Except to the extent required by the federal securities laws, Entergy undertakes no obligation to publicly update or revise any forward-looking statements, whether as a result of new information, future events, or otherwise.   These forward-looking statements are subject to a number of risks, uncertainties, and other factors that could cause actual results to differ materially from those expressed or implied in such forward-looking statements.  Many of those factors are discussed in the climate report and in Entergy's most recent Annual Report on Form 10-K, any subsequent Quarterly Reports on Form 10-Q, and Entergy's other reports and filings made under the Securities Exchange Act of 1934 and include, among others, uncertainties associated with rate proceedings, formula rate plans, and other cost recovery mechanisms, uncertainties associated with realizing the benefits of Entergy's resilience plan and efforts to remediate the effects of major storms and recover related restoration costs; risks associated with operating nuclear facilities, including plant relicensing, operating, and regulatory costs and risks; and the effects of technological change, including the costs, pace of development, and commercialization of new and emerging technologies.
---