Insights > Entergy's new solar station (Wildlife Mississippi)
Entergy's new solar station (Wildlife Mississippi)
03/20/2023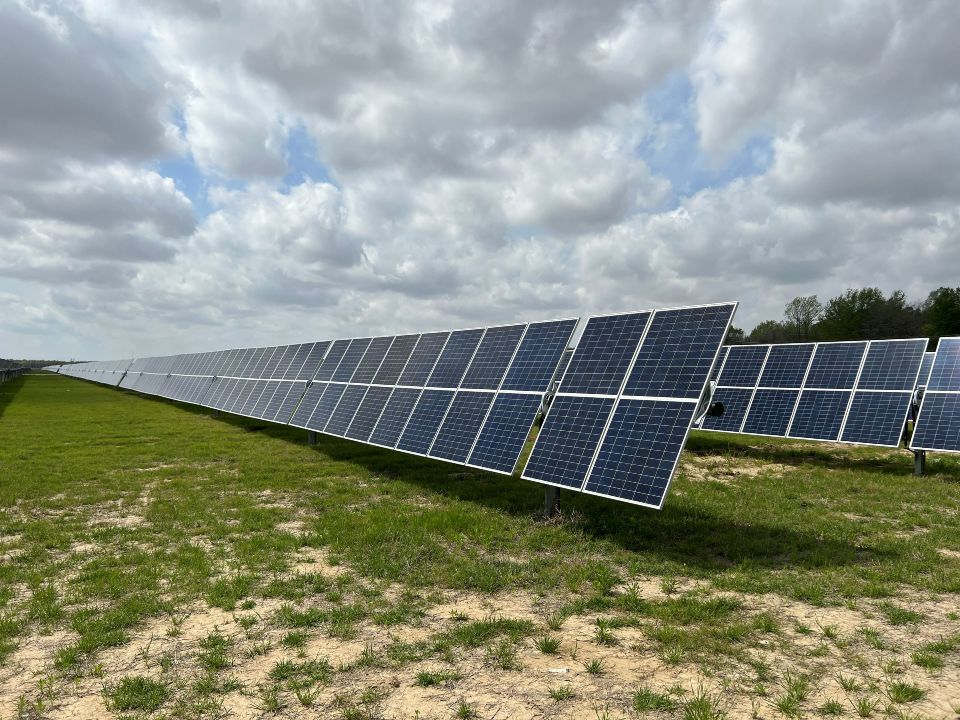 The Sunflower Solar Station is the first plant in what will eventually be the most significant expansion of renewable power in the state's history, according to Fisackerly.
The year was 1980. I was in 8th grade at Coleman Junior High School in Greenville. My science project was a solar furnace; it utilized a Fresnel lens which could easily melt aluminum, which melts at approximately 1,200 degrees Fahrenheit. I placed second for my grade at the State Science Fair in Biloxi that year. Unlike wind, I have always thought that we as a nation could better harness the sun's energy. My first use of solar cells was a transistor radio I built from a kit. I think it may have been from RadioShack. The solar cell was about 1" X 2" in size.
During the past 40 years, there has been a great advancement in technology of solar cells—and their size! I am very proud of Entergy Mississippi and its president and CEO Haley Fisackerly for leading Mississippi in utilizing this technology to supplement our state's energy needs.
Entergy Mississippi recently announced that its 100-megawatt renewable solar power station is up and running near the small Delta town of Ruleville. This power station, known as the Sunflower Solar Station, is the largest utility-owned solar installation in Mississippi. This solar station will provide clean energy to Entergy Mississippi's 461,000 customers, with enough energy to power 16,000 homes.
At the dedication of the solar station, Fisackerly passionately stated, "It's a historic day for Entergy Mississippi, our customers, and our state. Powering communities is the heart of our business, and this power station does that in several ways: by providing clean, green power to customers and a hedge against rising natural gas prices and giving industries with renewable energy goals an incentive to locate or expand operations in our state. This is our first large, utility-scale solar facility, and it's historic also due to the fact that this year, Entergy Mississippi will be celebrating its 100th year of serving customers in Mississippi. It's truly amazing how far our company and industry have evolved in that time to where we're now using solar energy to serve our customers."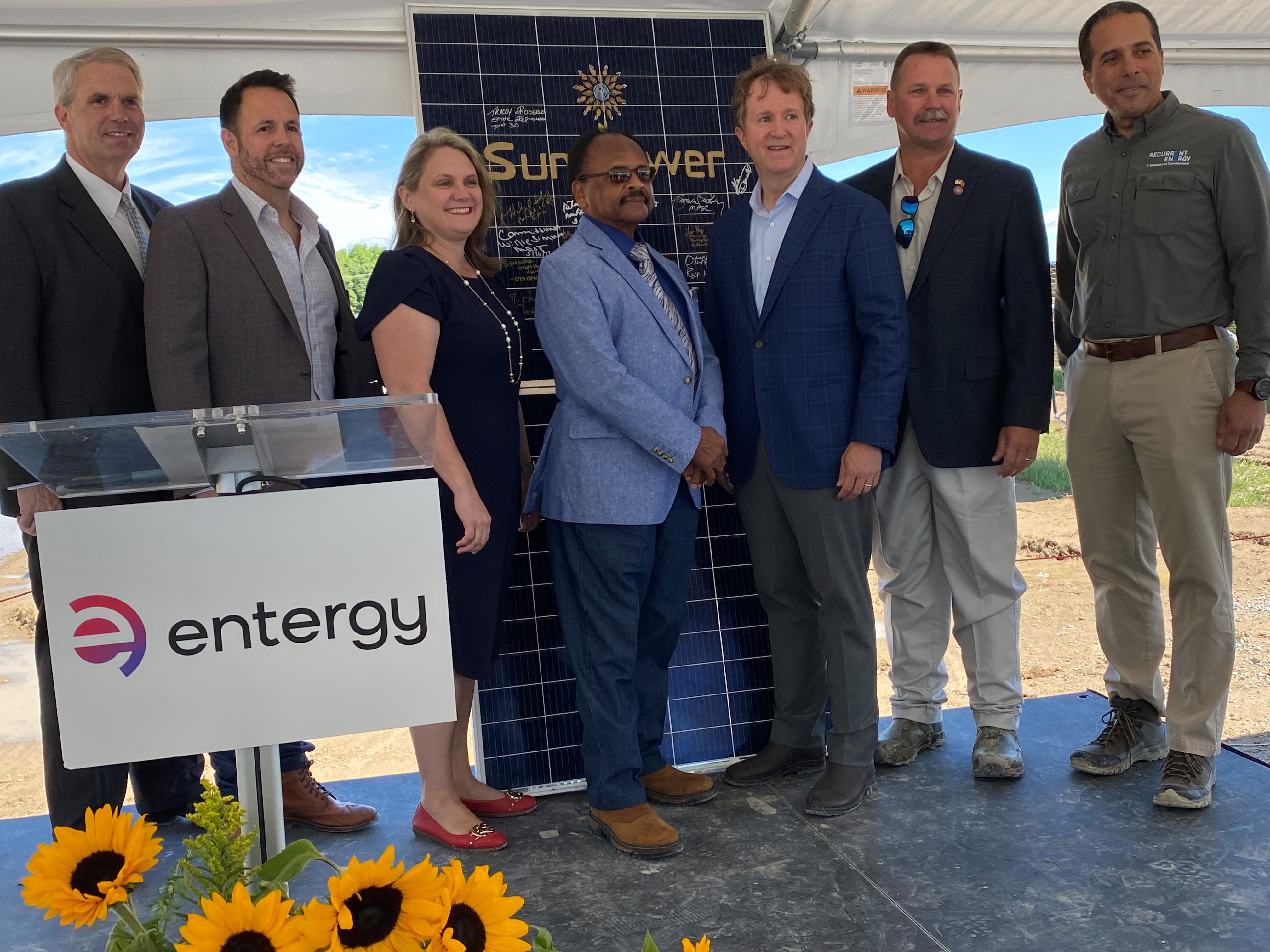 Situated on nearly 1,000 acres in Sunflower County, the emissions-free, renewable energy plant connects to Entergy's transmission grid nearby. It consists of a single-axis tracking photovoltaic power generator with 272,000 PV modules.
The Sunflower Solar Station is also the first plant in what will eventually be the most significant expansion of renewable power in the state's history, according to Fisackerly. Entergy intends to replace aging natural gas plants with 1,000 megawatts of renewable energy over the next 5 years under its Economic Development with Green Energy (EDGE) program.
Fisackerly states, "Reaching out to our bigger customers and, also, our individual customers, we have heard more and more their desire to have renewable energy options available. In my 27 years here, I've seen our customers gaining a bigger voice in what they want regarding their energy needs, especially regarding sustainability and reducing their greenhouse gases. That's why we've retired many of our older plants and replaced them with newer, cleaner energy sources, and this station is yet another step in that direction."
Over its 30-year life, the Sunflower Solar Station is expected to bring in $17 million in ad valorem taxes to Sunflower County. During the construction of the plant, local vendors and construction workers in Mississippi were used, which further benefited the local economy. For example, A-1 Kendrick Fence Company installed the perimeter fence, Signal Energy served as Engineering, Procurement, and Construction (EPC) provider, and Attala Steel Industries supplied nearly 2,500 tons of steel for the foundation.
Fisackerly noted that under Entergy's EDGE strategy, "our energy portfolio will go from 1% to approximately 30% renewables in only 5 years, so this is a huge shift toward these new power sources—probably mostly solar, but possibly wind and hydro, too."
Entergy Mississippi's efforts are part of an overall move toward renewable power by Entergy companies. In 2021, Entergy Corporation announced plans to triple its renewable energy portfolio over a 3-year period. The company expects to have 11,000 megawatts of renewable energy generation by the end of 2030 in the four southern states its operating companies serve. The Sunflower Solar Station is another milestone in the corporation's continued transformation of its power generation portfolio, meeting customers' needs with clean, efficient, and diverse sources of electricity while maintaining affordable rates.
Recurrent Energy, LLC, a wholly-owned subsidiary of Canadian Solar, Inc., developed and built the Sunflower Solar Station for Entergy Mississippi under a Build Transfer Agreement (BTA). Recurrent Energy initially signed a BTA with Entergy Mississippi in 2018, designating the regulated utility to own the Sunflower Solar project once it reached commercial operation. The Mississippi Public Service Commission approved the BTA unanimously in April 2020. Entergy Mississippi celebrated taking ownership of the plant on May 26 at the site, and it became commercially operational on September 21.
Fisackerly explained how they selected the Ruleville location. "We had a bidding process where we sent out a request for proposals, and dozens of solar developers like Recurrent were going around the state finding locations to bid into through a competitive process. They chose Ruleville by putting a land deal together with landowners in the area, and there were also transmission lines and a substation onsite, making it easier to serve."
When asked if Entergy customers would notice any differences in their service with solar power, Fisackerly answered, "No. However, it will help lower costs during these times of higher fuel and natural gas prices. Plus, in 2015, we deployed three small-scale solar facilities to test how well solar would work here in Mississippi. From that, we were able to learn how safe and efficient this form of energy was and would be of value to our customers."
Entergy proudly became the first U.S. electric utility to commit to capping greenhouse gas emissions. Since its announcement in 2001, Entergy has renewed and strengthened its commitment to responsible climate actions and goals, and this solar station is evidence of that. More recently, Entergy announced it is committed to achieving net-zero carbon emissions by 2050. Along with renewable power sources, the corporation owns and operates four nuclear plants in its southern footprint, and these sources of clean, carbon-free energy will help Entergy meet that goal.
Fisackerly explained that there would be a need to retrain employees because of the move to solar energy as well as the use of newer technologies. He stated as an example of the use of new technology, Entergy would use robotic mowers to mow the grass at the Ruleville station. He acknowledged that different skill sets would have to be learned and utilized by Entergy's crews.
Entergy Mississippi, LLC provides electricity to approximately 461,000 customers in 45 counties. A subsidiary of Entergy Corporation, Entergy Mississippi is an integrated energy company engaged in electric power production, transmission, and retail distribution operations. Entergy delivers electricity to 3 million customers in Arkansas, Louisiana, Mississippi, and Texas. Entergy owns and operates one of the cleanest large-scale U.S. power-generating fleets with nearly 30,000 megawatts of electric generating capacity, including 7,000 megawatts of nuclear power. Entergy is headquartered in New Orleans, Louisiana, with annual revenues of $10 billion and approximately 12,500 employees.
President and CEO Dr. Shawn Qu founded Canadian Solar in 2001 in Canada. Canadian Solar has become one of the world's most comprehensive solar technology and renewable energy companies. It is a leading manufacturer of solar photovoltaic modules, provider of solar energy and battery storage solutions, and developer of utility-scale solar power and battery storage projects with a geographically diversified pipeline in various stages of development.
A leading utility-scale solar and storage project developer, Recurrent Energy delivers competitive, clean electricity to large energy buyers. Based in the U.S., Recurrent Energy is a wholly-owned subsidiary of Canadian Solar Inc. and functions as Canadian Solar's U.S. project development arm. They have approximately 5 GW of solar and storage projects in development in the United States.
While this is the most recent project that Entergy Mississippi has conducted to reduce the effects of climate change, it is by no means their first. Entergy has invested in a variety of carbon sequestration projects, including reforestation, since 2001. Its first reforestation projects involved planting trees at company-owned facilities. As early as 2002, Entergy supported projects to purchase and reforest marginal agricultural land to create new national wildlife refuges or expand existing ones. Projects supported by Entergy occurred at Tensas National Wildlife Refuge in northeastern Louisiana and Overflow National Wildlife Refuge in southeastern Arkansas. Entergy Mississippi reforested its own lands, too, in Washington, Bolivar, and Tunica counties in Mississippi.
Entergy was the first U.S. electric utility to announce a greenhouse gas emissions target and has invested a variety of sequestration projects to meet about 20% of its short- and long-term emission goals. Other types of projects included ones to sequester or reduce emissions of methane at landfills, projects that reduced emissions of nitrous oxide, a potent greenhouse gas, from industrial processes by other companies, and geologic sequestration, where carbon emissions are captured and pumped underground to help extract oil from dormant wells.
For anyone interested in learning more about Entergy's leadership in creating and sustaining a cleaner, more sustainable energy future, visit entergy.com/environment and entergy.com/renewable-energy.
This article was originally published in the Fall 2022 issue of Wildlife Mississippi magazine.
---