Insights > Porter receives Presidential Lifesaving Award
Porter receives Presidential Lifesaving Award
05/12/2016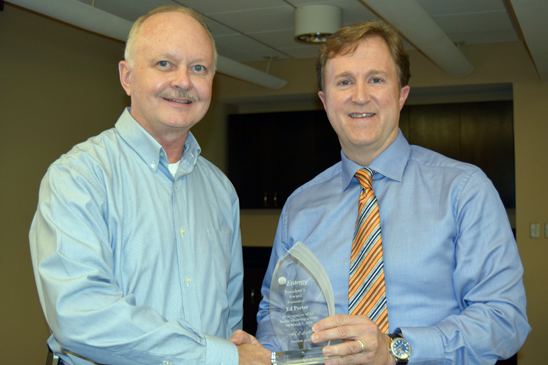 Early in March, Ed Porter, industrial account executive, took his daughter Holly to lunch at the well-loved Elite Restaurant in Jackson, Mississippi. While enjoying their meal, Porter noticed another patron choking, hunched over and pointing to her throat. He didn't hesitate to act. Porter jumped up and successfully performed the Heimlich maneuver, saving her life.
Porter learned the Heimlich maneuver through safety training at Entergy. "I believe instinct kicked in, but the safety training that I had been exposed to certainly helped in this situation," said Porter. "It's very important to Entergy employees to familiarize themselves with CPR, the Heimlich maneuver and other techniques that could save a life. I never dreamed this would happen at lunch that day, but it did."
Entergy Mississippi President and CEO Haley Fisackerly recently presented Porter with the President's Lifesaving Award. "In the last eight years, we've given out 16 President's Lifesaving Awards. The two we most recently gave were the first ones not issued to a craft employee that works in the field," said Fisackerly. "It goes to show that we all can be in a position where our actions can impact someone's life, and that training in lifesaving skills can make all the difference.
"More importantly, the greatest act of kindness is when someone does something to help a complete stranger. That says a great deal about the kind of person Ed is. I'm proud he's one of our own."
"I never intended this act to be an act of heroism. I was just in the right place at the right time and took action," said Porter. "God has a plan for us all, and that day I was where He wanted me to be."
"It's not every daughter that can truly see her dad as a hero in action," said Porter's daughter Holly. "I'm so proud of my dad and for what he represents: community, dedication to what's right and an unselfish desire to help whenever he can."
---