Insights > Sandy Bayou Substation Project on schedule to fuel the expansion of Northeast Arkansas
Sandy Bayou Substation Project on schedule to fuel the expansion of Northeast Arkansas
07/26/2023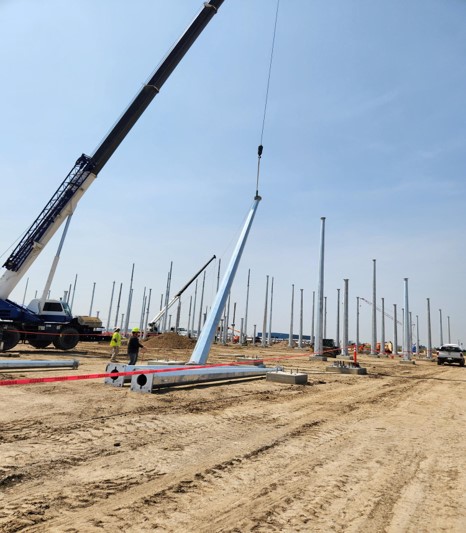 Construction is well underway for a new substation that will supply power to the new United States Steel mill in Northeast Arkansas.
The Sandy Bayou project is a 500/230kV substation that will support the operations of the second mill that will be constructed, owned and operated by U. S. Steel in in Osceola, Arkansas.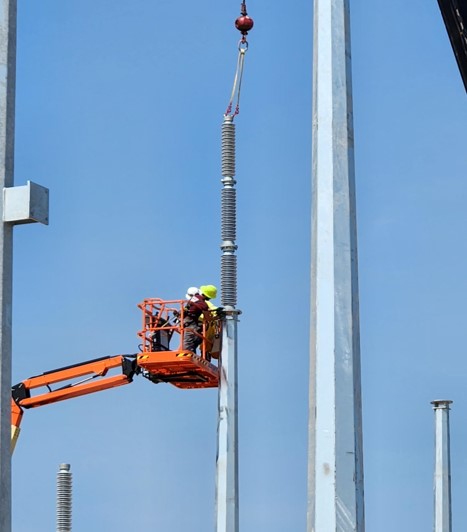 The foundations for the substation yards and transformer pads have been completed. Steel, insulators and capacitor voltage transformers are being installed at the substation, with the steel to be completely erected by August. When completed, the substation will be able to accommodate future expansions should the area see continued growth.
A groundbreaking was held in early 2022 on the grounds of U.S. Steel's first mill in the area, Big River Steel, which began operations in 2016 and is Entergy Arkansas' largest industrial customer.
The mill project is the largest economic development project in the history of the state. It is a next-generation, highly sustainable and technologically advanced steel mill. Its construction has brought more than 1,100 workers to the area, contributing to the economic impact of the area.
Sandy Bayou's construction is also contributing to the local economy. The substation's engineering, procurement and construction contractor reports that their local spend on the project is $11.6 million. They also work to use diverse suppliers on their projects whenever possible.
Entergy Arkansas also has partnered with U. S. Steel to donate to various charities in Osceola and Mississippi County. Entergy Arkansas donated $100,000 to help bolster $1 million in donations by U. S. Steel. Among the donations is a $425,000 grant to relocate the South Mississippi County Regional Medical Center's (SMCRMC) emergency room, which was damaged by flooding, buy life-saving equipment and construct a helipad.
---