Insights > Specialized Entergy crews power Louisiana communities through historic summer
Specialized Entergy crews power Louisiana communities through historic summer
10/02/2023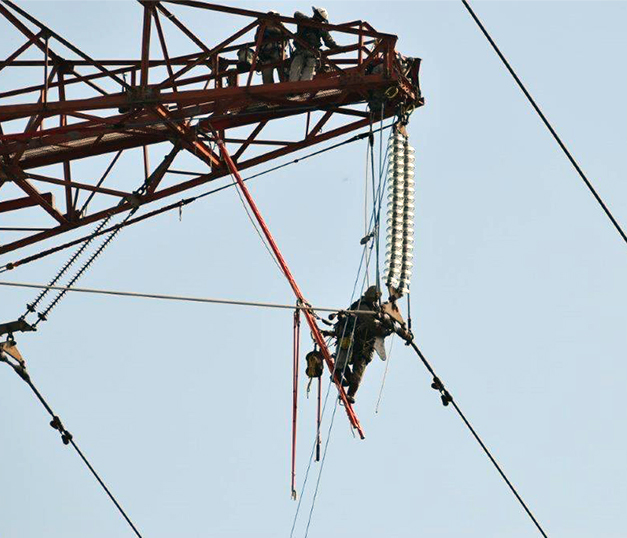 Specialized Entergy crews called "barehand crews" have helped keep the lights on for Louisiana residents and businesses throughout a historically hot summer by safely performing work on energized powerlines.
According to the National Weather Service, Louisiana has experienced drought conditions and nine consecutive days of triple-digit temperatures. But this has not stopped the barehand crews who have been hard at work on the company's transmission system.
To allow lineworkers to perform energized work, these highly-skilled crews use special equipment like elevated bucket trucks that extend hundreds of feet and come equipped with robotic arms, conductive tethers to simulate a bird landing on a wire and a variety of insulated tools. 
Throughout Louisiana, Entergy has over 5,000 miles of transmission lines, and transmission facilities with equipment operating at 69,000 to 500,000 volts. The ability to work on transmission lines while energized, allows the system to remain in a normal state. With elevated summer temperatures, this work method provides redundancy and adequate capacity to move power across the electrical system.   
"Wesley Brown and Frank Morse have been champions in the success of this initiative," said Steven Benyard, Entergy vice president of reliability in Louisiana. "Their ability to organize specialized crews to replace wooden poles, repair damaged conductors, insulators and shield wire, with zero impacts to our customers, has been instrumental to keeping homes and businesses powered during extreme heat."
In 2019, Entergy Louisiana and Quanta, a contractor, worked together to establish a baseload energized transmission line crew to execute an asset renewal program in our industrial corridors across Louisiana and large capital projects that consist of complete rebuilds of transmission lines to add capacity to our system. The focus of this collaboration was to have these work methods and capabilities on our system everyday modernizing the system and being available to respond to emergent work. 
Since the start of this initiative, Entergy implemented a full-time energized crew that safely completed the following work objectives on our transmission system:
Increased the reliability on over 100 planned and emergent transmission projects in Louisiana.
Replaced approximately 400 structures and more than 2,300 insulators.
Improved customer satisfaction by reducing unplanned outage events by 35% in the Lake Charles industrial corridor.
Supported other Entergy departments such as capital projects, power generation and the nuclear organization.
"Our team continues to find ways to mitigate the potential for a service interruption by performing hot work where it's safe to do so," said Daniel Calamari, director of transmission reliability in Louisiana. "The goal is to leverage the expertise and capabilities of each department across the state to efficiently perform work while continuously providing safe and reliable power throughout the communities we serve."
For more information on Entergy Louisiana's reliability plans, visit entergy.com/future.
---