Insights > Summer Heat Lingers into Fall
Summer Heat Lingers into Fall
10/03/2019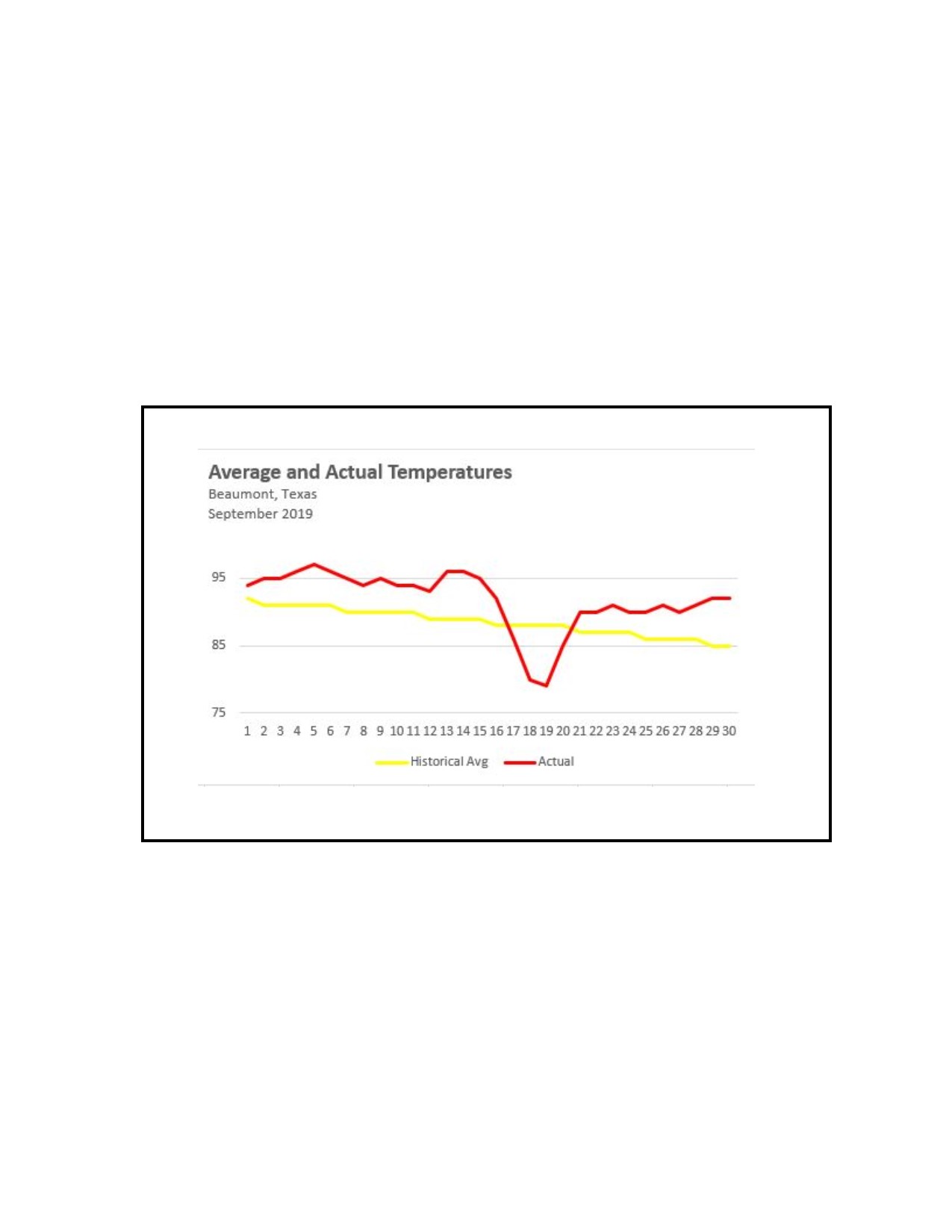 While the calendar technically says it's fall and pumpkin spice flavored everything fills the stores, Texans are still feeling the heat.
It was the hottest September on record for many parts of Texas. The Woodlands area saw 25 days of above average temperatures and the Beaumont area saw 26 days of above average temperatures, according to AccuWeather. The only relief from the heat came last month when Tropical Storm Imelda brought rain and lower temperatures.
Escaping the heat that has been blanketing Texas can also come at a cost. High temperatures mean running your air conditioner longer, especially in areas of the state that saw daytime highs in the mid-to-upper 90s for weeks on end.
Air conditioning typically makes up about 55 percent of a home's energy usage. In other words, for every $100 of your electric bill, $55 goes towards air conditioning alone. When it is extremely hot, it takes more energy to keep your home at the temperature you have set on your thermostat.
The unseasonably high temps may stick around a little while longer, but there are ways you can save energy without sacrificing comfort:
Get your A/C inspected to make sure your system is leak-free and operating as efficiently as possible. Don't forget about air filters; some units require monthly cleaning or replacing.
Set your thermostat to 78 degrees or the highest comfortable temperature. Every degree lower than 78 can raise your bill as much as 3%. If you crank down the A/C to a cooler 72 degrees, you've already increased your bill by 18%.
Buy a programmable thermostat. As energy use rises, costs also rise. If you spend most of your day outside of the house, set your thermostat to automatically shut off or raise the A/C setting when you're away.
Use fans to cool off, but remember – fans cool people, not rooms. Ceiling fans, box fans and oscillating fans use very little electricity and circulate the air, which helps you feel several degrees cooler. To save more energy, be sure to turn them off when you leave the room.
Close blinds, shades and curtains to keep the sun out and the cool air in. Also, close A/C vents in rooms that are not in use.
Seal cracks and holes around doors, windows and ductwork. Inexpensive weather stripping and caulk will help keep the cold air inside the house and the hot air outdoors.
If your energy bill was higher than usual, here are some ideas:
Find out why. You can dig deeper into your bill with Entergy's Analyze My Bill. This interactive tool allows customers to compare their energy usage (and the temperatures in their area) over time. With this knowledge, customers can pinpoint the best ways to save money. Check it out here: http://entergy.com/analyzemybill/
Get assistance. There are times when everyone needs a little help. When your income won't stretch any further, we have programs available for both emergency bill payment assistance and long-term relief. Visit http://www.entergy.com/our_community/bill_help.aspx
Call Entergy Texas at 1-800-Entergy (800-368-3749) to discuss billing options such as Level Billing, Pick-a-Date, Deferred Payments and Payment Extensions.
---