Insights > Sunflower Solar Plant ensures a 'bright future' for Entergy and Mississippi
Sunflower Solar Plant ensures a 'bright future' for Entergy and Mississippi
09/14/2023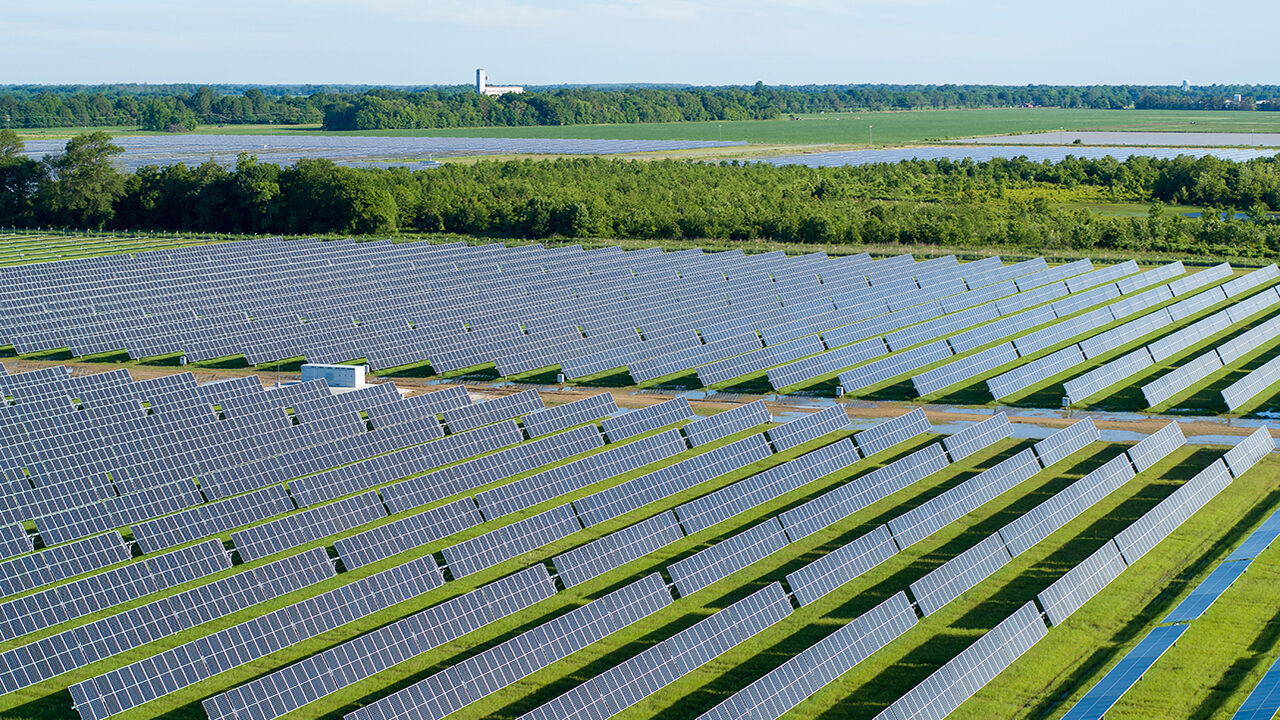 When picturing renewable energy sources like wind, solar and hydroelectric power, it's easy to first think of wide-open plains, cloudless desert skies and archway dams bordered by craggy overlooks and mountain passes.
However, as the need for renewable power sources grew in the early aughts, Entergy Mississippi began to look more closely at solar technology. The company's Bright Future initiative, which kicked off in 2015, created a blueprint for the state's electricity needs through 2025 and gave Entergy engineers an opportunity to learn more about the feasibility of solar technology in Mississippi.
Entergy Mississippi piloted its solar program at three locations within its 45-county certificated region: one each in Lincoln, Hinds and DeSoto counties. All three sites were similar in size and configured for 500 kW of power output. In Lincoln and DeSoto counties, the panels were fixed on a South-facing axis while the panels at the Hinds solar station rotated on a single axis to align with the sun's movements.
"We learned a lot about the solar technology, but we also learned a lot about everything else that goes with solar generation," said Aaron Hill, director of resource planning and market operations for Entergy Mississippi. "We learned how the timing of solar output corelates with our customer's electricity usage, the overall vegetation maintenance requirements and even how to handle solar glass safely."
Maximizing the power of the sun
Building on the knowledge gained through the first utility-owned utility-scale solar projects in the state, Entergy Mississippi found that solar works best on the days we all love: full sunny skies with moderate temperature of about 80 degrees. The company naturally chose the Delta, which averages 214 sunny days per year (4% higher than the national average), to partner and build its biggest solar project yet.
Sunflower Solar Station is the culmination of those research efforts and learnings—a large solar power station covering 1,000 acres near Ruleville in Sunflower County. Some 3,000 trackers control the movements of a staggering 272,000 solar panels, mimicking the sun's natural East-to-West arc including adjustments for the position of the sun in all four seasons.
"We've taken our solar knowledge and experience and partnered to build the Sunflower Solar Project," Hill said, "which will provide about 100MW of carbon-free energy for our Mississippi customers." 
Entergy Mississippi turned on the site—the largest renewable energy-generating site in the state—in late 2022 and it now produces enough power for 16,000 homes. The solar station maximizes its energy potential throughout the day, and in the afternoon, the panels pivot to catch the westward sun as it sets.
"That afternoon period is important because that's when our loads are usually at their highest, being a primarily residential state," said Hill. "A lot of people start heading home from work in the late afternoon, and it's also the warmest part of the day.  So, we understand the benefits of capturing that last that bit of daytime sunshine.  However, solar doesn't operate well at nighttime, so the transmission grid serves to help deliver power from other generators."  
Increasing reliability while decreasing costs
Industrial customers typically want to know about Entergy Mississippi's resource mix and whether they can get solar or other renewable energy as part of that mix. The reason is twofold: many companies have their own energy sustainability goals, but also, if they're going to make a multi-million-dollar investment somewhere, they want to feel confident about the diversity and reliability of their power source.
Entergy also introduced a net-metering program for residents who install solar panels on their homes. A two-way meter installed at the home can receive electricity and return excess electricity generated by the panels. The customer is then credited for solar power generated at the home on their power bills.
"Thanks to the vision and foresight shared by our company leadership, the Bright Future projects are now leading us down a path towards a more sustainable energy mix," Hill said, "And with our recent EDGE announcement for 1,000 additional megawatts of renewables, we're targeting even more carbon-free energy to add to our portfolio."
---