Insights > Sustainably powering the future with clean, economical, modern generation
Sustainably powering the future with clean, economical, modern generation
06/15/2023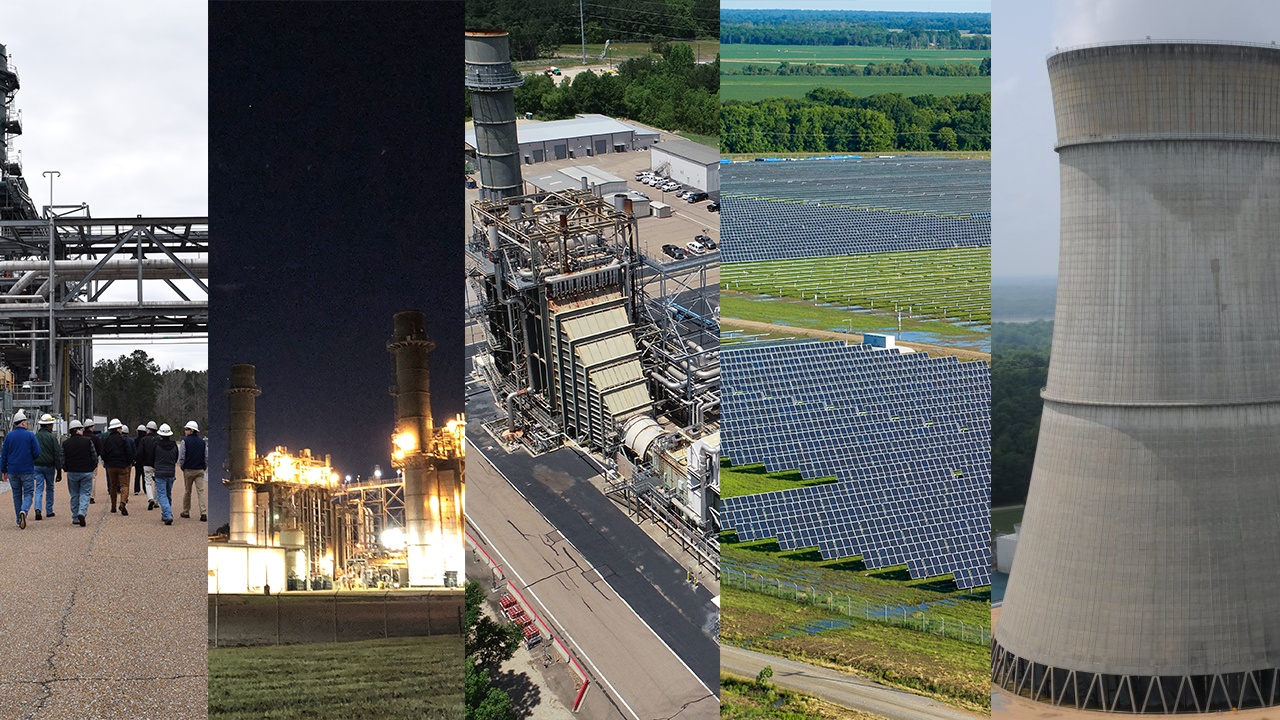 Since 1923, Entergy Mississippi has powered life for customers and communities by providing a reliable supply of safe, affordable electricity. With an increased focus on environmental performance, the company is following that commitment into the 21st century by modernizing its generation fleet to sustainably serve Mississippi's evolving energy needs. 
From 2006 to 2018, the utility added three plants to its generation lineup: Attala Plant in Sallis, Hinds Energy Facility in Jackson and Choctaw Energy Facility in French Camp. By replacing older legacy plants with more advanced combined-cycle natural gas turbine technology, Entergy Mississippi is producing more electricity from the same amount of fuel while significantly reducing carbon emissions.  
In addition to high-efficiency gas units, the Sunflower Solar Station near Ruleville is generating emission-free electricity as part of EDGE, for "Economic Development with Green Energy," a program that will add 1,000 megawatts of renewable energy to the grid in the next five years. 
"Entergy Mississippi's plan to modernize its generation capacity is very responsive to changing customer needs and environmental goals," said Darron Case, who retired in 2022 as director of resource planning and market operations. "Many factors are involved in developing an economical, well-balanced energy mix that positions our communities for growth while reflecting Entergy's environmental leadership." 
Staying ahead of the curve 
The way customers use electricity has changed dramatically over the last century with the proliferation of household appliances, air conditioning and all-electric homes. As demand increased through the decades, Entergy Mississippi stayed ahead of the curve by building cost-effective generation capacity to fuel growth. 
In more recent years, the company's investments in modern combined-cycle turbine technology have provided greater flexibility in meeting our customers' energy needs using the most economical generation sources available. 
As Entergy Mississippi's "base load" power source, Grand Gulf Nuclear Station generates safe, low-cost, emission-free electricity to meet customers' baseline needs. When usage rises in the morning and builds throughout the day, the utility's combined-cycle gas units generate the electricity required to match increases and peaks in demand. 
"Older gas-fired plants were very reliable but could take several days to start up and get to full speed," explained Case. "New combined-cycle units can start quickly and get up to 100% power fast, allowing their generation capacity to be available precisely when needed to serve the needs of residential, business and industrial customers." 
Buying versus building produces savings for customers 
Entergy Mississippi acquired Attala Plant in 2006, Hinds Energy Facility in 2012 and Choctaw Energy Facility in 2019. The company purchased them for amounts that were far less than the cost of building comparable facilities, which passes along savings to customers while eliminating construction time and the risks associated with building new plants. 
Entergy also has taken other steps to prepare for the future. In 2012, Grand Gulf Nuclear Station completed a power upgrade that significantly increased its output of carbon-free, low-cost electricity, and the plant's safe record helped earn regulatory approval to extend its operating license through 2044. 
In 2013, Entergy joined the Midwest Independent System Operator, a regional transmission organization. In the first five years, the company's membership saved Mississippi customers approximately $207 million on electric bills, along with other benefits. 
"Many factors are involved in making sure that when a customer flips a switch, electricity is there," Case said. "Entergy Mississippi employees have built an excellent performance record by operating plants safely and efficiently, and making sure customers always have access to a reliable supply of power. And with sustainability as a focal point, they're improving environmental performance to benefit current and future generations." 
---