News Center > Are You Ready for the Season? Entergy Offers Hurricane Preparation and Safety Tips
For Immediate Release
Are You Ready for the Season? Entergy Offers Hurricane Preparation and Safety Tips
05/28/2019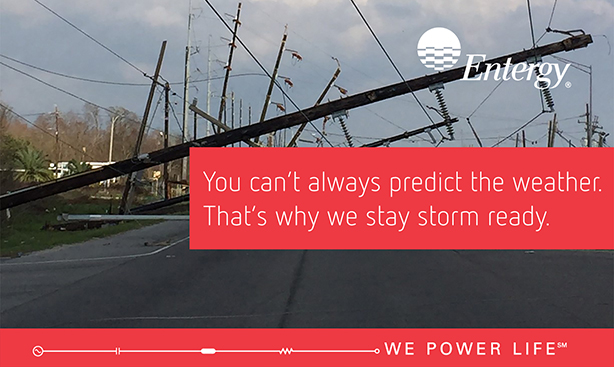 Hurricane season starts June 1, and although slightly below-normal activity is predicted this year, we know that it only takes one storm to affect our customers. Entergy is ready to safely and quickly restore power should a tropical system head our way.
"Along the Gulf Coast, it is not a matter of if, but when, a hurricane will strike, which is why we have a plan of continuous preparation, training and action in place that we call Operation: Storm Ready," said Stuart Barrett, vice president of customer service. "While we may not know exactly when and where, we know that we must always be prepared. We encourage all of our customers to be prepared, too."
Staying Prepared is Key
Staying Storm Ready is a year-round effort, and it begins with monitoring weather systems around the clock, every day of the year. When there's a severe weather threat, Entergy uses forecasts and computer models based on experience with past storms to predict an estimated number and duration of outages that could occur. Based on those estimates, Entergy will call on restoration workers from around the country as needed to safely get the power back on as quickly as possible.
Assessing damage, deploying personnel to the right place with the right materials and restoring power are all processes Entergy continually plans for and improves. In fact, employees across the Entergy system completed annual storm-response exercises earlier this month to make sure company procedures are reviewed and updated prior to the beginning of hurricane season.
"We plan for the worst and hope for the best. And while we hope that no tropical weather events threaten our area, these measures help our employees understand their roles and responsibilities in the event of a major restoration," said Barrett. "Safety is a core value at Entergy and we encourage you to make it your top priority, too. We urge you and your families to get your personal storm plans in place now."
Important safety tips such as staying away from downed power lines and debris, not walking in standing water and following the instructions of local authorities can be found on the Entergy Storm Center website.
Staying Informed is Essential
Just as important as making personal storm plans is the ability to stay informed before, during and after a storm. Entergy keeps customers up-to-date in a number of ways:
Social media plays an important role in keeping customers informed, and Entergy places a high priority on keeping its social media sites updated throughout an event. Follow Entergy Texas on Twitter at @EntergyTX and on Facebook at facebook.com/EntergyTX. And you always can access the main Entergy accounts at @Entergy or facebook.com/Entergy.
Entergy Texas, Inc. provides electricity to approximately 450,000 customers in 27 counties. Entergy Corporation is an integrated energy company engaged primarily in electric power production and retail distribution operations. Entergy owns and operates power plants with approximately 30,000 megawatts of electric generating capacity, including nearly 9,000 megawatts of nuclear power. Entergy delivers electricity to 2.9 million utility customers in Arkansas, Louisiana, Mississippi and Texas. Entergy has annual revenues of approximately $11 billion and more than 13,000 employees.
-30-
Facebook: Facebook.com/EntergyTX
---