News Release > City of New Orleans and Entergy Celebrate the Completion of Emergency Generator Readiness Project
For Immediate Release
City of New Orleans and Entergy Celebrate the Completion of Emergency Generator Readiness Project
08/31/2022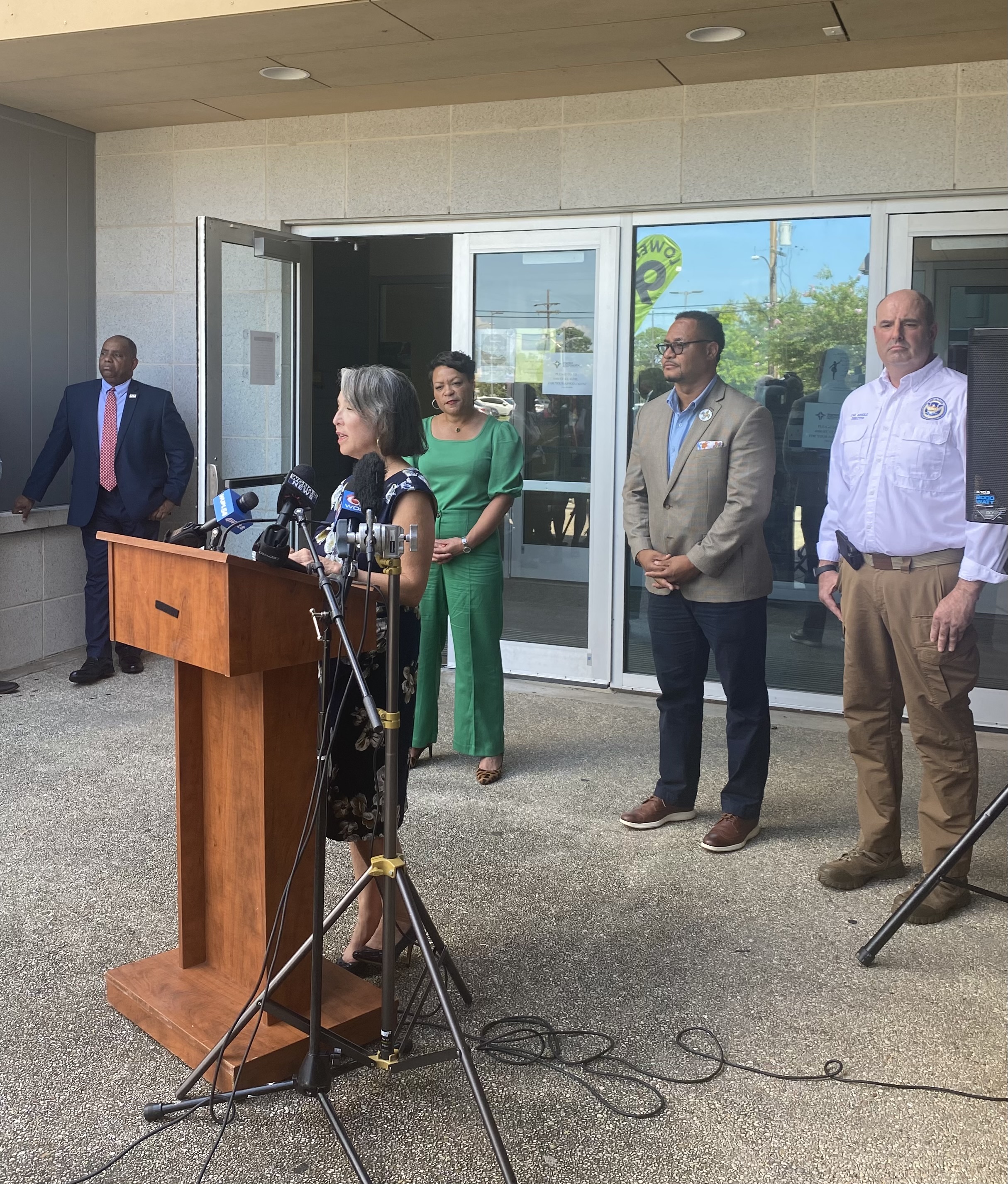 NEW ORLEANS – Mayor LaToya Cantrell today was joined by local officials to celebrate the completion of the City's Generator Readiness Project, in partnership with Entergy New Orleans, ahead of peak hurricane season.
"We have been learning many lessons from being on the frontlines of climate change as it relates to hurricane preparedness," said Mayor Cantrell. "With that, we partnered even more with Entergy and created this program so that now, we have 15 recreation centers throughout the City, as well as our Convention Center that served us in the aftermath of Ida, whether it was for post-storm evacuation or tending to our residents that were in dire need under the conditions we had to face. The City of New Orleans is prepared, we are resilient, and we always learn lessons as it relates to being prepared for hurricane season."
The Generator Readiness Project was built on lessons learned from Hurricane Ida. With this project, the City expanded the list of city-owned properties that may be activated with temporary backup generation during potential power outage events and post-emergency response efforts, such as emergency resource centers, post-disaster sheltering for displaced residents and other essential service operations in the event of a major weather event.
"This project is an important part of building a safe and resilient city," said Deanna Rodriguez, President and CEO of Entergy New Orleans. "We have worked with City leaders and our community partners to ensure that we are taking every step to prepare New Orleans for major storms, and the 16 generator-ready sites will serve as an important resource for the Metro area during extended grid outages following a storm, offering citizens places to go to receive supplies, charge devices, and shelter from the elements."
Entergy New Orleans worked with the City to outfit 16 critical community sites with manual transfer switches to enable quick hookup of temporary generators and natural gas facilities to provide fuel for the generators after a storm. The list of sites includes NORD locations, public libraries and community facilities across the city. Additionally, the project included the installation of a dedicated point of electrical connection at the Ernest N. Morial Convention Center to facilitate the fast deployment of the large generator sets needed to power the whole facility. 
"Today's ribbon cutting and completion of the Citywide Emergency Generator Readiness Project conveys the City's progress and commitment to investing in the long-term strength and resiliency of our communities," said NORD CEO Larry Barabino, Jr. "NORD exists to provide safe and welcoming environments for all residents. Expanding the list of city-owned properties that will house emergency generators, now including NORD's Sanchez Multi-Service Center, ensures we continue to stand on this mission, especially when our residents need it most."
City officials stressed that there is no guarantee for all 15 locations to be activated at a given time. The activation of a given site depends on the severity of damages to the building following a severe weather event, city staffing capacity and access to temporary generators. 
"Today's success is built off of lessons learned from Hurricane Ida," said Collin Arnold, Director of New Orleans Homeland Security and Emergency Preparedness (NOHSEP). "This initiative gives us more flexibility to evaluate where our needs are and how to better assist New Orleanians."
When a storm approaches the area, NOHSEP will determine which locations need to be activated. Once notified, Entergy New Orleans will work closely with third-party vendors to procure temporary generators and stage the necessary equipment nearby for installation within 48-72 hours after conditions permit following the storm's arrival. The cost of the project was approximately $900,000 and will be collected through Entergy New Orleans' electric and gas rates.
Project sites include:
Milne Recreation Center, 5420 Franklin Ave.
Cut Off Community Center, 6600 Belgrade St.
John P. Lyons Recreation Center, 624 Louisiana Ave.
Gernon Brown Recreation Center, 1001 Harrison Ave.
Joe Brown Recreation Center, 5601 Read Blvd.
Treme Recreation Community Center, 900 N. Villere St.
Stallings Recreation Center, 4300 St. Claude Ave.
Rosenwald Recreation Center, 1120 S. Broad St.
Sanchez Multi-Service Center, 1616 Fats Domino Ave.
Carrollton Multi-Purpose Center, 3300 Hamilton St.
Arthur Monday Community Center, 1111 Newton St.
Nix Library, 1401 S. Carrollton Ave.
Milton Latter Library, 5120 St. Charles Ave.
Cita Hubbell Library, 725 Pelican Ave.
Algiers Regional Library, 3014 Holiday Drive
Ernest N. Morial Convention Center, 900 Convention Center Blvd.
Residents are encouraged to text NOLAREADY to 77925 to receive emergency text alerts from the City and to follow NOLA Ready on social media at @nolaready.
---