News Release > Entergy Arkansas awards over $250,000 in incentives to Planters Cotton Oil
For Immediate Release
Entergy Arkansas awards over $250,000 in incentives to Planters Cotton Oil
08/15/2023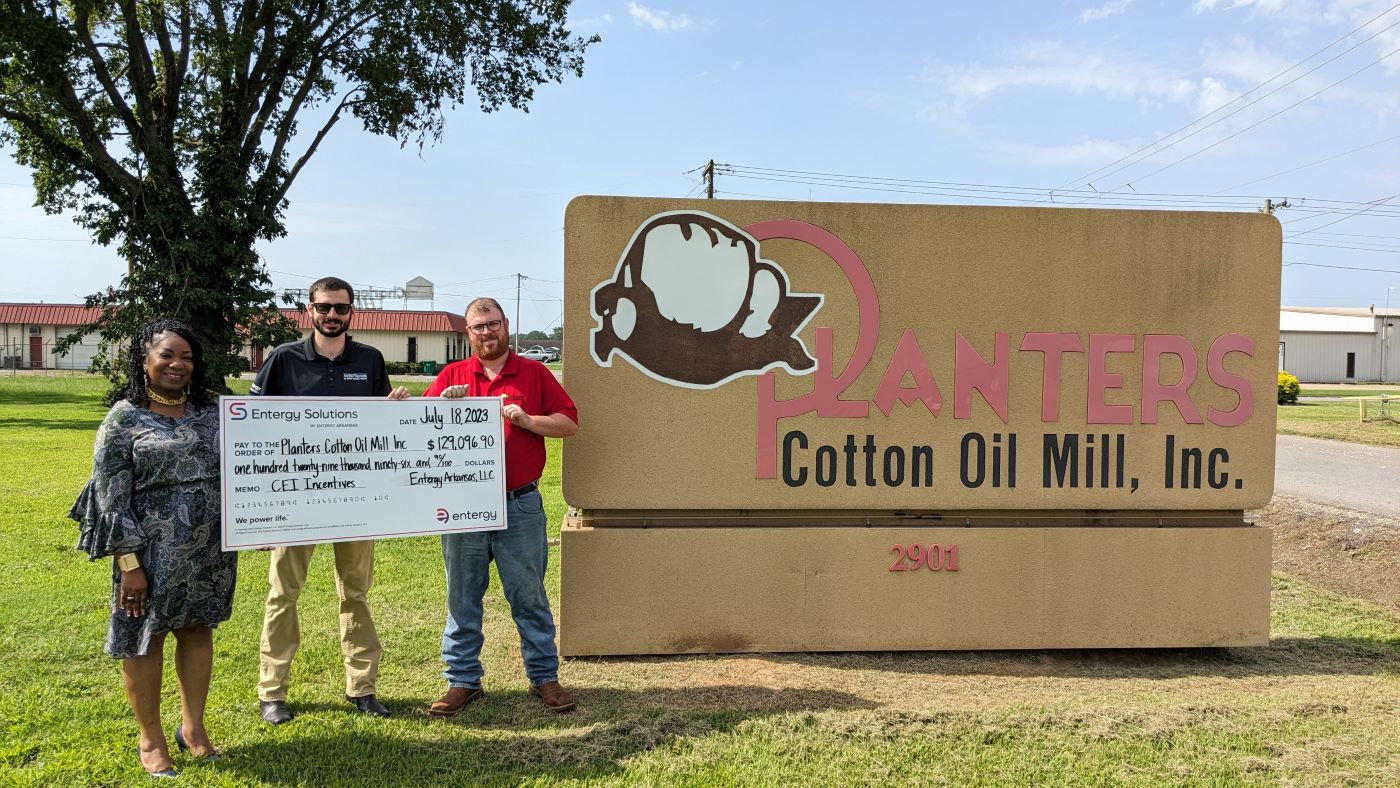 Continuous Energy Improvement initiative estimated to have saved organization over $1 million in energy usage
LITTLE ROCK, Ark. – Beginning in the early summer of 2020, Planters Cotton Oil in Pine Bluff made a commitment to reduce their energy usage every year by enrolling in Entergy Arkansas' Continuous Energy Improvement (CEI) initiative, which focuses on behavioral and operational changes to actively manage energy usage at all levels of an organization. Since enrolling in CEI, Planters Cotton Oil has avoided 13.4 million kWh of energy usage, which equates to more than $1 million estimated avoided energy dollars.
In addition to energy savings, Planters Cotton Oil has received over $268,000 in incentives from the CEI program through Entergy Solutions, a program which provides technical and financial support to help customers identify and implement projects that reduce energy use. The Entergy Solutions CEI measure is offered to non-residential customers with a valid Entergy Arkansas account, including large and medium commercial and industrial customers as well as schools and public institutions.
Gabe Wood, Planters Cotton Oil Assistant Superintendent and the site's energy champion, holds frequent trainings to educate the plant staff on the benefits and importance of managing energy usage by maximizing production efficiencies, turning off idling or unnecessary equipment, reporting and fixing air leaks, and many other simple changes that save energy for low or no cost. 
"This program has been such a great fit for our organization," said Wood, "CEI is great and I highly recommend this to anyone and everyone. Our savings have been huge, which allows us to do other things with that saved money and incentives earned. Plus, we are truly educating our associates on how to use energy more efficiently."
As a result of his performance, Gabe Wood and Planters Cotton Oil were awarded second place by Entergy Arkansas in the 2022 Energy Champion of the Year Awards.
Recently, Planters Cotton Oil held an employee engagement event where each employee received an Entergy Energy Efficiency Kit through Entergy Arkansas' Point of Purchase Solutions (POPS) Program for every employee at the plant to save energy at home, while they learn how and why Planters Cotton Oil is saving energy from a presentation from Gabe Wood. 
Entergy Arkansas has an award-winning portfolio of energy efficiency programs for both residential and business customers. To learn more about these programs, visit entergy-arkansas.com/energy_efficiency.
About Planters Cotton Oil Mill, Inc.
Planters Cotton Oil Mill, Inc. has been producing cottonseed oil and cottonseed bi-products for over 30 years. The company strives to consistently meet the goal of safely producing quality products in quantities that meet our customer's needs while working efficiently and effectively.
Entergy Arkansas, LLC provides electricity to approximately 730,000 customers in 63 counties. Entergy Arkansas is a subsidiary of Entergy Corporation, a Fortune 500 electric company. Entergy powers life for 3 million customers through our operating companies in Arkansas, Louisiana, Mississippi and Texas. We're investing in the reliability and resilience of the energy system while helping our region transition to cleaner, more efficient energy solutions. With roots in our communities for more than 100 years, Entergy is a nationally recognized leader in sustainability and corporate citizenship. Since 2018, we have delivered more than $100 million in economic benefits each year to local communities through philanthropy, volunteerism and advocacy. Entergy is headquartered in New Orleans, Louisiana, and has approximately 12,000 employees. For the latest news from Entergy, visit the Newsroom.
---