News Release > Entergy contributes $6.4M toward community improvement initiatives in the first half of 2023
For Immediate Release
Entergy contributes $6.4M toward community improvement initiatives in the first half of 2023
07/27/2023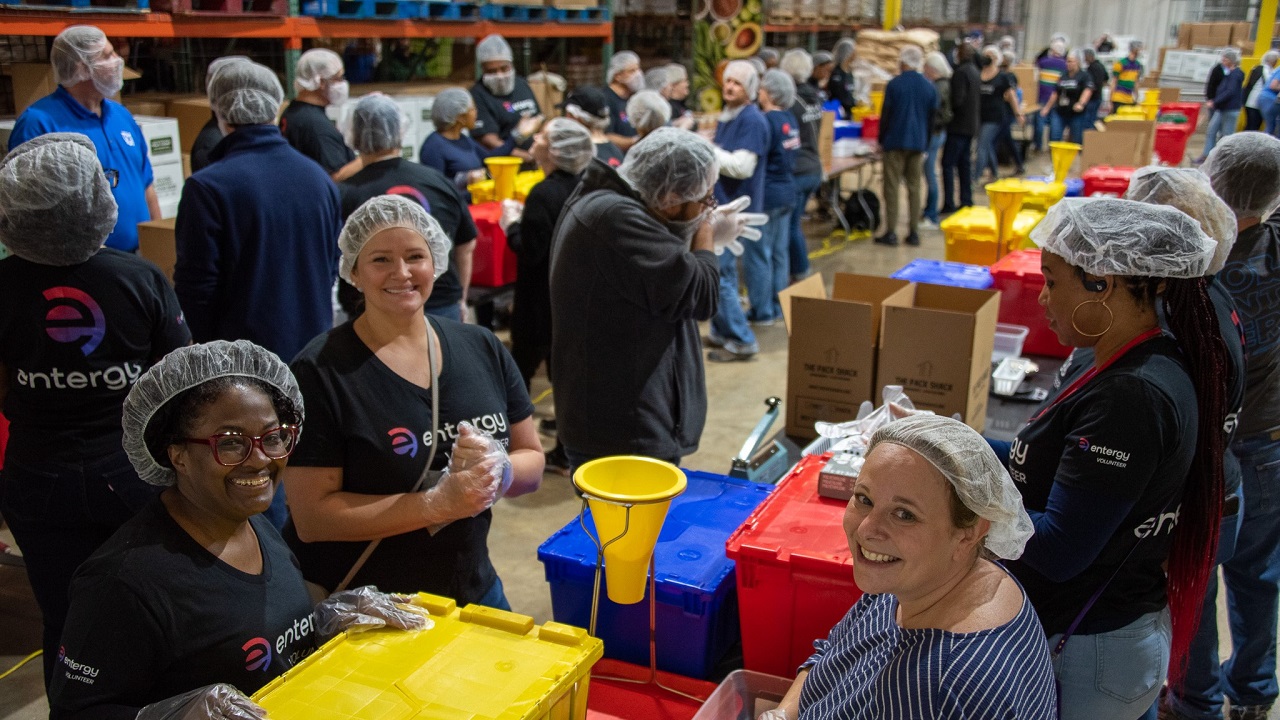 First and second quarter 2023 grants were provided to 467 nonprofits to uplift and support communities across Entergy's service area
NEW ORLEANS – For the first two quarters of 2023, Entergy has awarded $6.4 million in shareholder contributions to 467 nonprofit organizations across Arkansas, Louisiana, Mississippi and Texas. With support from local community partners, these grants helped strengthen communities by supporting education and workforce development, poverty solutions and environmental programs.
"Giving back is central to Entergy's mission. Our shareholders exemplify this commitment through their generous contributions," said Patty Riddlebarger, vice president of corporate social responsibility for Entergy. "With the support of our partners, we continue to make significant strides in creating sustainable value that leaves a lasting impact throughout our communities."
For more than 100 years, Entergy has powered life in our communities through strategic philanthropy, volunteerism and advocacy. These shareholder investments showcase the power of collective impact across sectors and Entergy's role as an industry-wide model for how thoughtful partnerships can help create and sustain thriving communities.
Select year-to-date grants include:
$1.2 million in utility bill payment assistance to nonprofit partners who administer Entergy's The Power to Care program. The Power to Care is an Entergy program that helps older adults and people with disabilities keep their lights on when they are facing a financial difficulty. Entergy collects the funds through shareholder, customer and employee donations, and partners with local nonprofits who then distribute the funds to qualifying customers.
$874,000 in employee-matching contributions to United Way organizations located in communities served by Entergy. United Way works to create strong, equitable communities where everyone can achieve their full potential. That's why they are one of our most important community partners. 
$250,000 to the American Red Cross Disaster Relief Fund. Entergy's contribution is earmarked to provide relief for communities that may be impacted by storms and other disasters during the 2023 storm season. Since 2015, Entergy shareholders have committed more than $2.2 million to our communities through grants to local chapters of the American Red Cross and through the company's support of its Disaster Responder Program.
$250,000 to Jobs for America's Graduates. JAG provides underserved students in Arkansas, Louisiana and Mississippi with wraparound supportive services to help ensure they graduate from high school on time and are equipped with the necessary skills to be successful in college or their career. This support is part of Entergy's school-to-career readiness workforce development initiative, which supports programs that focus on increasing high school graduation rates and ensuring students are career or college ready when they graduate.
All funding is provided by shareholder contributions and does not impact customer bills.
For more information about the Entergy Charitable Foundation grants, including application, deadline and eligibility details, visit entergy.com/csr/giving.
About Entergy
Entergy (NYSE: ETR) is a Fortune 500 company that powers life for 3 million customers through our operating companies in Arkansas, Louisiana, Mississippi and Texas. We're investing in the reliability and resilience of the energy system while helping our region transition to cleaner, more efficient energy solutions. With roots in our communities for more than 100 years, Entergy is a nationally recognized leader in sustainability and corporate citizenship. Since 2018, we have delivered more than $100 million in economic benefits each year to local communities through philanthropy, volunteerism and advocacy. Entergy is headquartered in New Orleans, Louisiana, and has approximately 12,000 employees. Learn more at entergy.com and follow @Entergy on social media. #WePowerLife
---